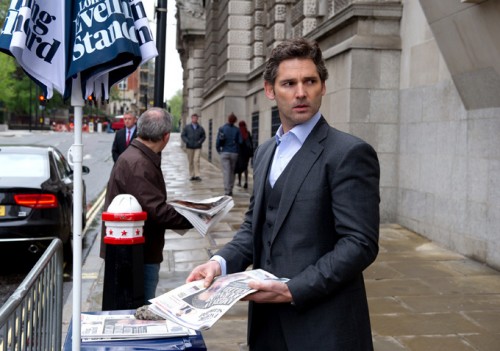 Closed Circuit is a run-of-the-mill thriller elevated just enough by the intelligence of its cast and makers. People who complain that "they" don't make movies for adults anymore will probably be pleased with this story of lawyers (and former lovers) who must work together to defend a man arrested for a deadly terrorist bombing. The movie has class and an effectively restrained style—watching Closed Circuit, you feel like you're in the hands of seasoned pros whose only desire is to tell a good, unflashy yarn. However, the fact that little of it lingers in the memory after the end credits roll is indicative of how generally unremarkable the whole project is.
The film is directed by John Crowley, whose 2007 drama Boy A proved to be a breakthrough for both him and his star, Andrew Garfield. Closed Circuit isn't a similarly intimate character study, though: This is a post-9/11, government-conspiracy thriller set in London, where an explosion has rocked a morning market, killing and injuring dozens. The police have apprehended a suspect from a sleeper cell, Farroukh Erdogan (Denis Moschitto), and two defense lawyers have been selected to represent him at trial: the stoic Martin Rose (Eric Bana) and the aloof Claudia Simmons-Howe (Rebecca Hall). The fact that Martin got the job because Farroukh's previous lawyer was killed under suspicious circumstances doesn't seem to bother him as much as it should.
Martin and Claudia are both skilled attorneys, but they're hiding a secret: They used to be engaged in an affair when Martin was married. Keeping this information from the Attorney General (Jim Broadbent), they go about preparing Farroukh's legal defense, which involves an interesting wrinkle because of British law. Claudia, as Special Advocate, will alone be shown classified evidence that the government will use in its case against her client. She can't share the evidence with Farroukh or Martin, but she can argue that it needs to be included in the closed-door portion of the trial.
That legal rigmarole adds a few fun plot hiccups to a screenplay written by Steve Knight, whose previous credits include Eastern Promises and Dirty Pretty Things. Like those movies, Closed Circuit has a gritty, mature tone and a collection of sharp, simply drawn characters. But also like those films, this new work isn't always a model of crackerjack storytelling. The twists and turns are rarely stunning, which puts the burden on Crowley and his actors to instill every moment with a feeling of weary resignation. And for the most part, Closed Circuit succeeds in this limited way, creating an atmosphere of bitter melancholy in which the main characters are never quite shocked by the corruption and cover-ups their investigation uncovers—merely disappointed to learn that their own dim view of human nature has been confirmed.
In movies like Munich and Hanna, Bana has exuded inexhaustible amounts of rugged soulfulness, and that quality is harnessed to good effect playing a man longing for his estranged wife while at the same time harboring some feelings for the seductive, withdrawn Claudia. Hall has made a habit of playing chilly, alluring women in Vicky Cristina Barcelona and The Town, but her performance in Closed Circuit is her steeliest. Claudia has become an expert at burying her feelings, and her deadpan tone makes it clear to the boys club around her that she's no shrinking violet. One senses that these two didn't end up in bed together just because of physical attraction—they share a pragmatic intelligence and reserved manner that makes them quite compatible.
Their teamwork enlivens a film that needs whatever juice it can find. Closed Circuit is never dull, but its intentionally barebones detective work isn't quite as compelling as Crowley may imagine. But even then, the film has a refreshing commitment to its own dourness that's unexpectedly appealing. It's not just the U.K. setting that helps separate this thriller from its American counterparts—it's the movie's grey-skied pessimism about the futility of everything. Love, justice, second chances: Those Hollywood promises have little room to grow in Closed Circuit. Which is why the film's final moments come across as so very odd. Even a ray of sunlight feels out of place for a movie so resolutely attuned to the unhappy people it chronicles.
Tim Grierson is chief film critic for Paste. You can follow him on Twitter.
Director: John Crowley
Writer: Steve Knight
Starring: Eric Bana, Rebecca Hall, Ciarán Hinds, Jim Broadbent, Denis Moschitto
Release Date: Aug. 28, 2013
Others Tagged With