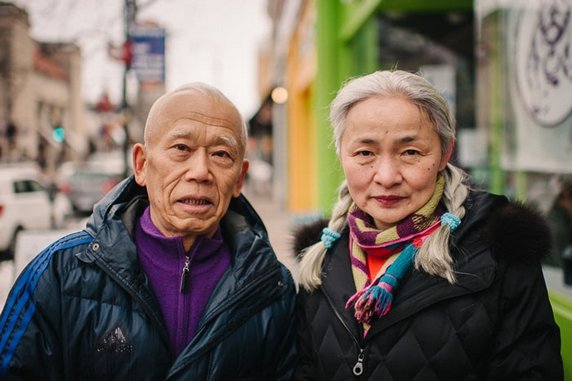 Great artists are often forgiven for flaws in their personal lives, but such forgiveness usually hinges on success. Cutie and the Boxer, Zachary Heinzerling's fascinating documentary about Ushio Shinohara and his wife, Noriko, depicts a man who is entering his 80s, but still dreams like he's 20. Heinzerling leaves open for debate whether the old man is an important mind or a bum.
Ushio's work exists in the abyss between noteworthy and profitable. He spear-headed the Neo Dadaist movement in the '60s, and is best known for his boxing "action paintings," created by punching canvases while wearing paint-soaked boxing gloves. He also makes grotesque cardboard sculptures of motorcycles. His work wins him some prestigious exhibits, but it doesn't inspire many people to pull out their checkbooks. His sculptures, with their warped wheels and brown colors, are as distinct as they are unfit for most interior decorating.
The boxing paintings provide Cutie and the Boxer's most visually striking moments, as Ushio prances across giant canvases, splattering paint with each punch. But the key to the scenes is really Noriko assisting her husband with his gloves. This documentary is really about two people fighting to maintain a relationship while living as working artists.
Some might assume that if you're at the point in your career when people from the Guggenheim are interested in buying one of your paintings, making rent wouldn't be a constant challenge. This isn't the case, however, and Ushio is always on the verge of a big money-making deal, yet never closes it. Discard all visions of aged artists living in slick, well-designed penthouses. The Shinoharas live in the kind of cruddy New York City apartment that inspires many would-be artists to switch to accounting when they turn 25. They routinely try to scrounge up money until they get the big break that lets them live and create comfortably.
Noriko quickly becomes the heart of the movie. She's writing an autobiographical graphic novel about her rocky marriage, and Heinzerling returns to it throughout the film. Noriko narrates her story to animated versions of her line drawings, depicting her life first as a young student smitten by an older man, then as a young mother trying to deal with a deadbeat artist husband who spends his nights getting drunk and partying. As Noriko continues developing her art, it becomes less about how unfortunate she is, and more a celebration of her power over Ushio.
Theirs is a love story, but it's an honest love story. Both husband and wife have their grievances. Ushio believes that he is an artistic genius, hence everything should be done in his service. Noriko—more justifiably—resents the amount of time she spent parenting and cleaning up Ushio's messes instead of working on her own projects. But the two people's genuine affection for one another is clear, and the challenge of maintaining that affection gives Cutie and the Boxer its emotional power.
Director: Zachary Heinzerling
Starring: Ushio Shinohara, Noriko Shinohara
Release Date: Aug. 16, 2013
Others Tagged With