Danny Brown: Dual Personalities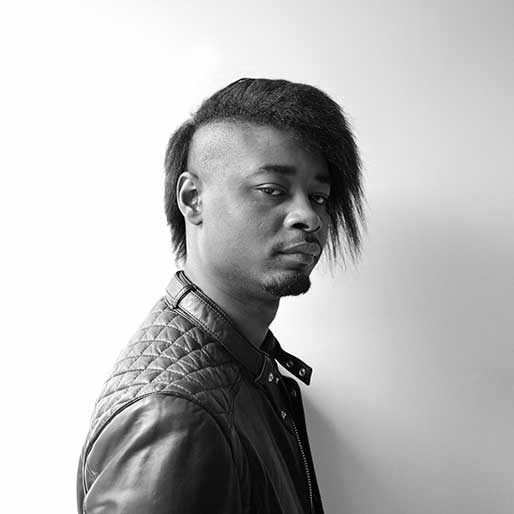 For rappers, turning 30 usually means you're now officially closer to your golden years than you are to your glory days. For better or for worse, the reputations of rappers tend to live and die by the catalog of music they put out during the age at which the rest of the working world sets its sight on the early slog of entry-level employment. And when a rapper reaches age 30? The rap community has already rendered its verdict on the type of artist you are. There are, of course, exceptions to the rule, none of which is more prominent than 32-year-old Detroit native Danny Brown, whose first proper album Old might as well be his grand entrance into the mainstream rap spectrum. As a mainstay within the alternative hip-hop circuit for some time now, Brown has no problem admitting that Old, while not necessarily his first-ever album (2010's The Hybrid and 2011's XXX were released as free online downloads), it is absolutely his first opportunity to demonstrate his character to a mainstream hip-hop audience.
"I'm not Drake, I'm not Kanye. I'm Danny Brown," he tells Paste. "So there's gonna be a lot of people listening to me for the first time. There's gonna be a lot of people that don't remember my old shit, and that's okay."
Brown is undoubtedly on the short-list for most eccentric persona in hip hop. But his screwball demeanor and his often cartoonish voice have thoroughly concealed the fact that Brown also happens to be one of the most self-aware artists in the genre. Nobody has pointed out the difficulty he's encountered throughout his scenic journey toward mainstream recognition more than he has in his own music. His previous album, the aforementioned XXX, vocalized what might as well have been Brown's midlife crisis as he struggled to reconcile his love of partying like a rock star with his desire to achieve the same respect of one. The titular XXX, naturally, represents both the outrageously obscene nature of his rhymes as well as his age at the time of the album's recording.
In the time surrounding XXX, Brown had come to occupy an encumbering no man's land as a local legend within Detroit's post-Dilla era as he simultaneously struggled to transcend the pretense of the scene itself. Take his guest verse on 2009's posthumous J Dilla compilation Jay Stay Paid, where on "Dilla Bot vs. The Hybrid" he serves up the A-Plus comedic gold of "Touch mics like Macaulay Culkin/Hit your bitch with the chocolate thunder Darryl Dawkins." The verse was quintessential Danny Brown: comical; clever; chaotic; perhaps a commercial opportunity, even, had his only verse on the record not been understandably lost amidst the album's essential purpose of eulogizing the legendary Dilla. Or consider another example in which his head-spinning word association on A$AP Rocky's posse track "1 Train" ("That molly got me nauseous, aw shit, no off switch / Lawless, obnoxious, on that 'suck my cock' shit"), a near-perfect 16 bars, barely got the chance to breathe next to the five other rappers with whom he shared his mic time. So Old, more than anything, is Brown's long-overdue opportunity to be, well, Danny Brown. More importantly, it's a chance to be Danny Brown on Danny Brown's terms.
"[Old] is my debut album—this one is going into retail. So this is my first album to count," says Brown. "I could just make an album in a basement, that don't mean nobody's listening to the shit, know what I'm sayin'? This is my first album. Everything before don't count."
So as one might guess, Old sees Brown doing what any rapper eager to seize his first moment in the spotlight would do: he accentuates his best attributes and dials them up to new levels of excess. His outrageous, theater-of-the-mind sex raps burst through the track "Handstand," his love of trap-rave textures makes songs like "Break It (Go)" and "Smokin & Drinkin" feel predestined for live performance, even if the intended energy doesn't quite translate on record. And like on XXX, the notoriously scatterbrained rapper refuses to let his songs linger beyond four minutes.
"I think two minutes and thirty seconds is perfect," Brown explains. "I'm not a beat-around-the-bush type of person in my normal personality, so why would I be that way in my music?" The only track that passes his self-imposed four-minute ceiling is "Kush Coma," solely because of an extended second verse by A$AP Rocky.
But while the predilections of Danny the Partier were heightened here, his introspective half as Danny the Artist, the artist who wants you to know just how badly he wants to be taken seriously, have been just as intensified. "Clean Up," "Torture" and "Side B (Dope Song)," three tell-all tracks from the record's weightier first half, show a more vulnerable version of Brown, one who readily admits that continuing to surround himself with street drugs, forever his biggest vice, may ultimately be his demise.
Brown spoke with XXL on the recording process for Old, comparing his approach to the XXX follow-up to the way Radiohead's Kid A usurped OK Computer. "It's not so much about the lyrics as it is about the way the beats feel," he noticed. "I wanted to have the most amazing beats." Without question, the eccentricity of his character is reflected in the beats selected within, many of which contain a blend of wispy atmospheres, rattling hi-hats, and the euphoric rush of synths. At times it feels like a murkier take on TNGHT's self-titled debut EP. This is the type of progressive hip hop Brown refers to when he says he'd peg the state of the genre at an eight out of 10.
"It's an eight!" Brown is quick to exclaim. "This is like one of those experimental times where…being creative is pushed to the mainstream right now, you know? It ain't never been like this in hip hop."
Brown has finally arrived not as an artist who is weary, nor as someone who lacks the experience to know that Adderall-infused trap-rave raps will only get him so far. Old is both his introductory statement as one of hip hop's least likely elder statesmen, as well as an album that proudly defends both sides of the 'old' Danny Brown that made him a household name among hip-hop heads. Neither Danny Brown the Partier nor Danny Brown the Artist have come any closer to reconciling their differences, but both possess enough emotional complexity to make the whole journey worth hearing. At 32, Brown isn't shying away from addressing these two aspects of himself. In fact, he hasn't even been remotely quiet about it. And that's what's most encouraging.
Others Tagged With