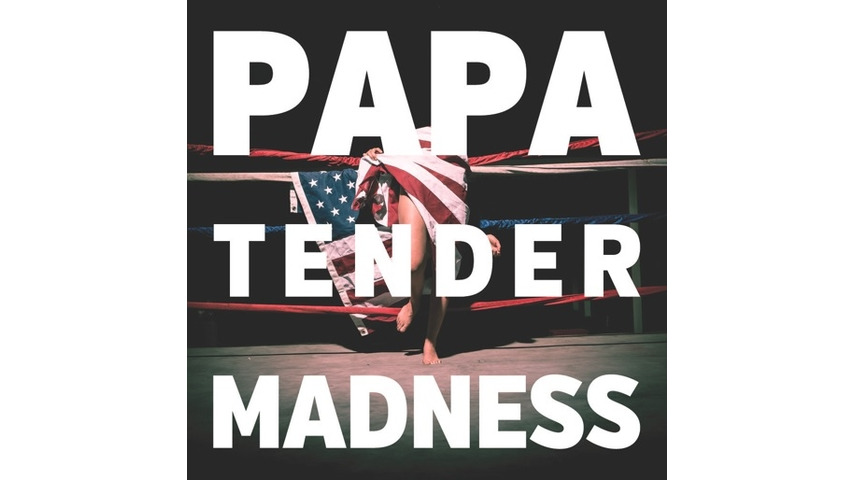 Tender Madness is an album in love with fiction. Not fiction as escape but fiction as investment, as an enlivening of human experience. There's an emphasis on freedom of expression here, as well as a recognition of sentiment without diverting into too much cheesiness. PAPA's sonic textures and lyrical content aren't Brandon Flowers big. Their sound may be Springsteen meets Tanlines at times but, overall, it's the earthy textures of realistic American literature which seem to be the most analogous to this fatherly duo's work.
"Ain't it so good to be young / In America and watch the world burn," sings drummer and lead vocalist Darren Weiss on "If the Moon Rises." If you're privy to mildly profound platitudes such as this, Tender Madness will most likely bring you joy. Weiss has said PAPA is a band devoted to the ideals of "America, women and insanity." Such a set of prospects can be its own undoing. Weiss and company permit themselves a huge canvas to paint on with those themes, but it sounds like the things they ended up having to say on it, musically and lyrically, are enjoyable but far from revolutionary.
It's not that PAPA has to be a genre-jumping, awe-inspiring musical collective, but those themes end up putting a lot of pressure on the tunes themselves. A lot has been said about America, women and insanity already and very well. Bruce Springsteen has made statements about America which are more literate and powerful than anything here; nothing is quite of the Tom Waits caliber as far as love songs go, and insanity is Radiohead's game, no questions asked.
But perhaps this is getting a little too harsh. There are plenty of endearing tracks here, especially for a debut record. The title song sounds like the backing soundtrack to a montage of lovers in the ocean, swimming gracefully as rain falls overhead. Madness isn't necessarily here, but there's plenty of tenderness.
Throughout the entire album, it shows that the core of the band is a rhythm section. Weiss's drumming and Danny Presant's bass work is highlighted even as strong lead melody lines come in. It's a very diplomatic record; all instruments are given a fair shot at prominence. Still, it's refreshing to hear a group with such a confident rhythm section, far from buried in the mix.
Tender Madness is catchy and musically inviting, but it falls short of the mark the members have set for themselves. Stepping into the tradition of American celebration, PAPA is more adept at pulling out of its influences than creating a new perspective.
Others Tagged With