Caroline Polachek Loves Intensely on the Impressive Pang
The former Chairlift lead singer returns with an impressive pop record, her first to bear her name
Music
Reviews
Caroline Polachek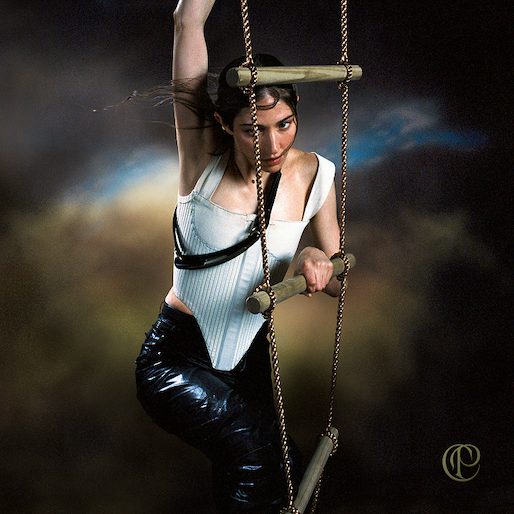 A handful of pop songs in the past decade—think "Teenage Dream" or "Run Away With Me"—bottle the lightning feeling of whirlwind love perfectly, the sound of a saxophone horn or a vocal swell sublimating the yearning of a new romance. Pang, Caroline Polachek's first album under her own name, stretches out that feeling, eking out the intricacies of feeling simultaneously liberated and trapped by the feeling of being overwhelmed by someone else. It's a big task, but Polachek might be the ideal candidate, an indie darling who shaped her last band Chairlift's twee-pop origins into big-budget, emotional cinema to brilliant effect.
Polachek's vision of pop, co-produced with PC Music oddball Danny L Harle, is a sprawling bricolage that unifies and distorts Kate Bush's singular baroque pop, PC's poreless, glistening electronic experiments and an inkling of the low-end-heavy, rap-indebted aesthetics of 2019 Top 40. An immense, nearly overwhelming spaciousness takes over Pang, which is intricately produced and layered with resplendent, crystalline trinkets of noise and sound unspooling around Polachek, whose vocals, immaculate and exacting, are amplified and crushed by reverb and vocoder.
On Pang, the heart is an unexplored cavern begging to be mapped out and illuminated: Its gems, crevices and fault lines are on full display. In an interview with The Guardian, Polachek alluded to Joni Mitchell's state of "hejira," the yearning for something else brand new, despite the consequences that may come ahead. Pang vacillates back-and-forth in that gulf of guilt and pleasure.
At times, Pang is bogged down by the sheer volume of remorse in venturing toward hejira. A spare marimba amplifies the melodrama of abandoning a just-fine, otherwise-stable commitment in the plaintive, acoustic waltz of "Look at Me Now." She sings of feeling like "a butterfly trapped inside a plane" on trap-pop offering "Hit Me Where It Hurts." Moments later on "I Give Up," Polachek is leaden and weighed down with a partner who gives her a "list of things about myself to change."
It's a far cry from "New Normal," itself a paean to a new spark, which skitters from country steel pedal to dembow to Mustard-esque vocal echoes, as if itself modulating in real time to adjust to the realm of possibilities that could take place that evening, that week, that year.
The most sublime moments on Pang match the all-cylinders feeling of falling into new love, each neuron so stimulated by the feeling that they threaten to overload and collapse entirely. The divine title track is, at once, twee and lustful, as if The Postal Service were tasked with making a quiet-storm track—the base feeling of unexplored love compounded with each touch of the skin.
Often, the bliss is tempered by Polachek's neuroticism. The thirst of the immaculate "So Hot You're Hurting My Feelings" is counteracted by the fear of being too obsessive: While she's counting the days after her last encounter with a new fling and crying on the dancefloor while their song plays, she brushes it off with a "banana" non-sequitur. Elsewhere, such as on the robot doo-wop in "Caroline Shut Up" and on the harpsichord-meets-two-step of "Hey Big Eyes," she's too worried about tripping over herself as she navigates feeling too much with feeling nothing at all.
By the end of Pang, Polachek has fully opened up to the headrush of new love—both in the chance that it could devastate, and the very real possibility that it could result in something transcendent. "The parachute, I've got to trust it now," she sighs on album closer "Parachute," her voice weightless, at ease. It's a relief, for her—and for us.