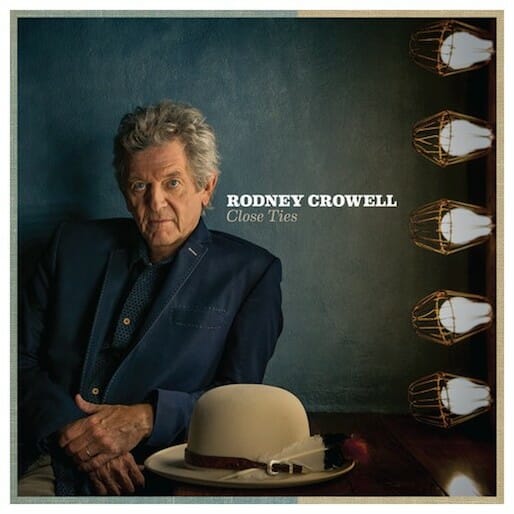 For a song cycle that turns around death and mortality, Rodney Crowell's Close Ties is a decidedly jubilant affair. Co-produced by Kim Buie and Jordan Lehning, the introspective work finds the great American songwriter, who has had hits on the country, pop, rock and Americana charts, settling into his place as an elder statesman by surveying the path that brought him here.
"Three sheets in the wind, brick shy of a load/ Easy Houston Blues down a nowhere road," Rodney Crowell wails gleefully on "East Houston Blues," Close Ties' freewheeling opener. Shimmying with joy, the song establishes his hardscrabble raising, as that electric sense of being alive frames these reflectively autobiographical postcards.
Indeed, "It Ain't Over Yet," which features the Civil Wars' John Paul White and ex-wife Rosanne Cash on counterpoint verses, posits that, in spite of feeling haggard, there's life to be lived as long as one draws breath. Inspired by Texas songwriting legend and sometime mentor Guy Clark's final years, it brandishes both men's friendship and the wisdom of Clark's late wife Susanna to urge embracing every moment completely.
Susanna Clark also inspires the album's most fraught and unflinching song. With a frank "Life without Susanna began when Townes Van Zandt died/from that day on, she hid out undercover/her Percocet and cigarette along for the ride…," Crowell captures the awe of their first meeting decades prior, then the conflicting emotions watching her self-inflicted addiction and slow death, labeling their relationship, "A self-sure bastard and a stubborn bitch locked in a deadly game of chess."
It should be morose, but the insistent churn of "Susanna" – punctuated by Mickey Raphael's hell on two wheels harmonica blasts – suggests early/mid-career Pretenders as much as the first artist to have five country #1s from a single album (1988's Diamonds & Dirt). Suppleness and fluidity defines Close Ties, whether it's the upright bass thrumming and electric guitar slithering like highway neon flashing to pull you into the thrillingly reckless convention skewer "I Don't Care Any More," the whirling strings wrapping around the tumbling, meandering sexual slink of "Reckless" or the elegant reckoning of "Forgive Me Annabelle," an apology for piano and a gorgeously understated string section.
"Storm Warning" suggests a more muscular "Telephone Road," the opening track of The Houston Kid, an album considered the beginning of Crowell's most personal work. "Warning" reveals the promise of the subsequent Fate's Right Hand, The Outsider and Sex & Gasoline has been realized with a controlled urgency fueled not by fear of time, but knowing the sweet spot.
Like a handful of diary pages, "Nashville 1972" closes Ties with an homage to wild innocence and creativity, scattering the names Richard Dobson, Skinny Dennis, Steve Earle, (Mickey) Newbury, Buck White, Harlan Howard and the Queen of Poughkeepsie like confetti. . As warm acoustic guitars tumble underneath Crowell's most natural singing, he confesses:
"I first met Willie Nelson with some friends at a party
I was 22 years old, and he musta been pushing 40
There was hippies and reefer and god knows what all
I was drinking pretty hard
I played him this shitty song I wrote,
then puked out in the yard…"
It takes a grown man to laugh at such a self-puncturing moment. For Rodney Crowell, he's more than grown, he's wise, vulnerable and fearless in the truth.