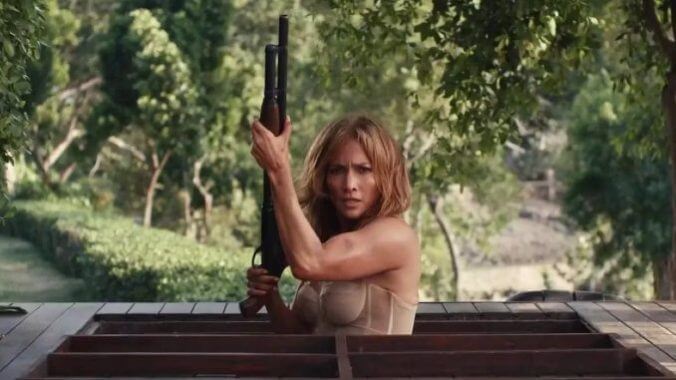 What does it mean that the three greatest romantic comedy stars of our time have all recently revived the genre in movies that take place on a tropical island? Is there a film school graduate student who can research and report on this extremely important topic? Sandra Bullock headlined The Lost City about a romance novelist who, along with her cover model (Channing Tatum), encounters a crazed billionaire (Daniel Radcliffe) in an ancient city. Julia Roberts and George Clooney sparred as exes whose daughter is getting married in Bali in Ticket to Paradise. And now Jennifer Lopez stars opposite Josh Duhamel in Shotgun Wedding, as a couple whose glam island wedding is upended by pirates. Already the movie is off to a completely relatable start!
Darcy (Lopez) and Tom (Duhamel) have invited all their family and friends for a destination wedding at a luxury resort in the Philippines. In a nice flip of the cliché, it's Tom who has turned into a groomzilla, wanting everything to be absolutely perfect. Tom is all about Etsy and pineapple centerpieces and very unfortunate cocktail napkins with Darcy and Tom's face on them. "You got so fixated on the wedding, you turned into a different person," Darcy tells him. Tom, it seems, has forgotten that her love don't cost a thing.
It's not polite to discuss someone's age, but Lopez is over 50 and is playing the bride—I'm so glad we are past the point in our pop culture where the only choice for a woman over 40 is to play a dowdy grandma. Of course, Lopez isn't just anyone and, let's be honest, looks better than most of us did when we were 20, but still: Progress! While there are references to how Darcy is "not some blushing bride" and how she definitely doesn't need a wedding registry ("I have my things already. I like my things!"), it's not a huge plot point in the movie, more of an accepted fact. Who knows why Darcy and Tom are getting married later in life, and who cares? I love that this is a non-issue. Of course, it does once again bring to light that we don't yet have the next generation of rom-com stars.
While Mark Hammer's script has a few zingers, it's the stacked supporting cast that makes the movie pop. Tom's mom Carol (Jennifer Coolidge) is thrilled to be visiting an island, while his videotaping dad Larry (Steve Coulter) just wants to make sure his wife is happy. It's a little hard to believe the ever-fabulous Coolidge could ever be unworldly, but when she keeps telling Darcy things like "Hi, it's your future mother-in-law Carol," you can't help but laugh.
Cheech Marin and Sonia Braga are Darcy's divorced parents Robert and Renata. The extremely wealthy Robert has brought his new, annoying girlfriend Harriet (D'Arcy Carden). "This place is teeming with energetic vibrations," Harriet announces. There's also Tom's needy best friend Ricky (Desmin Borges) and Darcy's sardonic younger sister Jamie (Callie Hernandez). Things really start to get interesting when Lenny Kravitz shows up as Darcy's ex-fiancé. Kravitz is clearly having an absolute blast. "Looks like he was in a rush and forgot to button his shirt all the way up," Tom says when he sees him. Darcy and Tom are already struggling with their different ideas of how their wedding should go, but must set their squabbles aside once the wedding is attacked by pirates trying to extort Robert.
It's no surprise that the movie figures out a way for Lopez to basically be in a bustier for the last half of the movie. (An equal-opportunity film, Kravitz is also basically shirtless for the entire movie). And no matter what happens to Darcy—guns, grenades, being thrown out of a car, zip lining over treacherous terrain—nothing, and I mean absolutely nothing, is going to ruin her perfect smoky eye.
I'm going to be honest with you: This is a movie where the plot doesn't really matter. Lopez is a mega star and is such a magnetic screen presence that you'll probably greet even the most outrageous plot twist with a "Sure, why not?" Lopez and Duhamel have a great rapport. However, you never forget you are watching The Jennifer Lopez and it is her absolute star quality that pulls the movie through.
But it's weird, right? To be laughing as people are being blown up. With all the shooting, explosions and deaths, Darcy and Tom are going to need a lot of therapy that the movie's requisite happy karaoke-filled ending doesn't want to deal with. And I can't imagine the Philippines tourism department is going to be thrilled with this movie.
To answer the question I posed at the top of this review, maybe the last three years have made us all long for an island escape with the beloved actresses that have a long history of offering viewers the movie equivalent of comfort food. So, if you can put your cynicism aside, RSVP "yes" to Shotgun Wedding.
Director: Jason Moore
Writer: Mark Hammer
Starring: Jennifer Lopez, Josh Duhamel, Jennifer Coolidge, Sonia Braga, Cheech Marin, Selena Tan, Alberto Isaac, D'Arcy Carden, Callie Hernandez, Desman Borges, Steve Coulter, Lenny Kravitz
Release Date: January 27, 2023 (Amazon)
---
Amy Amatangelo, the TV Gal®, is a Boston-based freelance writer and a member of the Television Critics Association. She wasn't allowed to watch much TV as a child and now her parents have to live with this as her career. You can follow her on Twitter (@AmyTVGal).