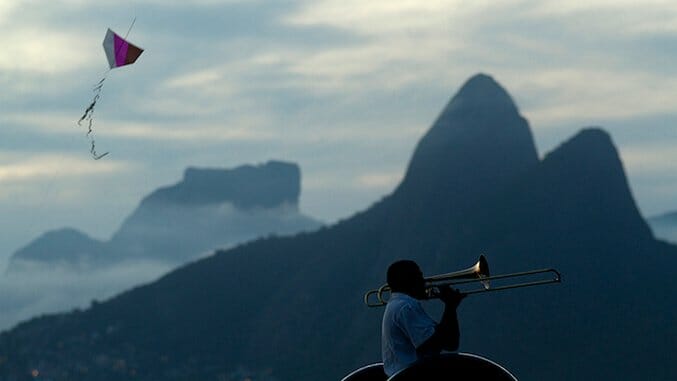 Photo by Alex Carvalho CC BY-SA
Rio de Janeiro is more than just a tropical resort town set against a stunning natural backdrop of towering rainforest covered mountains. The Cidade Maravilhosa (Marvelous City) is also a world class music city on par with New Orleans, Havana, Paris or Chicago. But unless you are content with the tired acts trotted out time and time again for tourists, you will have to tear yourself away from the packed white sand playgrounds of Ipanema and Copacabana and head to the historic city center for an authentic slice of Rio's deep rooted music scene.
One of the most innovative musical meccas on the planet, Rio is where both the Samba and its jazz-fusion offspring, Bossa Nova, were born. More recently, it has developed its own take on hip-hop, known as "Rio Funk"—an infectiously twerk-worthy rhythm that was forged in the same harshly unequal social conditions that incubated its predecessors. As a major metropolis of Brazil that attracts immigrants en masse from the countryside, Rio is also a great place to sample folk and traditional music, like Forro and Axe from the heavily African-influenced Northeast of the country. Jazz is also ubiquitous here and rock music is so much part of the urban psyche that the city now hosts the biggest rock and roll festival in the world every year during Rock in Rio.
For a music lover, Rio is a contender for the most multifaceted and all-around satisfying vacation destination possible—these five downtown Rio musical hotspots are just a taste of what's in store.
1. Lapa
The center of nightlife in Rio de Janeiro, Lapa is a historic downtown bohemian district packed with classic venues that have been popping since the 1940s. Antique-filled three-story Rio Scenarium and sleek, stylish Lapa 40 Graus both host live acts all week long, but for something a bit off the tourist path, Clube dos Democraticos showcases top Brazilian artists in an 1867 architectural masterpiece and attracts a more local crowd. Over at Circo Voador, big name bands and genre-specific music festivals—including regular electronica and "Eu Amo Funk " (I love Funk) shows—offer the opportunity to rage out in an open-air concert-like atmosphere. Old school watering holes, known as botecos, abound in Lapa as well; check out 100-year-old Armazem Senado for ice cold chopp (draft beer) over house samba bands made up of neighborhood players.
Although there are dozens of bars and clubs in Lapa, much of the party happens in the street. The famous Arcos da Lapa—a historic aqueduct that is lit up at night—holds sway over a large plaza where impromptu samba bands seem to form and disintegrate right out of the humid night air. Continue down Ave. Mem de Sa—Lapa's caipirinha vendor and transvestite lined main thoroughfare—for a full-blown street festival every night of the week. Over by the Selaron Steps, Rio's iconic multicolored tiled stairway that was built by a homeless street artist, reggae and funk bars fuel drinking, dancing and partying that usually rings in the dawn.
2. Pedra do Sal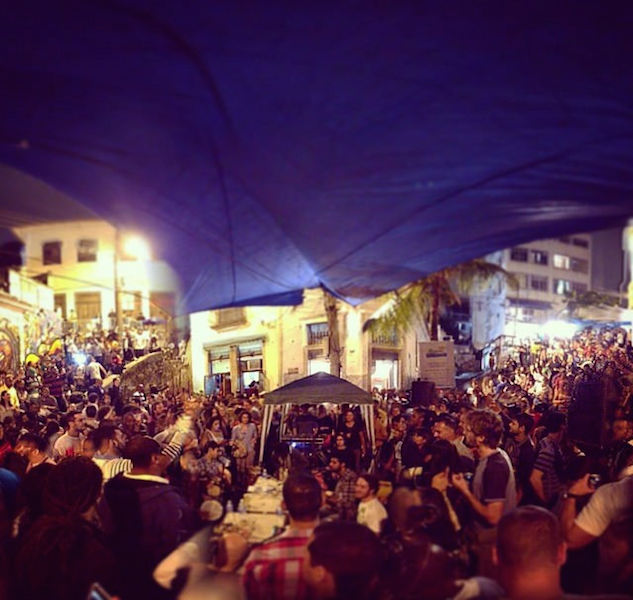 Photo by Matt Spur CC BY
Just north of Rio's modern skyscraper-studded downtown lies the historic port district of Saude, also known as "Little Africa." This is where the samba was invented in the early 20th century after newly freed slaves converged on Rio from the hinterlands. Here in the center of Saude, on a giant slab of raw stone (Pedra do Sal means "Rock of Salt") that was once a major outdoor slave market, hundreds of people gather every Monday and Friday night around a live Roda do Samba. In true traditional style, musicians sit in the center of the square at a long table while the boisterous yet friendly crowd sings along to each and every song, sloshing their ice-cold Antarctica beers onto the ancient streets in the process. It is an event not to be missed by anyone who wants to feel the passion of Brazil's musical history deep in their soul. After the Roda, which quiets down around midnight, quaint locally owned clubs keep the party going until the wee hours.
3. Santa Teresa
Known as the "Brazilian Montmartre," the historic residential neighborhood of Santa Teresa lies in the hills over Lapa and has long been home to Rio's creative class. Several hip jazz clubs are located around the central square of Largo dos Guimarães, including Bar do Marco where acoustic ensemble acts take to the stage early Friday and Saturday evenings. Down in Largo das Neves—another one of Santa Teresa's many plazas—artsy residents of the neighborhood and international visitors sit around drinking cheap beers and enjoying the occasional free concert, play or parade. On weekend days the Parque das Ruinas, a cultural center and park built around the partially restored ruins of a stately mansion with views to die for, hosts live concerts on the open air terrace.
4. The Feira Nordestina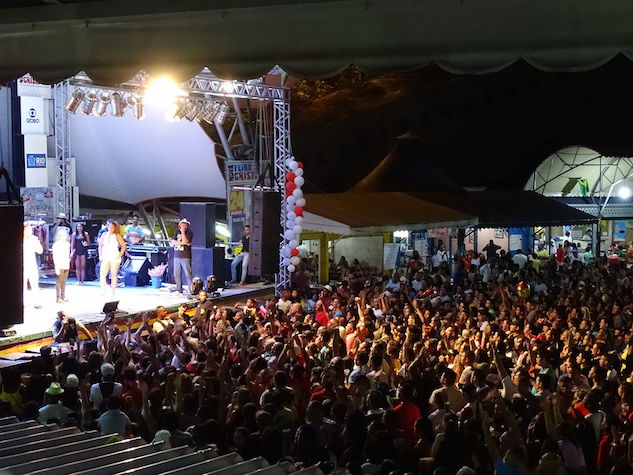 Photo by Adam Jones CC BY-SA
To get a hearty sample of the highly musical culture of Brazil's vast Northeast region, pay a visit to the city within a city that is the Feira Nordestina. This giant festival takes place within its own stadium every weekend, opening its doors Friday afternoon and rocking around the clock nonstop till Sunday evening. Huge stages bookend the oval shaped Feira, hosting top Brazilian Popular Music (BPM) artists while small arenas throughout the fair sport accordion-wielding Forro crooners surrounded by dancers. The rest of the Feira, which is designed to look and feel like city streets and costs just a dollar to enter, is packed with Carne-de-sol (salted steak) restaurants, specialty food vendors and artisans, as well as a handful of karaoke bars and hidden discos.
5. Travessa do Comercio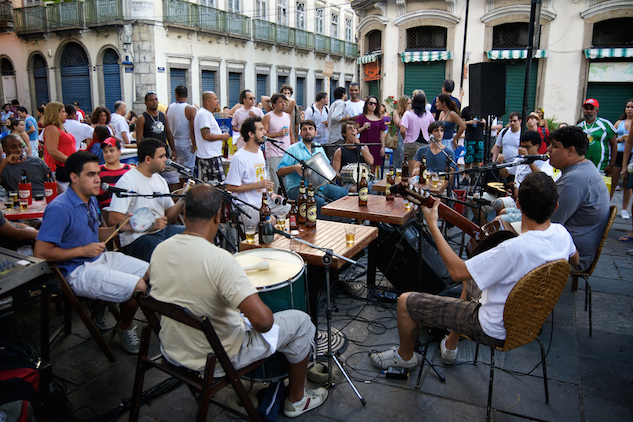 Photo by Nico Kaiser CC BY
A bit of Florence, Italy in the heart of Rio's frenetic downtown, the Travessa do Comercio is a small maze of cobblestoned pedestrian streets filled with outside tables and al fresco diners. The oldest part of the city, this is an extremely popular place with the local post-work crowd but the area gets surprisingly few tourists, even though top Rio groups, like Samba do Lei, play outside on Rua do Ouvidor on a regular basis. Come on the weekend for lunch or a beer; samba bands set up at every twist and turn of these crooked passageways, filling the colonial-era district with energizing music. Later, small venues like the Gafieira Moderna move the party upstairs to a brick-walled dance floor with iron balconies looking out over the ancient rooftops.
The Travessa do Comercio area is also where a handful of Rio's best cultural centers are located, including the massive six-story Centro Cultural do Banco Brazil, which hosts free cinema, art, theater and everything from classical to pop concerts in its ample auditoriums.
Ocean Malandra is a journalist that divides his time between South America and Northern California. When not researching lost hangover cures deep in the Amazon jungle he can usually be found tracking the footprints of samba dancers through the nocturnal streets of Rio.