As the Paralympics Wind Down, Rio de Janeiro's Disabled Ask How Accessible the City Has Become
Photos courtesy Getty Images
Olympics
Features
Rio 2016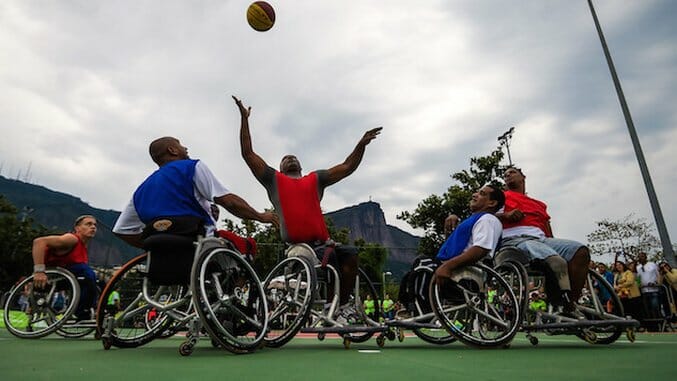 If you were to look at new constructions built in advance of the Rio de Janeiro Olympic and Paralympic Games, you might think Rio was a friendly city for those with physical disabilities. The newly-built Museu do Amanhã and surrounding Porto Maravilha area, for example, have smoothly paved roads, wide entrances, and ramps and elevators for wheelchair access.
But, as Teresa Costa d'Amaral of the disability advocacy agency IBDD explains, to get there you have to pass through an entire city that is not accessible. Rio's sidewalks are narrow, broken up by holes and uneven cobblestones, and few curbs have ramps to allow for wheelchair access. Crosswalks lack any audible signals for the visually impaired. Of the 100 train stations in Rio, only five are wheelchair accessible, including stations tied to Olympic venues like Deodoro and Maracanã.
Last year, D'Amaral spoke to NPR's Lulu Garcia-Navarro and gave Rio de Janeiro a "zero" for accessibility. Her updated ranking? Still zero. "I never thought it would change, but I also didn't think the change would be so insignificant," she says of the Paralympics' impact on Rio's accessibility.
For all the talk around accessibility in advance of the Paralympics, the actual effects on the day to day lives of Rio residents with disabilities has been small. Speaking to the Telegraph, Heitor Luiz de Menezes, a Rio resident who uses a wheelchair, called the city "horrendous." Despite the city's attempt to make all venues accessible, the frustration of getting to and from Olympic stadiums left him discouraged from attending further events. "During the Olympics, the IOC and Rio's City Hall simply didn't think about disabled people," he said.
Rio officials however, tell a more confident story. Speaking at a recent press conference on accessibility and tourism in Brazil, Nilo Sergio, Secretary of Tourism for the state of Rio de Janeiro, maintained Rio has made progress in improving accessibility. "Today, all hotels in the state are required to have adaptations for those with disabilities," he said. Public transportation access has also improved, with all busses installed with wheelchair lifts, and the Brazilian Ministry of Tourism has created an online guide to accessible tourism.
But D'Amaral insists that even while busses have lifts, they often are out of service, or drivers might stop away from the curb, making the entrance difficult to access. And many devices intended to increase accessibility aren't actually designed with disabled people's needs in mind; ramps installed in hotels, for example, might be too steep for someone in a wheelchair to comfortably navigate.
Beyond the city's lack of infrastructure, Brazilians with disabilities also lack visibility. They are often ignored in the society at large – an attitude highlighted by a recent Vogue Brazil photo shoot that attempted to promote the Paralympics without showing any actual Paralympians. Though behind-the-scenes images featured Paralympic athletes Bruna Alexandre and Renato Leite, the actual shoot showed able-bodied actors Paulo Vilhena and Cléo Pires with their limbs erased to imitate Alexandre and Leite. Paralympic athletes have also struggled to gain funding, and they have been hit much harder by Brazil's financial crisis than their Olympic counterparts.
And it's not as though Brazil doesn't have legislation to protect the rights of those with disability; such laws have been on the books since 1989. But while Brazil continues to enact legislation to ensure accessibility, the actual enforcement of those laws has been uneven. There are examples in Brazil of how accessibility can be better implanted, such as in the city of Curitiba, which has integrated accessibility into all levels of public transportation. But Rio overwhelmingly lacks the infrastructure or public interest to make accessibility a reality.
While the Paralympics have shined a spotlight on the accomplishments of disabled athletes, that attention will disappear as the Games come to an end. D'Amaral says that when Brazil's Paralympians go home, their lives will go back to the way they were, without any long-term change. And whatever glory the Paralympics might bring to athletes, that attention won't trickle down to the day-to-day lives of Brazil's disabled population.