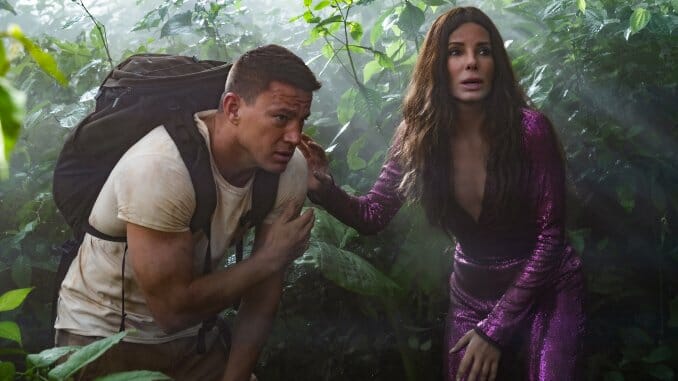 Epix, the MGM-owned premium channel that also offers its service through digital platforms and the standalone Epix Now, has been rebranded as MGM+ to better reflect its corporate owner's library of films. While its original offerings are squarely set in the TV realm (though MGM+ also has its fair share of exclusive stand-up specials), the best movies on MGM+ are worth digging into if you find yourself having access—either through the $5.99/month app or as a more traditional cable add-on.
The amount of films are more analogous to Starz or Showtime than a massive streamer like Netflix or even the similarly studio-owned Paramount+. At my last count, MGM+ has a nice round 250 films available and of those films, most are of a higher quality than the high percentage of filler that you'd find on a gigantic streaming service. It has a robust selection of horror, action, and drama—not to mention a slew of Westerns and the Star Trek films.
We've curated a list of the best of the best, updated every month.
Here are the 20 best movies on MGM+ right now:
---
Release Date: April 1, 2022
Director: Adam Nee, Aaron Nee
Stars: Sandra Bullock, Channing Tatum, Daniel Radcliffe, Da'Vine Joy Randolph, Oscar Nuñez, Patti Harrison, Bowen Yang
Rating: PG-13
Genre: Comedy
After the death of her husband, the last thing smartypants archaeologist-turned-paperback-romance-author Loretta Sage (Sandra Bullock) wants to do is leave her house, let alone go on a book tour at the behest of her caring but pushy publisher/publicist Beth (Da'Vine Joy Randolph) and painfully millennial social media manager Allison (Patti Harrison, a star). Being a trouper, Loretta suits up into her uncomfortable glittery purple jumpsuit (it's on loan) and begrudgingly puts on a fake smile onstage next to Alan (Channing Tatum), the well-meaning but dimwitted (and yes, hot) himbo cover model who portrays the hunky leading man of Loretta's books, Dash McMahon. While the explosive, action-packed sequences are a lot of fun, and an essential element of the adventure genre, what sets The Lost City apart from recent, more tired blockbuster adventure/comedy fare (looking at you, Uncharted) is the humorously human moments that lead to a genuine connection between Loretta, Alan and the audience. Instead of falling back on the kind of semi-ironic "so, that happened" style of fourth-wall-breaking writing, directors and co-writers Adam and Aaron Nee take familiar adventure/rom-com cornerstones and repurpose them to find previously undiscovered gems through these personal moments. They are certainly aware of the tropes being toyed with here—dumb guy/smart lady romance, the frame story of Loretta's novels, the treasure-hunting villian—but they approach these tropes with a freshness that gets the audience invested in its characters. The Lost City might follow conventional genre beats, but an expert cast with a stellar sense of humor and fresh writing leads to lots of laughs and a romantic adventure that turns out to be a diamond in the rough.—Katarina Docalovich
---
Release Date: May 27, 2022
Director: Joseph Kosinski
Stars: Tom Cruise, Jenifer Connelly, Miles Teller, Jon Hamm, Monica Barbaro, Ed Harris, Val Kilmer, Jay Ellis, Glen Powell, Lewis Pullman, Danny Ramirez, Greg "Tarzan" Davis
Rating: PG-13
Genre: Action
Not quite four years since Mission: Impossible—Fallout and much of Tom Cruise's purpose remains the same—if it hasn't exactly grown in religious fervor. In Top Gun: Maverick, the sequel to Tony Scott's 1986 original, Cruise is Captain Pete "Maverick" Mitchell, a man trapped in the past, refusing to advance his career as resolutely as he refuses to do much of anything besides continue to prove he's the greatest pilot in the world—a title the film never forgets to remind the audience that Maverick earned long ago—and mourn his best friend, Goose (Anthony Edwards), who died 35 years ago in an accident for which Maverick still feels responsible. Tom Cruise is also, simply, "Tom Cruise," the only notable show business scion left to throw his body into mind-numbing danger to prove that it can be done, to show a younger generation that this is what movies can be, what superstars can do. Must do. The more modern action films teem with synthetic bodies bursting apart at the synthetic seams, the more Tom Cruise builds his films as alters upon which to splay his beautiful sacrificed flesh. To that end, Joseph Kosinski is the precisely correct director to steer Cruise's legacy sequel. As was the case with Kosinski's Tron: Legacy, Maverick seems to exist to justify its existence, to update an IP that seems to only work in the past. For Top Gun this means translating Scott's vision of sweat-drenched beach volleyball and unmitigated military spectacle into a soberer IMAX adventure, moving from the halcyon days of Reagan's America to a world with no more need of a man like Maverick. "The future's coming, and you're not in it," he's told; every one of his superior officers appears to have no patience for him left. One can't help but imagine that every new Tom Cruise vehicle is a way for him to reckon with that. Kosinski's dogfights are pristine, incredible feats of filmmaking, economical and orbiting around recognizable space, but given to occasional, inexplicable shocks of pure chaos. Then quickly cohering again. If Scott's action was a melange of motion never meant to fully cohere, keeping the American dream just that, then Kosinski is dedicated to allowing the audience a way into the experience. With his regular cinematographer Claudio Miranda, he revels in symmetry to keep the audience tethered. A wide glimpse of a dogfight in total, resembling a beach scene earlier, so suddenly appeared silently in the vast theater and unlike anything I'd ever really seen before, I gasped.—Dom Sinacola
---
Release Date: October 8, 2021
Director:Cary Joji Fukunaga
Stars: Daniel Craig, Lea Seydoux, Rami Malek, Ben Whishaw, Lashana Lynch, Naomie Harris, Ralph Fiennes, Jeffrey Wright, Ana de Armas, Christoph Waltz
Rating: PG-13
Genre: Action
It's telling that Craig's swan song No Time to Die being the longest Bond ever, at a superhero-sized 163 minutes, probably won't inspire as much public self-flagellation as the leaner, meaner Quantum. No Time to Die is neither lean nor mean; it's a hard-working attempt to reconcile the Bond rituals with a series-finale emotional weight that these movies have been accumulating (with mixed success) since 2006. Apparently, that reconciliation process takes time: Director Cary Joji Fukunaga (or, more likely, Eon Productions, the tight-gripped caretakers of the Bond franchise) is so unwilling to drop either aspect of this opus that it often feels like two movies in one, both feature-length. So pronounced is the movie's two-track approach that many of its story elements feel doubled: The opening sequence is a bit of creepy, horror-tinged backstory for Lea Seydoux's Madeleine Swann (first introduced in the half-lackluster Spectre) and a big Bond action sequence jostling him out of retirement. It feels like 30 minutes before the opening titles finally roll. Then, after those credits, it's five years later, and the movie gives us a whole other Bond retirement, this time in Jamaica rather than Italy. If it seems like the characters, locations and plot turns keep on coming, and that it's impossible to keep from mentioning the other Craig Bonds that have preceded it, that's very much the experience of watching No Time to Die—and not always unpleasantly. If you can accept a saga-fication of Bond, with callbacks and plot threads and interconnections, it's, at minimum, less of a Forever Franchise than the endlessly self-teasing superhero mythologies (ironic, given that this is the most forever of franchises). This movie really does want to tie the extended Craig era—longest in years, though not in total output—together. Despite the craft on display, No Time to Die lacks pantheon-level Bond action sequences. Cuba is terrific fun, Fukunaga stages a solid late-movie one-take stairwell fight and the big/delayed opener delivers. But the movie is more concerned with the human stuff, a decision that's by turns hubristic, heartening and unprecedented. (Well, not entirely. On Her Majesty's Secret Service tried something different, and the filmmakers show their belated appreciation for that once-maligned Bond classic here.) The emotional weight it's trying to foist onto its loyal audience doesn't always feel earned, just because it's tricky to parse what, if anything, the movie is actually trying to say about a James Bond who has spent the majority of five movies beginning and ending, sometimes on a loop. Yet fans may welcome the chance to watch the series struggle against its conventions: Are these performances good, for example, or are all the good guys just beautiful? Is this movie visually sumptuous or was it just shot on film? Has James Bond been deepened, or just weathered? As neatly as No Time to Die wraps up, its certainty is ultimately limited to the last line of the credits: James Bond Will Return. How is another question altogether.—Jesse Hassenger
---
Release Date: April 8, 2022
Director: Jeff Fowler
Stars: James Marsden, Ben Schwartz, Tika Sumpter, Natasha Rothwell, Adam Pally, Shemar Moore, Colleen O'Shaughnessey, Lee Majdoub, Idris Elba, Jim Carrey
Rating: PG
Genre: Comedy


Director Jeff Fowler's Sonic the Hedgehog 2 dashes forward as a sequel that pleases as any continuation should. Momentum carries over, fan-favorite characters enter the fray and the filmic universe's presence embiggens. The first Sonic the Hedgehog is an adorable buddy comedy about an alien blur and his Donut Lord protector. Sonic the Hedgehog 2 feels more akin to Sonic's videogame adventures by teaming with Tails, facing Knuckles and hunting the Master Emerald. It's a comforting videogame adaptation: Heartwarming childhood lessons will delight all ages as Sonic leaves his origin blueprints behind to become the next-stage hero once projected from black plastic Sega cartridges. Eat your heart out, Mario. Jim Carrey continues his domination as the mustache-twirling villain Dr. Robotnik who flosses, giving another masterclass in physical comedy and conveying more range through his facial acting than entire comedy troupes. Carrey is an unstoppable force drawing from his glorious '90s catalog, especially when the action kicks into gear and his gesticulating goofiness translates to a Pacific Rim situation. There's no shock on my face as I type these words: It's so fulfilling to see Carrey play this kind of off-the-wall lunatic again. All this would be nothing without clean animation, and Sonic the Hedgehog 2 picturesquely impresses. Kudos to the collaborative efforts of Marza Animation Planet, Moving Picture Company and DNEG—the blending of live-action and computerized creatures is essentially immaculate. The quills and furs in blazing reds, the deepest blues and warm yellows are vividly detailed, and destruction that spans Green Hills to Hawaii could rival most blockbuster disaster flicks. Fans of Sonic the Hedgehog are in good hands with Sonic the Hedgehog 2. Fowler quietly sets the most recent bar for videogame adaptations by building a cinematic universe that speaks eloquently of childhood experiences through Sonic's adrenaline-junkie antics. The addition of Tails and Knuckles is a dynamic level-up that will have fans craving more, not to mention the pop in my theater during the film's mid-credits scene. Sonic the Hedgehog 2 might momentarily lose itself to for-the-kids wackiness, which certainly leaves some plotlines frayed, but the reasons we're here—Knuckles, Tails, Sonic, more Eggman—are all enthusiastically respected. I'm a happy Sonic fan after Fowler's high-speed sequel.—Matt Donato
---
Release Date: August 27, 2021
Director: Nia DaCosta
Stars: Yahya Abdul-Mateen II, Teyonah Parris, Colman Domingo, Tony Todd, Vanessa Estelle Williams
Rating: R
Genre: Horror


The problem with writing about Candyman is that you will inevitably have to write "Candyman" five times. What if my monitor suddenly craps out, leaving me to see a paranormal entity rocking a full-length shearling behind my dark reflection? Unlike many of the white Chicagoans in writer/director Nia DaCosta's slasher sequel, I'm not foolish enough to tempt the Bloody Mary of the Near North Side. I am, however, still drawn to her update of the legend, which manages to pick up the original film's pieces and put them back together in a compelling, reclamatory collage. Ignoring the rest of the Candyman series in favor of a direct follow-up to Bernard Rose's allegory-rich 1992 slasher, DaCosta introduces fancy-pants artist Anthony (Yahya Abdul-Mateen II) to the same urban legend that consumed lookie-loo grad student Helen Lyle. The original story adapted Clive Barker to U.S. racism and wealth inequality—particularly in Chicago, and even more particularly in Chicago's Cabrini-Green projects. Now its homes and high-rises have been demolished or abandoned. A massive Target overlooks its northwest border, where you can buy athleisure and grab an in-house Starbucks before heading to Panera Bread. Gentrification may have neatly plastered over history, but that history cannot be so easily erased. "A story like that—a pain like that—lasts forever," says Colman Domingo's long-timer laundryman Burke. "That's Candyman." DaCosta makes it clear that Anthony's pulled by the legend, by history, more intimately than Helen ever was, and updates her scares in turn. The nightmarish apartments and putrid bathrooms Helen crawled through and photographed neatly reflected the entity haunting them; but the projects have been paved over, and Candyman persists. DaCosta shoots the city accordingly, either in dividing straight lines, or fully warped: You never notice how Marina City's towers look like beehives until they're flipped upside-down. Spurred on by Anthony's interest, Candyman's now an inevitability in every reflective surface. You can't look away from DaCosta's inspired compositions and layouts, your eyes led from one dark corner to the next with an Invisible Man-like mastery of negative space. One of these days, you think, she's going to run out of ideas about how to shoot a mirror kill. Not so, especially in her world of omnipresent, physically and psychically painful self-reflection. While the kills, perpetrated by a being mostly just seen in mirrors, are sometimes a bit too obfuscated by their gimmick to be viscerally satisfying, they slot in perfectly with the film's themes and aesthetic even when they're not dumping cascades of blood. The power of martyrdom, the cycles of economic exploitation, the blood price expected for progress—even if these ideas are imperfectly engaged with, they're so compellingly introduced as to solidify Candyman as a must-see horror and a must-discuss tragedy.—Jacob Oller
---
6. Paranormal Activity
Year: 2007
Director: Oren Peli
Stars: Katie Featherston, Micah Sloat, Mark Fredrichs, Amber Armstrong, Ashley Palmer
Rating: R
Genre: Horror
Here's a statement: Paranormal Activity is the most wrongly derided horror film of the last decade, especially by horror buffs. That's what happens in the wake of massive overnight success, and immediately derivative, inferior sequels: The original gets dragged down by its progeny. The original Paranormal Activity is a masterful piece of budget filmmaking. For $15,000, Oren Peli made what is probably the most effective "for the price" horror movie ever released, surpassing The Blair Witch in terms of both tension and narrative while pulling off incredibly unnerving minimalist effects. Yes, there are some stupid, "I'm in a horror movie" choices by the characters, and yes, Micah Sloat's "get out here so I can punch you, demon!" attitude is irritating, but it's calculated to be that way. Sloat is a reflection of the toxic "man of the house" attitude, a guy who would rather be terrorized than accept outside help. Meanwhile, Katie Featherston's realistic performance as a young woman slowly unraveling is a thing of beauty. But beyond performances, or effects, Paranormal Activity is a brilliant case study in slowly building tension, and in raising an audience's blood pressure. I know: I saw this film in theaters when it was still in limited release, and I can honestly say I've never been in a movie theater audience that was more terrified. How could I tell? Because they were so loud in the moments of calm before each scare (the most dead giveaway of all: when a young man turns to his friends to assure them how not-nervous he is). This was just such an event—there were actually ushers standing at the entrance ramps throughout the entire film, just watching the audience watch the movie. I've yet to ever see that happen again. Deride all you want, but the arrival of Paranormal Activity scared the hell out of us. —Jim Vorel
---
Release Date: November 26, 2021
Director: Paul Thomas Anderson
Stars: Alana Haim, Cooper Hoffman, Sean Penn, Tom Waits, Bradley Cooper, Benny Safdie
Rating: R
Genre: Comedy, Romance
Licorice Pizza is writer/director Paul Thomas Anderson's second ode to Los Angeles in the early 1970s: A city freshly under the oppressive shadow of the Manson Family murders and the tail end of the Vietnam War. But while in his first tribute, Inherent Vice, the inquisitive counter-culture affiliate Doc Sportello (Joaquin Phoenix) earnestly engages with his surroundings and follows the threads of societal paranoia all the way to vampiric drug smuggling operations and FBI conspiracies, Licorice Pizza's protagonist, 25-year-old Alana Kane (Alana Haim), refuses to follow any such thread. A bored, directionless photographer's assistant, Alana nonchalantly rejects any easy plot-point that might help us get a grasp on her character. What are her ambitions? She doesn't know, she tells successful 15-year-old actor Gary Valentine (Cooper Hoffman, son of Philip Seymour Hoffman) over dinner at a restaurant called Tail o' the Cock. What interests and excites her? It's hard to say. When Gary first approaches Alana while she's working picture-day at his high school, it's hard to imagine that Licorice Pizza isn't going to follow the playful design of a sunny Southern California love story. Alana is instantly strange and striking, and—when Anderson introduces her in a languid dolly-shot with a mini-skirt, kitten-heels, slumped shoulders and a gloriously pissed expression—we are compelled to fall in love with her, just like Gary does, at first sight. Of course, Anderson quickly rejects the notion that Licorice Pizza is going to be a straightforward romance. Anderson knows that this ambling, disjointed structure reflects what it's like to be young, awkward and in love. Each shot, filled with dreamy pastels, glows with a youthful nostalgia. Anderson and cinematographer Michael Bauman balance out this haziness with a unique control of the camera, implementing long takes, slow dollies, and contemplative pans galore. What is it that Alana gets from being friends with someone ten years younger than her? And why does Gary always return to Alana even when she tries her best to put him down? Like gleefully gliding through the streets of L.A. in the midst of a city-wide crisis, it's a madness you can only truly understand when you're living it.—Aurora Amidon
---
8. Once Upon a Time in the West
Year: 1968
Director: Sergio Leone
Stars: Henry Fonda, Claudia Cardinale, Jason Robards, Charles Bronson, Frank Wolff
Rating: PG-13
Genre: Western
Let's get this out of the way: Once Upon a Time in the West is as great as they come, and one of the most influential Westerns of its day. But after the film's opening 20 minutes or so dribble by, it's hard not to wonder how the remaining 150 will match them. Sergio Leone's film is so deliberately paced and so unhurried in getting where it needs to that as soon as the moment passes when we first meet Charles Bronson's harmonica-playing gunman, we feel as though we've already sat through an entire feature. That doesn't sound like much of a compliment, but Leone's talent for stretching seconds into minutes and minutes into hours is made all the more amazing by how little we feel the passage of time. Once Upon a Time in the West is truly cinematic, a wormhole that slowly transports us into its world of killers and tycoons, bandits and landowners, revenge and rightness. There's a reason that Leone's masterpiece is considered one of the greatest movies ever made and not just one of the great Westerns: Once Upon a Time in the West is an enduring monument of its era, its genre and filmmaking itself. —Andy Crump
---
9. Jackass Forever
Year: 2022
Director: Jeff Tremaine
Stars: Johnny Knoxville, Steve-O, Chris Pontius, Danger Ehren, Wee Man, Preston Lacy, Zach Holmes, Jasper Dolphin, Rachel Wolfson, Sean McInerney
Rating: R
Genre: Comedy, Documentary
On paper, Jackass Forever operates in perfect sync with every other long-gap nostalgia sequel/revival being used to prop up various streaming services or the tenuous theatrical experience. It arrives 11 years and change after a second sequel to a movie based on (and very similar to) a TV series, brings back as much of its core cast as possible for more of the same and, in some cases, even circles back to revisit certain sequences from previous installments. Just like past versions, Jackass Forever opens with a more staged action sequence that seems designed to blow remaining budget money on a larger-scale expression of the project's grody whimsy. It's Jackass, again, again. Two factors help Jackass Forever mitigate this on-trend sameness, and then transcend it. One is the durability of Jackass itself, which—in case it has somehow escaped you—consists of ringleader Johnny Knoxville and assorted skater-adjacent goofballs performing a variety of stunts and pranks that blur the line between primitive sketch comedy and sophisticated geek show. The second factor also has to do with that longevity. Let any movie or TV series run long enough, and it will become at least in part about its own age, and while Jackass doesn't get too cutely sentimental about how long these guys have been in each other's lives and ours, it is unavoidably aware of that fact. In some sequences, Knoxville's hair is a distinguished mussed gray; more than once, Steve-O brandishes and/or retrieves his false front tooth ("They're dropping like flies," he grins semi-ruefully). In an early sequence, Knoxville jokes about the camera needing to avoid capturing his bald spot. Spike Jonze, a longtime cohort who only occasionally makes on-camera appearances, rushes on with some spray paint to cover it up. These guys are well into their forties, and they're still surprising each other with taser zaps, engaging in everyone-loses slapstick competitions and using each other to prop up bike ramps. This is, as the saying goes, a feature, not a bug. That affability goes a long way: More casual viewers' mileage may vary on which stunts are laugh-out-loud funny and which are abjectly horrifying, and the rickety carnival rollercoaster ride works better when the other passengers—whether fellow audience members or the on-camera talent—are screaming and laughing along in equal measure. Knoxville himself feels more like a host than ever, jumping into the fray for select bits, including a hell of a curtain call for his closer. He's been good in fiction films, but he never feels as comfortable onscreen as when he's presiding over this particular brand of mayhem. He emcees every Jackass movie like he may never get the chance to do it again—an unspoken threat that looms larger than ever over this one. After all, it may not be physically feasible to keep this series going as a Richard Linklater or 7 Up-style chronicle of slapstick performance art. Then again, Forever is right there in the title.—Jesse Hassenger
---
10. Rosemary's Baby
Year: 1968
Director: Roman Polanski
Stars: Mia Farrow, John Cassavetes, Ruth Gordon, Sidney Blackmer
Rating: R
Genre: Horror
The banality of evil isn't a concept new to the horror genre, but in Roman Polanski's troubled hands, that banality is an unadulterated expression of institutionalized horror, one so ingrained in our society it becomes practically organic. With Rosemary's Baby, the body of young Rosemary (Mia Farrow) is the institution through which Satan's malice gestates, a body over which everyone but Rosemary herself seems to have any control. At the mercy of her overbearing neighbors (played by a pitch-perfect Ruth Gordon and Sidney Blackmer), her Ur-Dudebro husband, Guy (John Cassavetes), and the doctor (Ralph Bellamy) recommended by her high society cadre of new friends, Rosemary is treated as if she's the last person who knows what's best for her and her fetus—a position she accepts as a matter of fact. She's only a woman, a homemaker at that, so such is her lot. The worse she feels and the more fraught her pregnancy becomes—as well as the recurring flashes of a ghastly dream she can't quite shake in which a ManBearPig mounts her, its glowing yellow eyes the talismans of her trauma—the clearer Rosemary begins to suspect she's an unwilling pawn in something cosmically insidious. She is, is the absurd truth: She is the mother of Satan's offspring, the victim of a coven's will to worship their Dark Lord much more fruitfully. More than the director's audacious Hollywood debut, not to mention the omen of what New Hollywood would be willing to do to tear down tradition, Rosemary's Baby is a landmark horror film because of how ordinary, how easy, it is for everyone else in Rosemary's life to crush a woman's spirit and take her life. The baby has "his father's eyes" it's said; what of the mother's does he have?—Dom Sinacola
---
11. The Quiet Man
Year: 1952
Director: John Ford
Stars: John Wayne, Maureen O'Hara
Rating: PG
Genre: Drama, Romance
Seen today, John Ford's 1952 Ireland-set comedy/drama/romance plays as both squarely of its time and enchantingly outside of it. On the minus side, there are its thorny gender politics. Though the female love interest, Mary Kate Danaher (Maureen O'Hara), exhibits a feistiness and a desire for agency that could be seen as proto-feminist to modern eyes, she's ultimately put at the mercy of the hyper-masculine ex-boxer Sean Thornton (John Wayne), who is finally forced to tap into the violent side he's so desperate to escape in order to consummate their marriage. The fact that Sean is an American—though of Irish origin, having been born in Innisfree, the village he returns to in the film—and Mary Kate a lifelong Irishwoman gives their dynamic a faint imperialist air as well. And yet, Ford, more often than not, disarms criticism by sheer virtue of his lyrical sensibility, reserves of deep feeling, and humane attention to character detail. The Technicolor Ireland of The Quiet Man is clearly a lush dreamscape: an out-of-time haven of hearty romance and even heartier community. Not that it's a paradise, necessarily, as Sean finds himself stymied to some degree by Irish traditions that go against his much-more-forthright American upbringing. But this is not the dark and brutal vision of Ford's later 1956 masterpiece The Searchers, with an outlaw outsider finding himself perpetually unable to fit into any established order. Here, in the looser-limbed and lighter-hearted The Quiet Man, Sean and the Irish locals eventually find common ground, albeit through a perversely extended brawl that plays as a purifying male-bonding session. —Kenji Fujishima
---
Year: 2019
Director: Rupert Goold
Stars: Renée Zellweger, Jessie Buckley, Finn Wittrock
Rating: PG-13
Genre: Drama
The standard "Somewhere Over the Rainbow" takes on a powerful new meaning in Judy, the latest drama from director Rupert Goold and writer Tom Edge. In the biopic, aging legend Judy Garland (Renée Zellweger ) runs across New York, and eventually across the globe, to keep working. Based on the play End of the Rainbow by Peter Quilter, Judy works as a subdued rehashing of some of Garland's most scandalous moments. Flashing back and forth between the alcoholic final haze of Garland's career and the pill-popping days of her youth, Garland's darkest and loneliest days frame her existence. Frequently bordering on melodrama, Zellweger centers the film on the individual, not the celebrity. In her best performance since Chicago, she disappears into the icon. Her usual on-screen traits—the curled lips, stamping feet and balled-up fist—are replaced with a justified rage that she wields like a whip. Every insult slung lands precisely and without mercy, though she gets as good as she gives. When faced with the crackling loathing of ex-husband Sidney Luft (Rufus Sewell), she swells like a pufferfish at the indignation that she was ever anything less than a wonderful mother. But, when she asks her daughter if moving to her father's would make her happy and her daughter replies yes, she caves in on herself at the perceived loss of the last person who made her feel needed and loved. The Garland-obsessed fan won't learn a lot from watching this biopic, but education doesn't appear to be the main goal of the filmmakers. The impact of the once golden girl on her family and her fans carries the most emotional punch. In the case of the latter, especially, Judy does a spectacular job highlighting Garland's connection to the gay community. In the hands of Goold, Edge and Zellweger, the story blossoms into a heartbreaking journey of one abused soul reaching out to, and rejecting, nearly everyone that will have her. —Joelle Monique
---
13. Con Air
Year: 1997
Director: Simon West
Stars: Nicolas Cage, John Cusack, John Malkovich, Steve Buscemi, Ving Rhames, Colm Meaney, Mykelti Williamson, Rachel Ticotin
Rating: R
Genre: Thriller
A fear of flying is something that terrorizes more of us than we probably realize. However, nothing quite compares to sharing an aircraft with a handful of America's most dangerous criminals. Such is the plot of 1997's fabulously entertaining Con Air. An ensemble cast consisting of Nicolas Cage, John Cusack, Steve Buscemi, Ving Rhames, Dave Chappelle, Danny Trejo and the tantalizing John Malkovich as Cyrus "the Virus" make for one hell of a ride, providing plenty of stellar action sequences and memorable one-liners.—Brian Tremml
---
Year: 2022
Director: Parker Finn
Stars: Sosie Bacon, Kyle Gallner
Rating: R
Genre: Horror
Smile may not impress true students of the horror genre, adherents to the dark tradition, but for novices and the easily scared or sensitive, it's a gruesome and macabre thrill ride that tries to talk about trauma as its characters struggle to unpack it. The movie cycles between and draws on the traditions of recent "elevated" horror as well as sensational exploitation films of the later 20th century. Its main thrust is as a curse movie, reminiscent of mid-00s to 2010s films such as The Grudge and It Follows, while also sharing some of its vibe and structure with psychological-supernatural horror like Daniel Isn't Real, another movie about trauma activating a supernatural violent streak. Smile is largely a movie about dread, hopelessness and the inability to escape the inevitable. It succeeds in building those feelings while thriving on jump scares, of which there are many. Of course, to build maximum tension, the camera and music sometimes lead us to think one is coming that doesn't. For some viewers, this might wear out its welcome, but Smile had me on the ropes throughout. Some silliness notwithstanding, Smile successfully builds and reproduces dread. While it uses trauma as a narrative theme, it doesn't feel completely exploitative or shallow. Because the haunting is unambiguously happening, the trauma discussion doesn't feel like a red herring but rather a parallel conversation. While genre veterans may effectively point at what and where it borrows, Smile will positively terrify casual fans of horror. It's creepy, dreadful and jumpy.—Kevin Fox, Jr.
---
15. Election
Year: 1999
Director: Alexander Payne
Stars: Matthew Broderick, Reese Witherspoon, Chris Klein
Rating: R
Genre: Comedy
Tom Perrotta writes novels that strip the veneer from polite and "civilized" mid-American suburban life to expose it as the Starbucks-ian jungle that it is: The most reptilian impulses of human nature can strike at any time to dismantle the weak ones in the pack, or to at least flirt with pure narcissistic and hedonistic behavior. In fact, two great films based on his work outline this thematic connection—in Todd Field's Little Children, the sexual indiscretions of small town characters are narrated like an old school National Geographic documentary, and in Alexander Payne's Election, the soundtrack blares with a screeching, angry tribal chant whenever a character feels slighted, preparing for an attack to socially destroy an enemy. Perrotta and Payne's narrative covers a rift between a high school teacher, Jim McAllister (Matthew Broderick), who isn't self-aware enough to realize how much of a selfish prick he really is, and a student, Tracy Flick (Reese Witherspoon), the embodiment of blind and ruthless ambition, during the election to appoint the new student body president. Underneath this simple story rides a precise and nimble exploration about the lengths anyone might go to on the road to success to protect their fragile ego while stabbing many backs. Witherspoon's now-iconic take on Tracy Flick is the embodiment of that person we've all encountered who will do and say literally anything to get ahead in life. However, Broderick's seemingly caring and guiding teacher also succumbs to his own basest desires. Which one perishes, and which one comes out on top depends not on any preconceived cosmic hierarchy of good morals (or ethics—what's the difference?), but on who can be the shrewdest and cleverest animal in the pack. —Oktay Ege Kozak
---
Year: 2022
Director: William Brent Bell
Stars: Isabelle Fuhrman, Julia Stiles, Rossif Sutherland
Rating: R
Genre: Horror
William Brent Bell, the director of Orphan: First Kill (and not the first movie), knows a thing or two about wriggling out of a tight spot in order to bravely forge ahead with a horror sequel: He followed up his own The Boy, another well-twisted horror movie, with a sequel that attempted to take a newly minted gimmick-slasher in a different, franchise-preserving direction. What Bell gains is a neo-scream queen in Isabelle Fuhrman, who in between Orphan movies plumbed psychological depths in The Novice and got cut out of an Escape Room 2 subplot (restored on a home video extended version). She returns for a look at Esther's early years; the movie opens with her imprisoned in an asylum in Eastern Europe before she escapes and poses as the long-missing daughter of Tricia (Julia Stiles) and Allen (Rossif Sutherland). This means that where a 12-year-old Fuhrman once played a secret 33-year-old, here she's attempting to pass as a 10-year-old at her real-life age of 25. This is not exactly a plot twist, but it does provide a bold new definition for the circle of life, and an acting challenge as audaciously boldfaced, in its own way, as the original movie's twist. Maybe more, given that it must be dealt with at the outset, rather than in a ratcheted-up climax. Bell and screenwriter David Coggeshall, working from a story by original Orphan screenwriters David Leslie Johnson-McGoldrick and Alex Mace, build on the first movie's gothic aggression. They wring knowing laughs out of the bizarre sense of routine while taking clever advantage of the fact that while the family may look familiar, it's Esther who the audience now knows better. Fuhrman has great fun incorporating her Novice determination into a less conflicted character, and Stiles is nearly as delightful, performing a different sort of time warp: Known for her seeming sophistication as a teen star, her obligatory buttoned-up horror-mom role turns out to be kind of a hoot. The whole movie is, really, as it distorts a decidedly modern franchise extension through a hall of spookhouse mirrors, refracting its silliness across decades. Accordingly, Orphan: First Kill isn't an especially scary movie, nor is its class-war commentary especially subtle or insightful. Through sheer force of personality, though, these elements are rendered immaterial. Like Esther, the movie has a keen sense of how to weaponize its own audacity.—Jesse Hassenger
---
17. Night of the Living Dead
Year: 1968
Director: George A. Romero
Stars: Judith O'Dea, Duane Jones, Marilyn Eastman, Karl Hardman, Judith Ridley, Keith Wayne
Rating: NR
Genre: Horror
What more can be said of Night of the Living Dead? It's pretty obviously the most important zombie film ever made, and hugely influential as an independent film as well. George Romero's cheap but momentous movie was a quantum leap forward in what the word "zombie" meant in pop culture, despite the fact that the word "zombie" is never actually uttered in it. More importantly, it established all of the genre rules: Zombies are reanimated corpses. Zombies are compelled to eat the flesh of the living. Zombies are unthinking, tireless and impervious to injury. The only way to kill a zombie is to destroy the brain. Those rules essentially categorize every single zombie movie from here on out—either the film features "Romero-style zombies," or it tweaks with the formula and is ultimately noted for how it differs from the Romero standard. It's essentially the horror equivalent of what Tolkien did for the idea of high fantasy "races." After The Lord of the Rings, it became nearly impossible to write contrarian concepts of what elves, dwarves or orcs might be like. Romero's impact on zombies is of that exact same caliber. There hasn't been a zombie movie made in the last 50-plus years that hasn't been influenced by it in some way, and you can barely hold a conversation on anything zombie-related if you haven't seen it—so go out and watch it, if you haven't. The film still holds up well, especially in its moody cinematography and stark, black-and-white images of zombie arms reaching through the windows of a rural farmhouse. Oh, and by the way—NOTLD is public domain, so don't get tricked into buying it on a shoddy DVD. —Jim Vorel
---
18. Sleepless in Seattle
Year: 1993
Director: Nora Ephron
Stars: Meg Ryan, Tom Hanks, Bill Pullman, Ross Malinger, Rob Reiner, Rosie O'Donnell, Gaby Hoffmann, Victor Garber, Rita Wilson
Rating: PG
Genre: Rom-Com
Sleepless in Seattle is essentially one giant love letter to 1957's An Affair to Remember from writer/director Nora Ephron. Rita Wilson gives a memorable teary summary of the movie, and Annie (Meg Ryan) watches it before writing to Sam (Tom Hanks) inviting him to meet her at the top of the Empire State Building—the way Cary Grant and Deborah Kerr attempt to in their movie—on Valentine's Day. When they finally meet on the observation deck, the theme from An Affair to Remember swells, setting the mood for anyone with an appreciation for good rom-coms. —Bonnie Stiernberg
---
19. The Phantom of the Opera
Year: 1925
Director: Rupert Julian
Stars: Lon Chaney, Mary Philbin
Rating: NR
Genre: Horror


Before Dracula and the official birth of Universal Horror, there was Phantom of the Opera. (By the way: It sucks that none of the major streamers, including Netflix and Shudder, have the rights to show all of the classic Universal Monster series. I want to be able to watch Son of Frankenstein or The Wolf Man streaming on demand some day, guys! Get those licensing deals in place!) Regardless, it's nice that Shudder has at least one of these old classics, on account of it being in the public domain. This is the original version of Phantom, starring Lon Chaney Sr., the "Man of a Thousand Faces." The pace is slow, the acting style on display is rather alien to watch today— overdramatic holdovers from the vaudeville era—and you know how the classic story goes, but man: Chaney's face. t's one of the truly iconic faces of horror, right alongside Boris Karloff, Bela Lugosi and Chaney's own son, Lon Chaney Jr., who would go on to play The Wolf Man. Phantom of the Opera is indispensable for Chaney's self-devised makeup, which reportedly had theater patrons fainting in the aisles in 1925. —Jim Vorel
---
10. Rocky
Year: 1975
Director: John G. Avildsen
Stars: Sylvester Stallone, Talia Shire, Burt Young, Carl Weathers, Burgess Meredith
Rating: PG
Genre: Action


Obvious as it may now be, Sylvester Stallone's role as Rocky Balboa must be one of the most enduring performances of the '70s. A look back at the original film is a reminder of the series' humble and lo-fi origins, but also of the economic and spiritual funk Americans felt in the post-Vietnam moment. Stallone's lovable, dopey bum with no real prospects who is suddenly thrown into a million-dollar fight with the superstar champion of the world was an uplifting movie hero in a downbeat decade. Brilliant supporting turns from Burt Young, Carl Weathers and Talia Shire give fresh dimensions to the old stereotypes of trainer, opponent and ring girlfriend—offering bruising insecurity, tenderness and the underside of egotism beyond any stock characterization. It's not a stretch to say that Rocky's glorious failure in the ring could, at the time, be writ large as an expression of American greatness in the face of dispiriting defeat.–Christina Newland