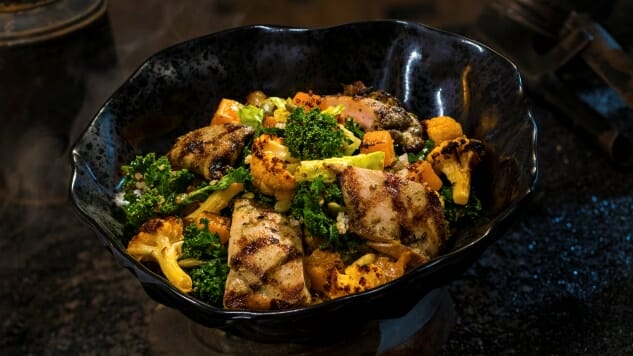 This is part of a series of previews of Star Wars: Galaxy's Edge, a 14-acre immersive themed experience coming to Disneyland in Summer 2019 and Disney's Hollywood Studios in late Fall 2019. You can find the rest of the series here, or by clicking the following links:
The rides of Star Wars: Galaxy's Edge
The drinks of Star Wars: Galaxy's Edge
The merchandise of Star Wars: Galaxy's Edge
There comes a point in every person's life when they stop fooling around and eat Fried Endorian Tip-Yip for the first time. At least that's what Disney hopes will happen once the Star Wars: Galaxy's Edge theme park expansion opens at Disneyland and Disney's Hollywood Studios later this year. This Ewok delicacy first appeared in Return of the Jedi, and last week I got to try it myself, along with a variety of other unworldly dishes that'll be found in Galaxy's Edge, during an event at Disneyland.
For those who haven't memorized Wookieepedia, a tip-yip is basically a chicken. It lives on Endor, the forest moon that the Ewoks call home, and it's a prime source of protein for those furry little hunters. When Disney World's Food and Beverage Concept Development team starting brainstorming possibilities for immersive menu items for Galaxy's Edge, the tip-yip was at the top of the list. And despite its fancy name, don't get confused: when you bite into fried tip-yip, you'll be eating a chicken nugget. It's one of a variety of dishes that grew out of the central conundrum for Disney's chefs when they sat down to make up a Star Wars menu: how do you make foods that seem like they're from other planets and alien cultures, when you can only use ingredients and spices found on Earth?
The answer is two-fold. First, try to combine those familiar ingredients in unfamiliar ways. As Brian Piasecki, the Culinary Director of Walt Disney World, said during our tasting, Galaxy's Edge visitors can expect "a lot of flavor components [they] might not think of." Secondly, try to upend expectations by making sure the food doesn't taste like it looks. Based on the samples I got to eat last week, Disney seems to have pulled both off.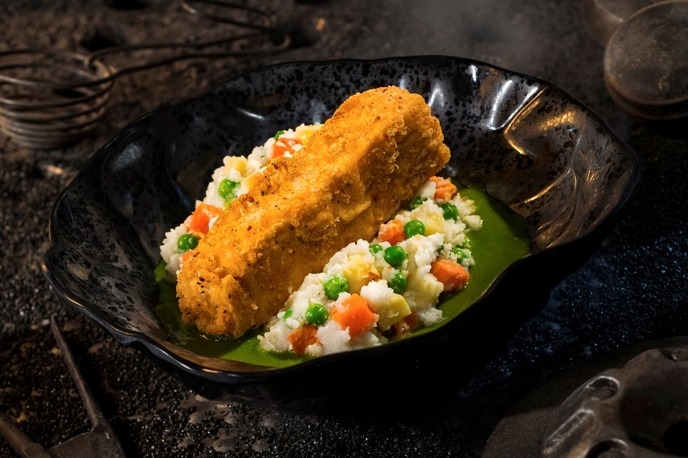 Fried Endorian Tip-Yip
The tip-yip doesn't look completely unlike fried chicken. It has that same golden brown color and appears to have a layer of batter fried around it. When I bit into it, though, I realized what I assumed was batter was something slightly different. It uses egg wash and a flour-based breading, which gives it a lighter coating and less of a crunch than most fried chicken, and also makes it less heavy and less greasy. The thick, generous portion of boneless white meat inside is "naturally compressed," which gives it a texture unlike a typical chicken nugget. It almost felt like I was biting into shredded chicken that was tightly compacted into a dense mass and then deep fried. And although that might sound unappetizing, I can assure you that the tip-yip was a more interesting and flavorful take on the chicken nugget than what's usually found in theme parks. When garnished with green gravy and dairy-free mashed potatoes with peas and carrots, it feels just alien enough.
After the tip-yip I found myself considering a small slab of Kaadu Sticky Ribs. These wingless birds on Naboo serve as the stalwart steeds of the Gungans—Jar Jar Binks himself rode one—but on this day served the role of my lunch. Except no actual kaadu were hurt for this meal—it was a slab of pork ribs cut in half lengthwise to be more in line with the size of a kaadu, coated with a sweet and slightly spicy barbecue sauce and a layer of toasted breadcrumbs. The meat pulled easily off the bone when bitten into, but the sauce was so sticky on my hands and face that I quickly defaulted to scraping it off with a fork. The breadcrumbs gave it that unique touch that made it feel unlike a typical order of ribs, adding a tasty crunch and an unusual appearance. It was served with a small scoop of purple slaw and blueberry cornbread with a touch of cayenne, which offered up tangy and sweet counterpoints to the slight heat of the barbecue sauce. The ribs were delicious, even if it took a little bit of work to wash the evidence out of my beard.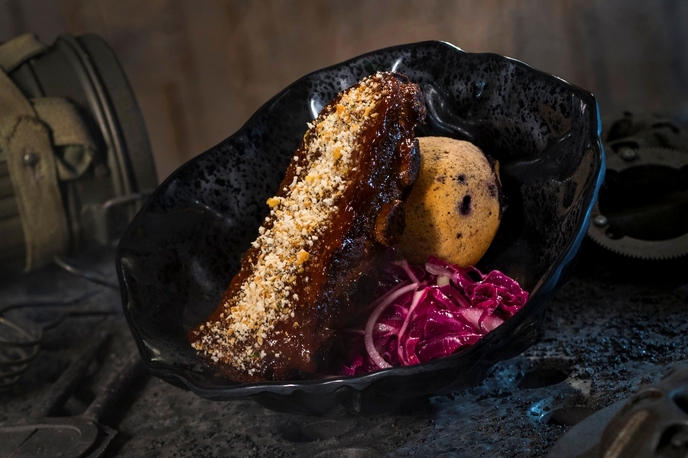 Kaadu Sticky Ribs
Next up we had a taste of the vegan Felucean Garden Spread, a mixture of herb hummus and tomato and cucumber relish with three vegan kefta meatballs and a few wedges of pita. The plant-based meatballs were made out of the same substance as the Impossible Burger, and felt like a crumbly take on spicy kefta mkaouara, a kind of meatball found in Morocco. The pita, meanwhile, was a little bit thinner than a traditional pita, falling somewhere between that and a tortilla. It didn't feel slight, but it was just noticeably off enough to add in a bit of that alien sensation that Galaxy's Edge is aiming for. I'm no vegan, but this was one of my favorite dishes I tried last week—the meatballs had a bit of a kick to them that contrasted nicely with the cool hummus and doughy pita.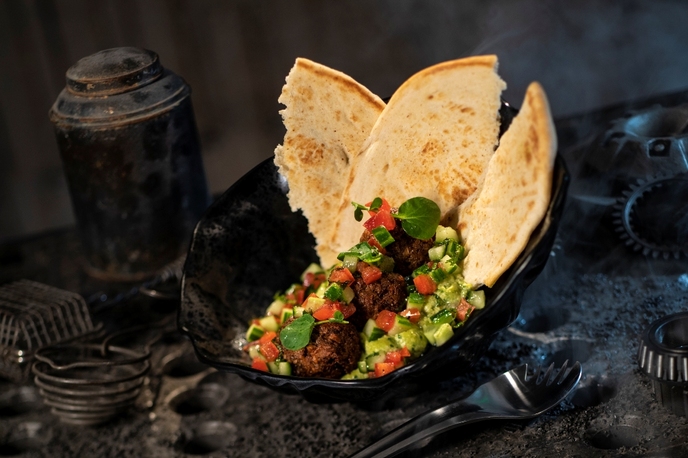 Felucian Garden Spread
If sweet stuff is your Force, don't worry: Galaxy's Edge has a couple of fantastic desserts that you'll wolf down faster than the Sarlacc inhaled Boba Fett. The raspberry creme puff with passion fruit mousse was a yellow swirl on top of a green-tinted puff with a raspberry garnish. It's a tart and tropical delight. I'm more of a chocolate fan, though, so if I had to pick I'd definitely go with the chocolate cake with chocolate mousse and coffee custard. It's like three concentric spheres of chocolate (and coffee) fused around one another, with varying consistencies helping each layer stand out. I definitely wouldn't refuse either of these desserts again.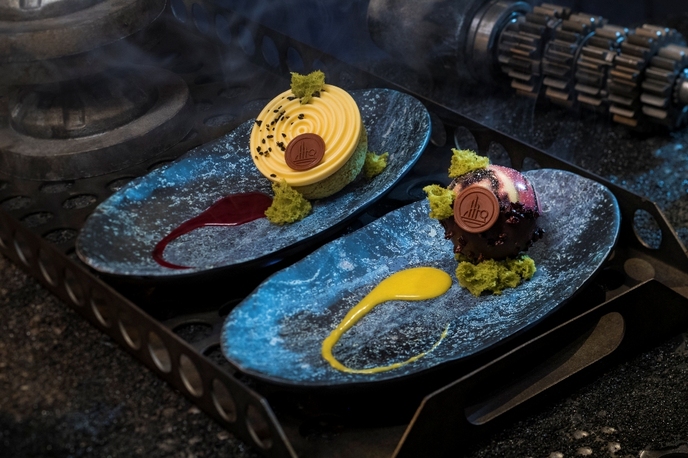 Dessert
All three of these dishes will be served at Docking Bay Food and Cargo, the main quick service restaurant within Black Spire Outpost, the town that Galaxy's Edge is set in. I wasn't able to try everything from Docking Bay last week, but I can tell you what else will be on the menu. There's an Ithorian Garden Loaf, which is another plant-based meat alternative cooked like a meatloaf, with mashed vegetables, seasonal vegetables and mushroom sauce. The Braised Shaak Roast is a beef pot roast with kale, mushrooms and cavatelli pasta. The Oven-Roasted Burra Fish is their version of mahi mahi, crusted in Dijon and served with quinoa and pumpkin seeds, a variety of greens, roasted veggies, and a green curry ranch dressing. The Yobshrimp Noodle Salad is a noodle salad with slices of carrots and peppers and a healthy portion of chilled shrimp on top. The Tip-Yip returns as an oven-roasted dish, with the same sides as the Burra Fish. And children can get the fried tip-yip in smaller nugget portions, with mac and cheese as a side.
Docking Bay Food and Cargo isn't the only restaurant at Galaxy's Edge, though. There's also the counter service joint known as Ronto Roasters (and yes, I had a very hard time not immediately making a Kenny Ronto's Roasters joke when that name was unveiled last week), which is run by a fellow named Bakkar and his trusty droid 8D-J8. Piasecki said that the driving concept behind Ronto Roasters was "meat and heat," and Disney definitely hit that mark. When Galaxy's Edge opens Ronto's small space will make a big impression, with a large podracer engine hanging from the roof and various cuts of meat turning on spits beneath its flame. That hadn't been installed yet during my trip, but I did get to try Ronto's specialties. This location will serve two kinds of turkey jerky, a spicy herb and a sweet teriyaki; I tried both, and although I don't anticipate jerky supplanting churros and corndogs as everybody's favorite theme park food, I do think people will have no problem chewing on it while adventuring through Galaxy's Edge. Ronto Roasters will also serve a more substantial pita sandwich, with a thin layer of roasted pork and a peppercorn Szechuan sauce surrounding tangy cabbage slaw and a spicy Portuguese sausage. Disney's chefs spoke of unexpected flavor combinations as a key to making earthbound food feel alien, and this sandwich pulled that off more than anything else served at the event. Between the sauce and the sausage, there were two distinct bursts of spice, with two different tastes and heat levels. The final bit of heat lingered for a few seconds, tingling my throat and making me want another bite. As good as the food from Docking Bay was, the Ronto Roasters sandwich promises to be the most unique and delicious dish at Galaxy's Edge.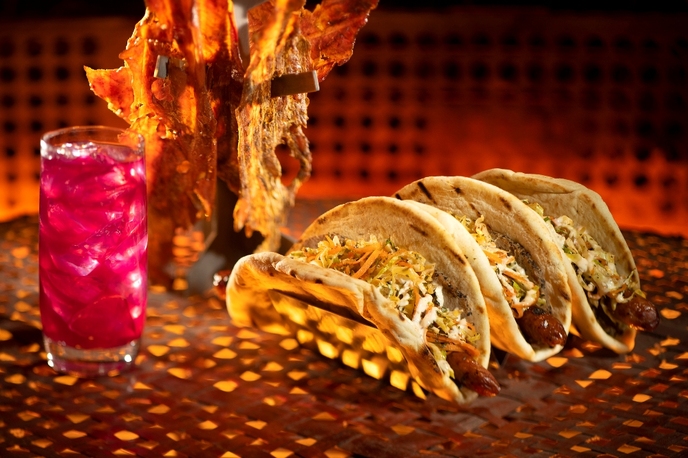 Turkey Jerky and Ronto Wrap
Finally, for anybody just looking for a quick snack, there's Kat Saka's Kettle. Found in a stall within the market place, this store specializes in gourmet popcorns that don't quite look or taste like any we have here on Earth. Available in a range of colors, from purple to crimson to yellow and beyond, Kat Saka's Kettle / Outpost Mix can be sweet, salty, and a little spicy, sometimes all at once. I tried a little bit of it last week, and it'll make for ideal munching food while exploring the teeming streets of Black Spire Outpost.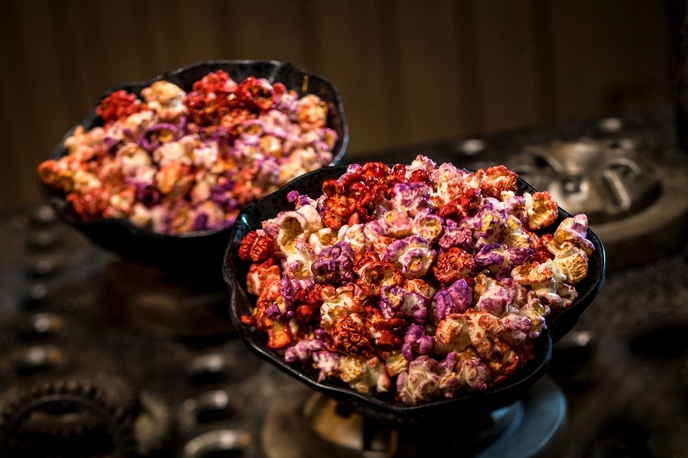 Kat Saka's Kettle / Outpost Mix
Galaxy's Edge will offer an eclectic mix of dining options when it opens later this year, all of it created with the goal of making its visitors feel like they're actually living within the world of Star Wars. Some dishes feel more alien than others, but what I tasted last week shows how far Disney is willing to go to create an illusion. Almost none of the traditional food expected from a theme park will be found in Galaxy's Edge—no hot dogs, no French fries, no hamburgers, no pizza. The closest it gets is a chunk of boneless fried chicken that doesn't exactly look or taste like a chicken nugget, named after a sci-fi chicken from a fictional moon. It might be a hard sell to hungry guests just looking for a quick, comforting bite during a busy day at Disneyland or Hollywood Studios, but this attention to detail will be celebrated by anybody who values the immersive aspect of theme parks, and by all those Star Wars fans who want to genuinely feel like they're in another galaxy.
Find more photos of Star Wars: Galaxy's Edge food below, and click here to read about its beverage options, including information on its cantina.
---
Braised Shaak Roast: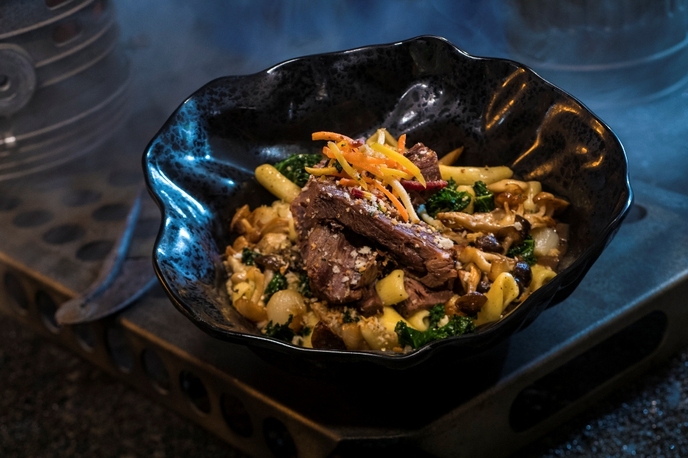 ---
Ithorian Garden Loaf:
---
Oven-Roasted Burra Fish: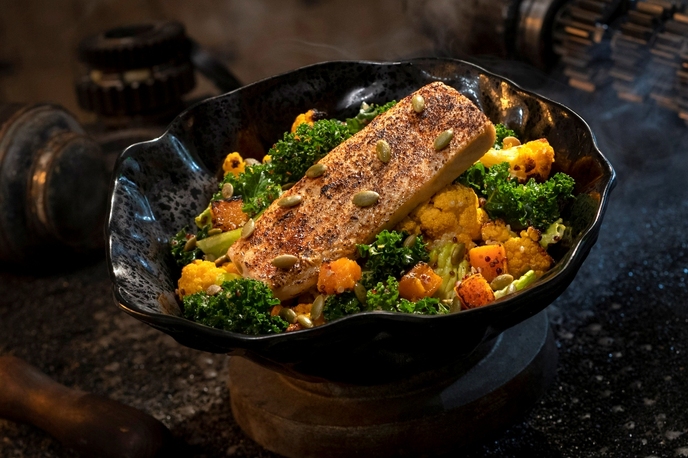 ---
Oven-Roasted Tip-Yip: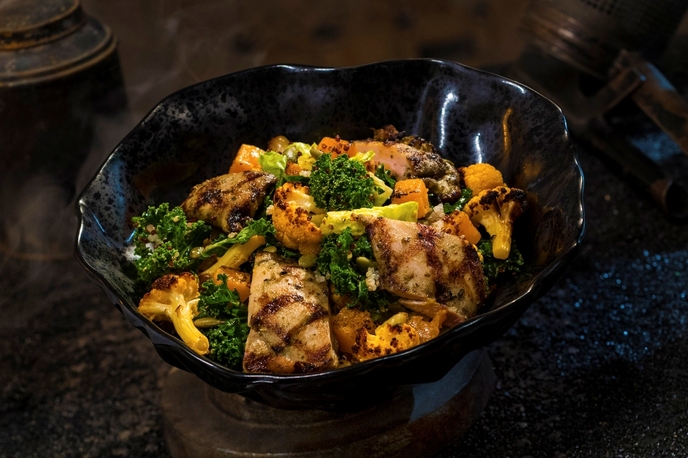 ---
Senior editor Garrett Martin writes about videogames, comedy, travel, theme parks, wrestling, and anything else that gets in his way. He shares stories and photos from his Disney journeys on Instagram at @garrett_goes_to_disney. He's also on Twitter @grmartin.