The Internet's Fourth Album, Hive Mind, Is Finally Here
Images via Grandstand Media
Music
News
the internet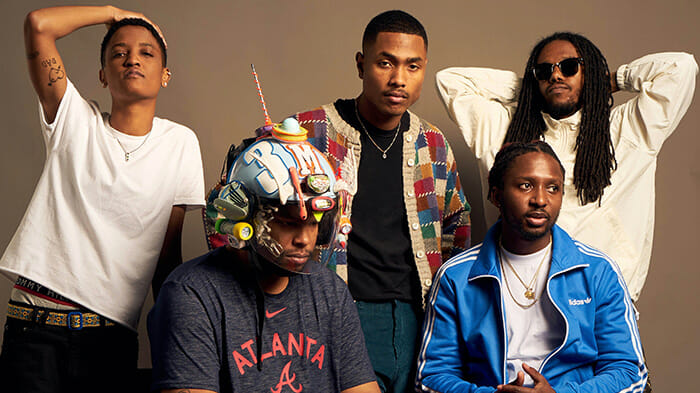 The Internet took a three-year hiatus following their Grammy-nominated album Ego Death, allowing each other to hone their crafts and work on developing projects outside of the group. Member Steve Lacey worked on projects such as the Pulitzer Prize-winning Damn by Kendrick Lamar and J Cole's 4 Your Eyez Only, while Syd, Matt Martian, Christopher Smith and Patrick Paige put out solo albums — Fin, The Drum Chord Theory, Loud and Letters of Irrelevance respectively.
Once they did reunite to get to work on their fourth studio album, Hive Mind, they took their time with it, moving around the world looking for inspiration. Frontwoman Syd explained on Reddit that they "rented houses and studios all over the world and just lounged around, no pressure." They made the last three tracks on the album in Australia.
The 13-track LP features previously released songs "Roll (Burbank Funk)," "Come Over," which the band performed on Fallon, and "La Di Da." an effortlessly funky project that shows off just how well the group works together. Speaking on their cohesiveness as a band, Matt Martian recently explained the meaning of the album title saying "A hive mind is a collective ego." Hive Mind is vibey with just the right amount of groovy energy to make you get out of your seat and dance.
The full album is available for streaming on Itunes/Apple Music and Spotify; watch the videos for "Roll (Burbank Funk)" and "Come Over" below.