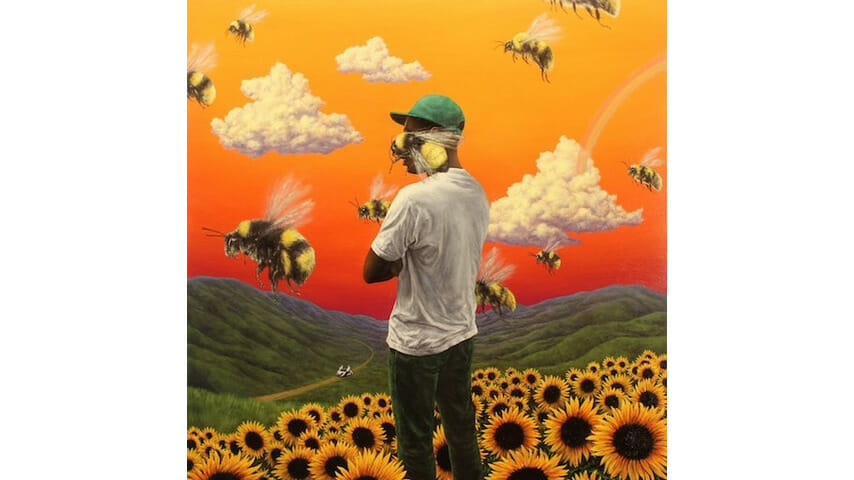 While hip-hop media has been fixated on the line about "kissing white boys since 2004," the truth is that Tyler, The Creator's new album Flower Boy is much more than a revelation about his sexuality. In fact, the reference is only in passing, buried mid-verse on "I Ain't Got Time!" and again on "Garden Shed" when he says he "thought it was a phase."
Stylistically and lyrically, Flower Boy shows us a softer, more thoughtful Tyler who seems to have moved past the vulgar, sometimes violent rhymes that made Odd Future and his early solo work famous. Tyler has long been the definition of a #problematicfave: On one hand, he and Odd Future pioneered the current era of weird-is-cool, parlaying their music and fashion sense into a full-blown lifestyle brand that ushered alternative hip-hop into the mainstream. On the other, Tyler's had a history of carelessly throwing around slurs in interviews and lyrics, albeit in a jokey-enough way to not get himself into serious trouble.
But on Flower Boy, Tyler ditches his shock jock persona and dark, aggressive sound, instead opting for mellow, sun-soaked beats and lyrics that probe emotional complexities. Much like fellow Odd Future member Frank Ocean, Tyler hasn't been explicit about how he identifies beyond acknowledging that he's into dudes. But his casual openness about his sexuality breathes out like a sigh of relief on the album: His admission seems to have given him permission to be more vulnerable and sincere about other topics.
Flower Boy introduces us to a new Tyler that seems interested in cultivating lyrical and sonic beauty instead of testing his listeners' tolerance for profanity. "See You Again" featuring soul singer Kali Uchis, for instance, is an adorable ode to a crush, with gorgeous, swelling strings and trumpet riffs that are probably the influence of Odd Future-affiliated jazz group The Internet. "911/Mr. Lonely" featuring Frank Ocean, whose velvety voice is all over the album, makes poetry out of boredom and depression: "Check in on me sometime/Ask me how I'm really doin'/So I never have to press that 911."
The features on Flower Boy are well chosen and cohesive, and so is the production. Lil Wayne drops in for the quick, one-minute love song "Droppin' Seeds" and A$AP Rocky doesn't overpower Tyler on "Who Dat Boy" despite his verse claiming a large portion of song's real estate. Siren-like synths (that will sound familiar to old-school Odd Future fans) and frantic, uneasy drum beats are offset by dreamy strings and jazzy improv, melding Flower Boy's 14 tracks into a cohesive listening experience that accurately illustrates the rapper's ups and downs. The last track, the instrumental "Enjoy Right Now, Today," makes for a fitting conclusion to this coming-of-age story: Despite the many hurdles on our paths to self-discovery, the title seems to suggest, it's always best to take a deep breath and live in the moment.