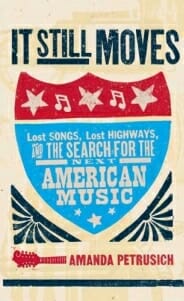 Shared sights and insights from a sharp-eyed music critic

Amanda Petrusich has been suffering from genre meld. In the old days, the charts made clear distinctions—rock, country, rap, soul, R&B. No more. How did it happen that so many musical acts can now no longer be easily categorized? How should a music writer describe modern sounds? Perhaps most vital, what's next?
To find out (note the word "next" in the book's subtitle), Petrusich—a Paste senior contributing editor whose book originated as an article in these pages—devised a solo road trip, starting from her home base in Brooklyn. The result is a mixture of music journalism, American history and a paved journey akin to a contemporary Blue Highways. The mixture is as genre-fusing as contemporary music itself, which means it is usually interesting, sometimes daring, and at least occasionally confusing.
Although Petrusich chronicles numerous brief stops on her journey, the primary locales where she seeks understanding are Memphis; Clarksdale, Miss.; Nashville; the Appalachian region of Kentucky; Washington, D.C.; Brattleboro, Vt.; and back home in Brooklyn. For Petrusich, authentic Americana music, and the Americana mindset in general, aren't likely to be found very far west of the Mississippi River. While her choices certainly make sense on some levels, the near-exclusion of the music scenes in Austin, Seattle, Portland, Los Angeles and San Francisco might disappoint some readers.
Alternately skeptical and starry-eyed, Petrusich's moods are on display for readers to interpret, giving the book a schizophrenic feel. Then again, human beings are meant to be complex. There is no way to use reductionist terminology to categorize Petrusich. The only predictable part of her nature—at least in these pages—is her unpredictability.
In Memphis, unsurprisingly, Petrusich focuses on Beale Street, Sun Studio as run by Sam Phillips, the appropriation of black music by the Caucasian Elvis Presley and lesser white mortals, and the Graceland mansion built with the income from that appropriation. Newcomers to music journalism will find Petrusich an admirable guide. Those who have already digested the oft-told stories of these places and people will find little new.
The Clarksdale saga is less familiar, so Petrusich's departure from Memphis and arrival in the Delta (only an hour-and-a-half away) is welcome. My son-in-law grew up in Clarksdale and his Momma still resides there, so I have become well acquainted with the saga of Robert Johnson (most likely born in 1911) and those he inspired to play the blues. Despite my recent familiarity with the genre, I learned a great deal from Petrusich's Delta blues chapter. Her research and sensitivity are impressive.
Wisely, Petrusich does not try to over-explain the sometimes inexplicable: "Even for the most versed scholars, defining the sound of the Delta blues is still an awkward, thankless endeavor, hampered by qualifiers and relativity and spats with one's peers," she comments. "Loosely, Delta blues is a strand of regional American folk music performed on a guitar (sometimes with a knife or bottleneck slide), conceived by and for southern blacks; influenced heavily by African slave songs…"
Authenticity is a big deal for Petrusich, and Delta blues is a genre that mostly seems to meet her authenticity standard. The music coming from Establishment Nashville, however, mostly does not, nor, for the most part, does outlaw country, alt.country and other variations.
The authenticity standard keeps Petrusich more content in later chapters, when writing about the Carter family clan from the Virginia hills, the Folk revival launched by Woody Guthrie, and the Folkways lineage documented by researchers John and Alan Lomax, marketing impresario Moses Asch, and record collector Harry Smith.
Trying to predict what's next, Petrusich builds a case for Indie/Free-Folk, with Sam Beam (who performs as Iron & Wine) as exhibit one. Petrusich realizes, though, that she well might be wrong, or at best only partially correct.
As Eric Johnson of the Fruit Bats tells her, "I guess the dictionary term would be 'modern pop music that directly nods to early American music,' and that's a pretty perfect way to look at it. As far as the Fruit Bats go, I much prefer the Americana tag than, say, indie-pop. It has a more noble, classic ring to it. As a musician, sometimes of course I have the standard, clichéd, knee-jerk reaction to classification, but I guess you gotta call it something."