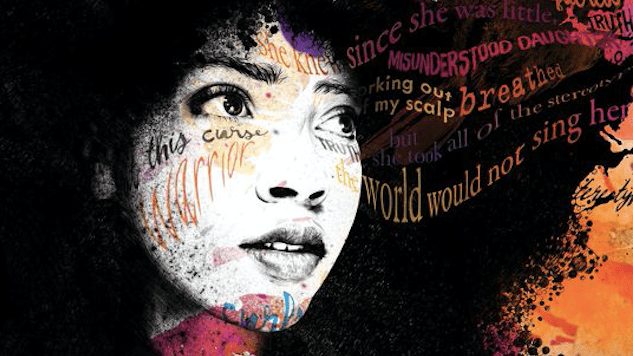 Audiobooks are often synonymous with long-form narratives. Poetry, in the way most of us conceive of it, is rarely that.
So what is a poetry audiobook? Do novels-in-verse count? Instapoets? Epics from the classic Greek tradition? What about individual poems read by their authors, captured by podcasts or public radio? Yes to everything.
Poetry can be found anywhere, so poetry audiobooks, at least for the purposes of this list, can be anything. Whether you're looking for collections from contemporary poets or children's stories-in-verse or conversations about poetry and the meaning of life, this list has something for you. And if any of the titles below surprise you, try listening to one to expand your horizons.
National Poetry Month might be drawing to a close, but these audiobooks will keep you entertained for months to come.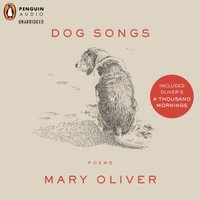 Dog Songs by Mary Oliver
Narrator: Mary Oliver
Run time: 1 hour and 25 minutes
Audible | Libro.fm | Overdrive | Soundcloud
Listening to poets read their own work is always a joy, and Mary Oliver's reading of her own poems—a collection "offering a portrait of Oliver's relationship to the companions that have accompanied her daily walks, warmed her home, and inspired her work"—is no exception. As an artist, Oliver was a proponent of building habits through discipline, and that straightforward approach to finding the "heart of a star as opposed to the shape of the star" (an idea taken from her Poetry Handbook, but also discussed in a rare public conversation) can be heard on the audio version of Dog Songs. It's moving, a bit funny, a comfort and a great listen.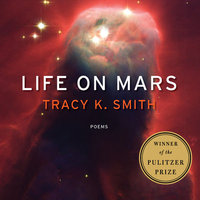 Life on Mars by Tracy K. Smith
Narrator: Tracy K. Smith
Run time: 1 hour and 22 minutes
Audible | Libro.fm | Overdrive | Soundcloud
Currently wrapping up her time as the 22nd Poet Laureate of the United States, Tracy K. Smith has more of her collections out in audiobook form than most contemporary poets. You can't go wrong with any of them, but we've picked her Pulitzer Prize-winning collection, Life on Mars, as the best entry into her poetic world. Still grounded in the human experience, the Life on Mars audiobooks showcases Smith's clear and measured voice. She reads each poem a bit more slowly than you would expect, but it's exactly the right speed to give your brain and heart time to catch up with the subtle magic tricks she is pulling off.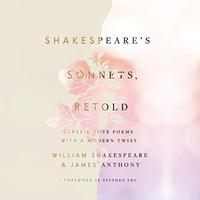 Shakespeare's Sonnets, Retold: Classic Love Poems with a Modern Twist by William Shakespeare and James Anthony
Narrators: Paapa Essiedu, Stephen Fry, James Anthony
Run time: 5 hours and 7 minutes
Audible | Libro.fm | Overdrive | Soundcloud
This side-by-side collection of Shakespearean sonnets and their modern translations is illuminating on its own, but as James Anthony's introduction and Stephen Fry's foreword illustrate, it also enriches one's understanding of poetry as an art form. While viewing the two versions of each sonnet printed side-by-side on the page might be edifying to the eye, having them recorded back-to-back (first Shakespeare's original, read by Paapa Essiedu, then Anthony's version, read by Fry) is fascinating. Whether you skip around or listen to the same sonnet on a loop, this audiobook is brimming with gifts for the right listener.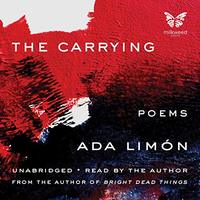 The Carrying by Ada Limón
Narrator: Ada Limón
Run time: 1 hour and 39 minutes
Audible | Libro.fm | Overdrive | Soundcloud
Contemporary poetry thrives in the small press ecosystem. If you've never taken the plunge and explored independent presses, we recommend Milkweed Editions, a mission-driven indie publisher out of Minneapolis, Minnesota. A dependable go-to for compelling literary fiction as well as contemporary American poetry, Milkweed is the home to National Book Award and National Book Critics Circle Award finalist Ada Limón, whose recent collection, The Carrying, is gorgeous. "Exploring with honesty the ambiguous moment between the rapture of youth and the grace of acceptance," Limón reads her poems with a balanced sweetness. If you're looking for a compelling audiobook narrator, she's an excellent choice.

Runny Babbit by Shel Silverstein
Narrator: Dennis Locorriere
Run time: 22 minutes
Audible | Libro.fm | Overdrive | Soundcloud
It's fortunate that Runny Babbit clocks in at 22 minutes, as its tongue-twisty poems beg to be listened to over and over again. Perfect for families with kids old enough to read on their own and clever enough to be tickled by Shel Silverstein's signature whimsy with rhyme, Runny Babbit is an audiobook gem. Add Dennis Locorriere's whizbang narration, and you'll get a glimpse of what joy the audiobook treatment can bring to the poetic form.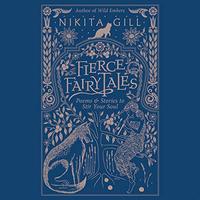 Fierce Fairytales by Nikita Gill
Narrator: Nikita Gill
Run time: 1 hour and 31 minutes
Audible | Libro.fm | Overdrive | Soundcloud
Vaulted to notoriety as an "Instapoet," writer Nikita Gill has published multiple volumes of rich work that go well beyond poetry. Fierce Fairytales, a collection of poems and inventive prose that "reimagin[es] fairytale classics and spellbinding original tales, dismantl[ing] the old-fashioned tropes that have been ingrained in our minds," is one such volume. This collection is tailor-made for the current cultural moment, and Gill's soft British-Indian accent makes Fierce Fairytales exceptionally listenable for American ears. For the social media-savvy listeners in your life, Gill's audiobook is the obvious choice.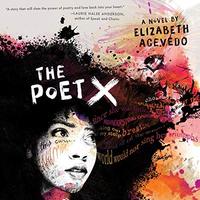 The Poet X by Elizabeth Acevedo
Narrator: Elizabeth Acevedo
Run time: 3 hours and 30 minutes
Audible | Libro.fm | Overdrive | Soundcloud
Young Adult and Middle Grade literature boast captivating novels-in-verse from Kwame Alexander, Justin Reynolds, Thanha Li, Pam Muñoz Ryan, Ellen Hopkins, Sharon Creech, Laurie Halse Anderson, Jacqueline Woodson and more. But The Poet X, written and read by spoken word poet Elizabeth Acevedo, is an especially bright book in the middle of a stellar field. Acevedo's voice brings to life Xiomara Batista, the wild Harlem-meets-Dominican teen protagonist. As is the case with most YA verse novels, Xiomara's poetic world isn't an easy one, but it's exhilarating in Acevedo's fluid hands.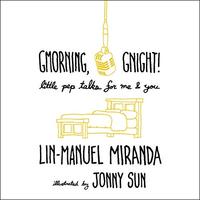 Gmorning, Gnight! Little Pep Talks for Me & You by Lin-Manuel Miranda
Narrator: Lin-Manuel Miranda
Run time: 46 minutes
Audible | Libro.fm | Overdrive | Soundcloud
If we're stuck with Twitter, at least we also get to read Lin-Manuel Miranda's tweets. Gmorning, Gnight! is a collection of his most optimistic, tweet-length pep talks, and it features illustrations by Twitter's other dearly beloved beacon of hope, Jonny Sun. The best way to enjoy this audiobook is to listen to it while following along in the print version, but you can still enjoy Miranda's soothing voice on its own. With less of a narrative thread than other collections on this list, this title is perfect to listen to for brief, encouraging moments throughout the day.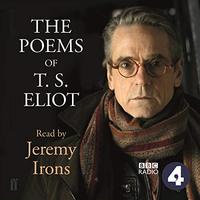 The Poems of T.S. Eliot by T.S. Eliot (A BBC Radio 4 Production)
Narrator: Jeremy Irons
Run time: 3 hours and 41 minutes
Audible | Libro.fm | Soundcloud
There's no end to poetry audiobooks from the (mostly old, mostly male, mostly white) English literary canon. But of all the titles we sifted through looking for a gem, this BBC4 Radio production of Jeremy Irons reading T. S. Eliot was the one we always revisited. Irons' interpretation is deeply felt, opening the poems up in ways even dedicated Eliot fans may never have experienced before.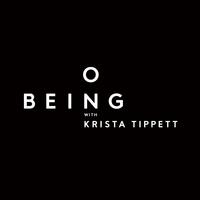 The On Being Project with Krista Tippett
Narrators: Krista Tippett and various others
Run time: varies
On Being is our favorite podcast for both discovering new (to us) poets to love and listening to joyful conversation on spirituality, life and what it means to be human. The show's dedication to exploring the poetry of existence is felt not only in every episode that airs (on public radio or on the podcast service of your choice), but on their gorgeously designed website. You'll be rewarded no matter what episode you start with—Mary Oliver's appearance is especially good—but if you want our recommendation for entering into the On Being world, Irish poet David Whyte's opening remarks from On Being's 2018 gathering never fail to make us weep:
"Friendship transcends disappearance: an enduring friendship goes on after death, the exchange only transmuted by absence, the relationship advancing and maturing in a silent internal conversational way even after one half of the bond has passed on."

BONUS pick for our readers across the pond: She is Fierce, a collection of 150 poems from modern and contemporary female poets (like Maya Angelou, Nikita Gill, Wendy Cope, Ysra Daley-Ward, Emily Brontë, Carol Ann Duffy, Fleur Adcock, Liz Berry, Jackie Kay, Hollie McNish, Imtiaz Dharker, Helen Dunmore, Emily Dickinson, Mary Oliver, Christina Rossetti, Margaret Atwood and Dorothy Parker) compiled by Ana Sampson and narrated by audiobook powerhouse Adjoa Andoh. It is currently only available from Pan Macmillan Audio in the UK, but considering the lyrical verve of Andoh's performance on the few tracks currently available on Soundcloud, we have our fingers crossed it will make its way across the ocean posthaste.
---
Alexis Gunderson is a TV critic and audiobibliophile. She can be found @AlexisKG.