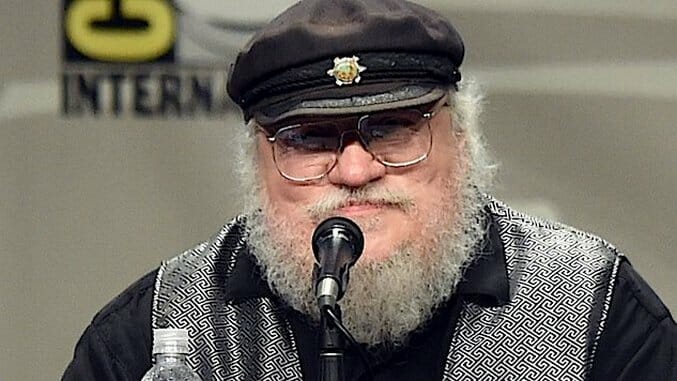 (Update: Since publishing, it's become clear that I am not the first to come up with this theory—not even close. It was introduced long before I wrote this post on the ASOIAF subreddit, and I was searching in the wrong places. Credit to user REPTARcommaBRO for apparently being the first. As such, the title has been changed from "I Think I've Cracked the Code" to "I Think the Internet has Cracked the Code." Otherwise, the text has remained in original form.)
If you're an unapologetic A Song of Ice and Fire obsessive like me, chances are that you've noticed a recent change in tone from George R.R. Martin in his "Not a Blog." Vanity Fair recently speculated that the wait for The Winds of Winter, the sixth novel in the series, may be close to over. The evidence was scant, as they admitted, and essentially came down to a quote by Liam Cunningham promising "something special" for this Sunday's premiere of Game of Thrones' sixth season, and this:
The final piece of hopeful evidence comes in the form of a recent blog post from Martin himself. Two days ago, Martin started one of his infamous LiveJournal entries with the following line: "I've been working so much of late that I have fallen way behind in my reading (sob) and my filmgoing." The location was his home in Santa Fe, and the mood on the post? "Pleased." In the words of Twitter and Redditor BryndenBFish, who has made a name for himself tracking the progress of Martin's novels: "Guys, dare I ask it, but is the long night almost over?"
Then something a little strange happened. In his latest blog entry, published Wednesday, Martin included just one line of text above an illustration of Valyria, the ancient city of ASOIAF lore that succumbed to a mysterious and cataclysmic "doom." Martin wrote:
Alas, alas, that great city Valyria, that mighty city! for in one hour is thy judgment come.
His "mood" below the entry was listed as "enigmatic," which is worth noting—if anything, Martin has taken pains to avoid mystery in his recent blogging career, since any vague pronouncement is in danger of being treated as a Winds of Winter hint by his rabid fans. To purposefully post something obscure like this, Martin—my opinion only—must be planning something big. Notably, the post came with a single tag: "song of ice and fire." He also disabled comments.
It didn't take long for the ASOIAF subreddit to begin wondering if this was tantamount to an announcement of a publication date.
In the analysis that followed, it was discovered that Martin's quote about Valyria was adapted from a biblical quote about ancient Babylon:
Standing afar off for the fear of her torment, saying, Alas, alas, that great city Babylon, that mighty city! for in one hour is thy judgment come.
Now, let's get to the theory: That passage comes from the Book of Revelation, Chapter 18, Verse 10. In shorter notation, that's Revelation 18:10.
Martin also uses the specific language from the King James version of the bible, and the King James in question was, of course, an English monarch.
So: Revelation 18:10.
My theory is ludicrously simple, and I'm a little shocked that nobody (as far as I can tell) has scooped me in the past three days: Martin's "revelation" is that The Winds of Winter will be published on 18/10, which is British notation for Oct. 18.
In the past, Martin has referenced the fact that his publishers could get his book out within three months if they were in a rush. As it happens, Oct. 18 is just over three months from the present, and if Martin had previously turned in his manuscript, it makes sense that a longer, more usual publication schedule was in place. It would also make sense that the date was recently set in stone—it would make quite the announcement for tonight's premiere.
The only slightly puzzling part is that most books are published on a Tuesday, and Oct. 18 is a Wednesday in 2017. But the Tuesday rule is not hard and fast, and by all other measures, the date makes perfect sense.