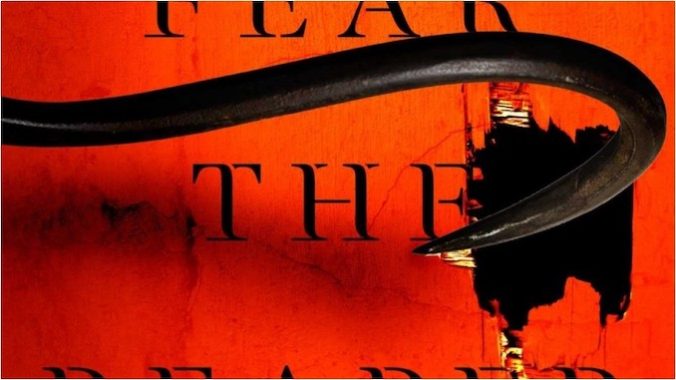 The best genre authors are often the ones with an innate, deep understanding of the medium in which they're working, a grasp of the patterns and formulas that populate their field so thorough and enthusiastic that they know exactly which rules to enforce, and which ones to break. Stephen Graham Jones is one of those authors in the realm of horror and proved it with My Heart is a Chainsaw, writing a whole slasher story that's both satisfyingly terrifying and deeply entrenched in the intricacies of its subgenre. It's a book that knows the rules, from a writer who knows exactly when to bend those rules.
But Jones' grasp of horror fiction, and his unique power in the genre, can't be reduced to simply understanding the scaffolding of the world in which he's working. There's a clear enthusiasm for that scaffolding in his work, of course, from the werewolves of Mongrels to the psychological thrills of Night of the Mannequins and Mapping the Interior, but it's not just a knowledge of and love for the genre that's gotten him this far. He can slice and dice with the best of them, but what makes Jones the current reigning luminary of modern horror fiction is more than expertise and a sharp eye for brutality and dread. Tucked into his warm, propulsive prose is a white hot coal of raw, emotional might and relentless honesty which heightens every horror yarn he spins. Don't Fear the Reaper, his much-anticipated sequel to My Heart is a Chainsaw, is proof of this gift, and that makes it an early contender for the best horror novel of 2023.
It's been four years since the Fourth of July massacre in Proofrock, Idaho, and Jennifer "Jade" Daniels is back in town just weeks before Christmas, fresh out of prison and doing her best to put her slasher devotee days behind her. What she finds when she arrives back home is a town very much like the one she left, yet one that is also irrevocably altered by the tragedy that unfolded around Indian Lake years earlier. Everyone, from Jade's friend and former final girl mentee Letha Mondragon to battered old Sheriff Hardy, is physically and emotionally scarred from the carnage of that day, even as they try to look ahead to whatever futures they might have.
But moving on isn't easy under the best of circumstances, and these are far from the best. An escaped serial killing juggernaut bearing the unforgettable name of Dark Mill South is on his way to Proofrock, ready to add to his already prodigious body count and enrich the town's bloody reputation. With a killer on the loose and a devastating snowstorm blowing through with him, Jade must summon all the strength she earned from what came before, and try to help Proofrock weather yet another brutal season of death.
Because this is a sequel, Jones immediately roots that brutality in a certain familiarity, from Proofrock landmarks to the book's seat-of-your-pants present-tense narration to yet another series of inter-chapter essays expounding on the events of the book. But because Jones is a constant student of his genre, he also knows that a good slasher sequel needs to change the game, and he achieves that in several ways. First, there's Jade, who enters the book with much of her old slasher enthusiasm dimmed by time and trauma, transferred over to other characters who've sought to understand what happened in Chainsaw by turning to the movies which so drove Jade in that novel. This time around, Jones' reluctant final girl is just trying to live, trying to focus on why she managed to survive everything that came before, and what she's meant to do with it.
When violence finds Jade, and Proofrock, once again, Jones delivers the slasher goods with the same streak of violence invention that helped make the first novel an instant classic, but this time the situation is changed by two key elements. Dark Mill South immediately emerges as a somewhat enigmatic yet deeply compelling character, a monster on par with Jones' best previous villains, setting the stage for a confrontation far removed from Chainsaw's own climax. Then of course, there's all the snow. Setting the novel amid a blizzard, and pushing his characters through it with his confident prose, Jones plunges Proofrock into a blood-spattered marshmallow world nightmare that's completely different from the first book, yet still evocative of what happened in the heat of summer four years ago. It's a remarkably clever ploy, and it works very, very well.
In fact, everything in Don't Fear the Reaper works remarkably well, but it all ultimately comes back to Jones' gift for the emotion that's driving each page. As with Chainsaw, you can come to this book looking for a straight-up slasher nightmare, and you'll get it, but within that nightmare are embedded deeper, darker meditations on loss, redemption, survival, love, and the old wounds which inform them all. It's a remarkable achievement that's worthy of standing alongside My Heart is a Chainsaw, and perhaps even surpassing it.
Don't Fear the Reaper is available now.
---
Matthew Jackson is a pop culture writer and nerd-for-hire who's been writing about entertainment for more than a decade. His writing about movies, TV, comics, and more regularly appears at SYFY WIRE, Looper, Mental Floss, Decider, BookPage, and other outlets. He lives in Austin, Texas, and when he's not writing he's usually counting the days until Christmas.