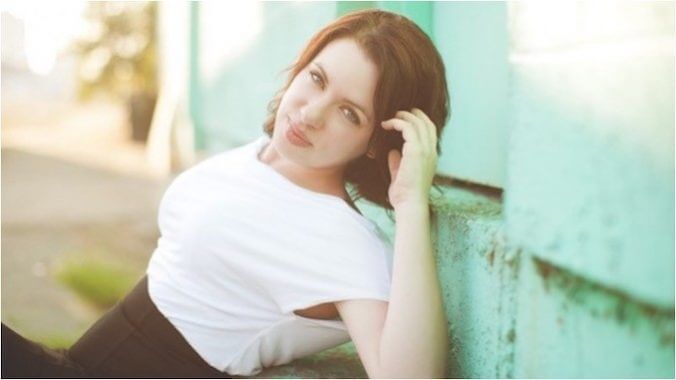 Romance is back. Well, technically, the genre never went away. It's a billion-dollar-a-year industry that has long dominated publishing and trailblazed paths in the realms of self-publishing and e-books far ahead of its more "serious" competition. Yet it's also undeniable that romance is having a moment thanks to the immense popularity of such novels on TikTok. The intense virality of writers like Colleen Hoover and Taylor Jenkins Reid has seen romance novels of all kinds find new waves of popularity with readers young and old. Once upon a time, you had to dig hard in your local bookstore to find those romance covers. Now, they're irresistibly piled up on tables by the door with the sign 'TikTok Made Me Do It' on top. And one author who has burst through a crowded field on- and offline to become a romantic favorite is Katee Robert, although her happy-ever-afters lean far more seductive than her candy-covered comrades.
Robert has over 70 books to her name on her website, both traditionally and self-published, and has sold over 2 million copies worldwide. While romance is present in all of her work, her primary focus is erotica. Her books revel in the sensual, combining kink with dense world-building and exploring all manner of sexual thrills that still feel somewhat niche in the genre. It's made her a star on- and offline, with publishers snatching up her work and readers catapulting her to the upper echelons on the USA Today and New York Times bestseller lists. It's not unheard of for an erotica writer but it is rare, and certainly worth celebrating as her latest novel, Radiant Sin, hits shelves.
As BookTok comes to dominate publishing and help shape what sells, Robert has keenly maneuvered her way through the changing landscape of online literary marketing. The genre was always ahead of the game in how it blazed the trail, and Robert is her own kind of pioneer. Amanda Diehl, writer for the romance website Smart Bitches Trashy Books, noted how Robert's books work well with TikTok because they're "very sexy, which breaks away from the contemporary romance trend right now of closed-door or one sex scene." In a market of cutesy cartoon covers and stories with one foot firmly in realism, Robert is very much not that. The emotions are high, which works well on the site that made Colleen Hoover's books a phenomenon, but the spice rating is far higher. The sheer variety of sex she writes about is perfect for TikTok virality. You never get the same f**k twice!
Sarah Wendell, owner of Smart Bitches Trashy Books, explained Robert's online savvy: Robert has also been one of the early adopters of Kickstarter subscription boxes for fans (I did a podcast interview with her and Lucy Eden about Kickstarters) which turns her books into collectors' items with the limited time exclusivity and the advantage of direct-to-consumer sales. Amanda agrees: "I also think book subscriptions box communities have contributed to her popularity. For a long time, special editions were just for YA readers and now she's doing those special printed editions for romance."
Erotica has grown in popularity over the past decade, undeniably bolstered by the runaway success of the 50 Shades series. Yet it's still often viewed as the black sheep of the romance world, the fringe subgenre that is to be kept on the sidelines. Wendell notes that erotica is nothing new.
"Erotic romance has been around a long, long time – longer than my website has been operational. It started gaining readerships within smaller digital presses like LooseId, Ellora's Cave, Samhain, and others, and then began appearing on the print lists of major publishers," she said. "Humans can be very horny, and finding safe and informative places in which to learn about individual sexual interests is a struggle when limitations are enforced and stigma is assigned. Books, which you can read on a device, allow readers to explore and learn about themselves within the privacy of their own imaginations. The trend over the past few years has been less about the sexual acts themselves—used to be anal was a big deal, now it's not as shocking—and about whom or how many the sexytimes are with."
This idea, of who rather than what, is where Robert shines. Her creative range is impeccable, but it's in her retellings of classic tales where she proves to be most impressive. Her Dark Olympus series tackles the ever-sensual world of Greek mythology with a contemporary twist that retains the dark sexual thrills of the source material. The Wicked Villains tales take on the baddies of Disney in a decidedly adult (and copyright-compliant) manner, for those of us who always thought Ursula or Jafar were way hotter than the dull good boys. Non-genre-inspired works delve into more familiar sexual taboos, such as falling for your dad's best friend (or your best friend's dad!)
Romance doesn't begin or end with humans in Robert's books. Monster loving has exploded in popularity in recent years, thanks to surprise best-sellers like Ruby Dixon's Ice Planet Barbarians series. There's always been an element of the monstrous to classic romance, which practically has its key foundations set in retellings of Beauty and the Beast. Vampires and werewolves are ten a penny in romance, and Robert has her fair share of the undead in her tales, but she's also eagerly willing to delve into the undeniable unhuman. Her most recent series, A Deal with a Demon, features women who fall for (and have exceptional sex with) gargoyles, dragons, and krakens! And none of this is hidden or concealed as something else for more prudish booksellers. The covers are old-school bodice ripper-esque paintings that celebrate the monster love. With Robert, nothing in her work is off-limits or to be derided.
But it's also not just sex. Robert is character-driven first and foremost in her work, and sex serves as a way to define the people at the center of her stories. As she told Harlequin in a 2018 interview, "I love writing sex scenes because they're a unique window into a character's personality. Each couple is unique in how they interact together, and what they bring to the bedroom (or boardroom, or storage closet…the list goes on)." Many of her books delve into the emotional and societal difficulties of navigating desire, whether it's being in an unconventional relationship or entering a polyamorous situation for the first time. If pleasure is intended to be deeply personal, Robert excels in revealing how it works outside of their safe space.
It's not just Robert's work that draws people to her. It's her candor. On TikTok, she has spoken openly about her struggles living with chronic pain and how it impacts her work as a writer. To her 124.2 thousand followers, she details her work process with the same openness as she does her recovery from wrist surgery. Earlier this year, she announced that she would be stepping away from promotional duties for Radiant Sin for health reasons, something that quietly exposed the intense labor of authors and the expectations put upon them by publishers and readers alike. In a world where so-called relatability is king, Robert is painfully honest, well beyond the trappings of that concept.
Erotica will never go away, and even at its most popular, it'll probably never lose the undeserved stench of the taboo that surrounds it from the mainstream. Robert is one of many writers over the decades who has joined the charge in pushing the genre forward and allowing readers to explore their desires in as many ways as possible. Whether you want a Greek god, a mythical monster, or four people at once, Robert will give you what you want!
---
Kayleigh Donaldson is a critic and pop culture writer for Pajiba.com. Her work can also be found on IGN, Slashfilm, Uproxx, Little White Lies, Vulture, Roger Ebert, and other publications. She lives in Dundee.