Young Adult fiction is packed with swoon-filled stories, and Valentine's Day is the perfect time to dive into a romantic novel. So we've curated a list of sweet YA reads to binge-read today—or really anytime during the month of February…or anytime this year. Because shipping your favorite characters really has no set date.
From YA romances with passive aggressive dog walking and boy band stars (Amy Spalding's side-splitting The New Guy and Other Senior Year Distractions) to lyrical prose with a title that tells you exactly what's inside (Anna-Marie McLemore's Wild Beauty), we've got you covered.
So dig in, and prepare to dreamily sigh.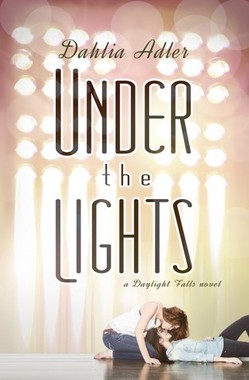 1. Under the Lights by Dahlia Adler
A criminally underrated duology by one of the biggest champions of YA books, Dahlia Adler's Daylight Falls series is an excellent pair of stories packed with swoons. And each book can stand on its own, though some characters make appearances in both novels. My favorite is the second book, Under the Lights, which follows two teen actors named Josh and Vanessa. Told in shifting points of view, it's a story about sexuality, growing up and trying to figure out what you really want out of life. Josh navigates the complexities of his career while Vanessa discovers a surprising new love interest in Brianna, her career handler.
From the hilarious, witty banter that Adler is so gifted at writing to the heartfelt, make-you-sigh moments throughout the book, Under the Lights will make you want to read everything she's written. Look for the first book in the duology, Behind the Scenes, as well as Adler's friendship filled contemporary novel, Just Visiting, as soon as you're finished.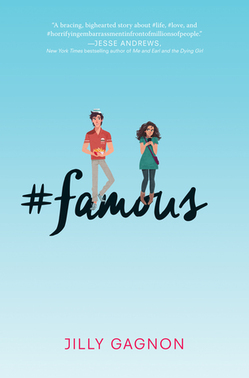 2. #famous by Jilly Gagnon
Remember that whole Alex-from-Target craze? Maybe you do, maybe you don't, such is the fleeting nature of social media fame. It's a flash in the pan, and then it's gone. But what if you were that person, who found themselves suddenly "hashtag famous" due to a viral photo or a video?
Maybe it wouldn't feel so fleeting.
Such is the case in Jilly Gagnon's story of Internet romance, #famous. A hilarious romp through the trenches of social media stardom, the novel follows a guy named Kyle who finds himself an Internet celebrity after Rachel snaps a photo of him and posts it online. The narrative shifts between the two, as they navigate the fame while trying to figure out what they want for themselves and from one another.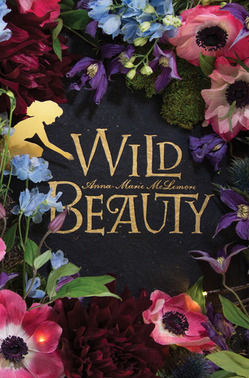 3. Wild Beauty by Anna-Marie McLemore
Anna-Marie McLemore writes words that are meant to be savored. And this lush, stunning novel of love and magic definitely demands your attention while capturing your heart. Readers meet Estrella, a girl who belongs to a family cursed with tragic love stories. If they fall in love too hard, the person they care for disappears. And then she meets a mysterious boy named Fel, who doesn't remember a thing about himself. As the two of them search for answers, magical secrets come to light in a story that's enthralling from start to finish.
And just look at that cover! This begs to be a Valentine's Day gift. Give this book instead of flowers.
If this book intrigues you, then you'll also love Secret of a Heart Note by Stacey Lee. After releasing several fantastic YA novels that take you through history, this is her first YA with a bit of magic. It's about a teen with the gift to mix perfumes and help people fall in love, but she can never fall in love herself. It's not only magical, it's funny and heartwarming.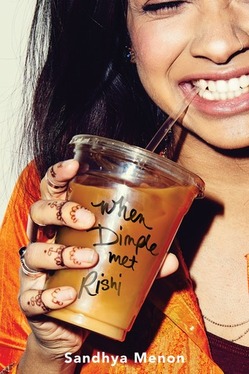 4. When Dimple Met Rishi by Sandhya Menon
In Sandhya Menon's captivating debut novel, readers meet two teens, Dimple Shah and Rishi Patel, who are total opposites (save for the fact that they are total geeks). And their collision makes for one wonderful, laugh-out-loud YA romance.
Dimple has plans post-high school to get away from her family, while Rishi dreams of an arranged marriage. When the two of them meet at a summer program and sparks eventually fly, Rishi turns out to be the kind of guy Dimple's parents have been wanting her to marry. It's a book about family expectations, figuring out what you want for yourself and first love. You'll adore every single page.
Menon's second novel, From Twinkle, With Love, is due out this May, and it looks to be just as delightful. Readers will also love My So-Called Bollywood Life by Nisha Sharma. This YA novel about Bollywood films, love and heartbreak will also be released in May, but I was lucky enough to get an early copy of this one. And it's absolutely delightful!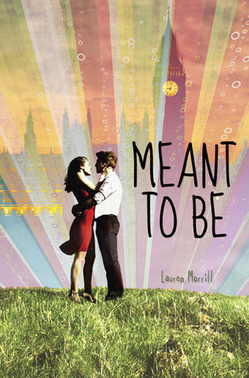 5. Meant to Be by Lauren Morrill
The debut from one of my favorite kid-lit contemporary authors, Meant to Be features so much of what I love in a good YA novel. Lifelong crushes, surprise romances, jet-setting misadventures and literary references galore? Yes. Please.
Lauren Morrill's novel introduces Julia, a girl who has been smitten with the same boy ever since she was little. She's pretty sure they are—wait for it—meant to be. But things get turned upside down when her school trip to London has her running around with a boy she can't stand on a mission to uncover the secret behind romantic text messages from an unknown number on her phone.
Readers will also love Anna and the French Kiss by Stephanie Perkins, which is another lovely YA rom-com set overseas.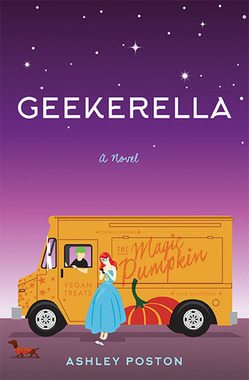 6. Geekerella by Ashley Poston
This spectacular retelling of Cinderella will make the perfect Valentine's Day gift for that geeky book lover in your life. Ashley Poston's novel is a fairy tale with a heavy splash of New York Comic Con, in which a teen named Elle adores everything about a classic sci-fi series Starfield (think Firefly). She enters a cosplay contest tied to promoting the latest movie in the Starfield franchise, wins an invitation to a ball and meets the guy playing the prince in the series reboot. See where this is going? There's even a food truck known as the Magic Pumpkin.
Geekerella is a legit love letter to geekdom, and I promise you'll love it. And keep an eye out for Poston's Heart of Iron, her space opera scheduled for a February 27th release. You'll also love The Only Thing Worse Than Me Is You by Lily Anderson, which is a Shakespearian YA retelling in the world of comic book shops that's a fantastic hate-to-love romance.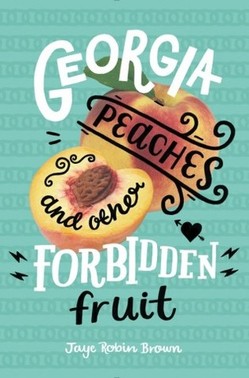 7. Georgia Peaches and Other Forbidden Fruit by Jaye Robin Brown
This is of the few YA books that tackles the complexities of religion, sexuality and trying to find a place to exist in the middle. Jaye Robin Brown's novel tells the story of Joanna, a teen who has been out to her friends, her family and her community. But things change when her father moves the family to a conservative town, and he asks her to hide her sexuality until she graduates. That plan works for the most part… until then Joanna meets Mary.
A novel about sexuality, religion, family and first love, Georgia Peaches and Other Forbidden Fruit weaves huge themes into a sweet romance. It's one not to miss.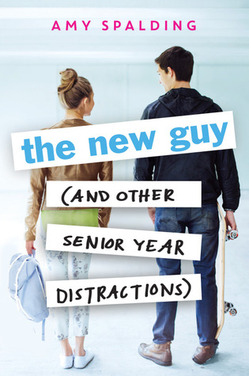 8. The New Guy and Other Senior Year Distractions by Amy Spalding
A personal favorite of mine, Amy Spalding's The New Guy introduces readers to two teens who are at war. One, a super passionate lover of print media, is a teen girl determined to save her school newspaper. The other, a famous boy band star, is a teen guy who finds himself heading the digital fight and starring in the YouTube-esque news station at the school. At first, it's all swoons and romance. But when things heat up as the competition ensues, it's entertaining to see just how far will they go. Featuring the funniest dog walking scenes committed to YA print, Spalding's contemporary romance is just a delight from start to finish.
You should also keep an eye out for Spalding's next book, The Summer of Jordi Perez (and the Best Burger in Los Angeles). It's not out until April, but you could pre-order this delightful LGBTQ+ romance as a Valentine's Day gift to yourself, as well as everyone you know.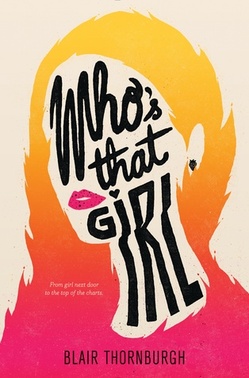 9. Who's That Girl by Blair Thornburgh
Remember the song Hey There Delilah by the Plain White T's? If that catchy song was given life as a YA novel, it would be this book. Brimming with quirky side characters (the family in this novel is hilarious) and flawless teen banter, Who's That Girl is a story of hit singles and what-if romance that makes it a great Valentine's Day read.
Blair Thornburgh's novel follows a teen girl who discovers that she's the inspiration behind a song that's starting to take over the airwaves. She has to decide if she'll keep pursuing the lead singer of the band—her eternal crush of hers—or if she'll take the time to see what's right in front of her. Maybe queue up your favorite indie rock mix before digging in, because you'll be left waiting for Thornburgh's next hit.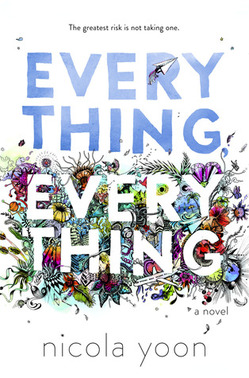 10. Everything, Everything by Nicola Yoon
One of my favorite things about Nicola Yoon's massive bestseller, besides the fact that it seriously tugs at the heartstrings with a wonderful romance, is how fast you can read this book. Structured with short chapters and sections that use social media, illustrations and blog posts, Everything, Everything is not only a great story for Valentine's Day—it's a great story for that reluctant reader in your life.
Yoon's novel centers around a teen girl who can't leave her house due to a life-threatening illness. But when she meets the new boy next door, their connection threatens to break her enclosed world. You'll want to read this in a single evening and then watch the movie! It's as close to perfect as a book-to-movie adaptation gets.