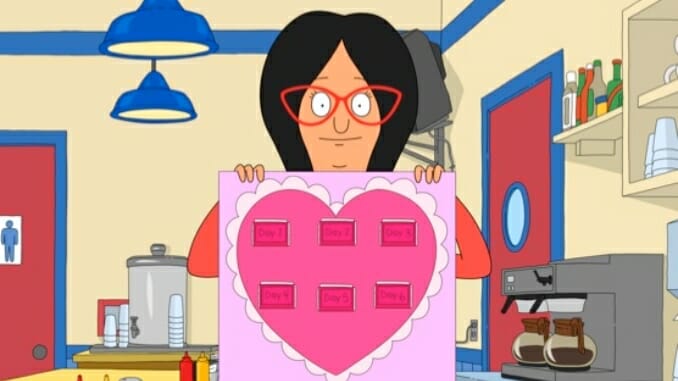 Bob's Burgers is a sucker for a holiday episode, with their Thanksgiving ones always being highlights, but the show is also primed for Valentine's Day hijinks. The Belchers offer a little bit for everyone, no matter your relationship status: Tina's horniness, Louise's cynicism, Gene's silliness and Bob and Linda's constant love in the face of everyday adversity. However your February 14 is going, Bob's Burgers has you covered.
Here's every Valentine's Day episode of the show, ranked from worst to best:
8. "Bed, Bob & Beyond" — Season 9, Episode 13
Bob and Linda's Valentine's Day is threatened by a pointless fight over dirty laundry and (though they don't know it yet) a broken bed, courtesy of their three kids. Even their attempt to save the day by seeing a sappy rom-com as a family is foiled when a small fire breaks out at the cinema, stopping the film halfway through. Gene, Tina and Louise finish off the movie with their own exaggerated versions of what they think would happen (all the while trying to manipulate their parents into thinking broken beds aren't that bad). While we love seeing the Belchers all together, episodes like "Bed, Bob & Beyond" in which they tell stories in order to resolve real life problems tend to go a little too off the rails.
---
7. "Ferry on My Wayward Bob and Linda" — Season 12, Episode 12
Bob and Linda's low-key Valentine's Day plans (heat up leftovers, watch TV, and exchange I love yous) go out the window when a hot young chef invites them to a fancy holiday meal at the Tomato Shack on Kingshead Island. Meanwhile, the kids scheme to get discount candy despite the presence of babysitter Jen. In general, the episode feels a little underwritten and sticks to already-trodden paths about perseverance, etc., but Joe Pera's turn as a mild-mannered notary is undoubtedly great casting.
---
6. "The Gene & Courtney Show" — Season 6, Episode 7
Gene and his one-time girlfriend Courtney team up again to add some flair to the morning announcements, but in the process end up falling for each other. At the same time, the Donations 4 Carnations school fundraiser run by Tina is put in jeopardy when Bob forgets to order the flowers and Tina opens everyone's Valentines in the hopes of finding one addressed to her. This episode loses points for Courtney's presence—the show is simply too good at making her annoying.
---
5. "Romancing the Beef" — Season 11, Episode 11
Bob finally takes advantage of the business opportunity presented by Valentine's Day by turning Bob's Burgers into Urge, a romantic spot serving chuck steaks instead of burgers. They're raking in the cash until Hugo turns up for his date, who is nowhere to be found. The whole time, Teddy is doing his usual beautifully, hilariously sad thing; he's on a date with himself and keeps suggesting items for Bob and Linda's lists of what they love about each other. Meanwhile, Tina is at an anti-Valentine's Day party thrown by Tammy after Jimmy Junior lets her down yet again. Between some genuinely heartfelt moments and good gags, this episode goes down a treat.
---
4. "Can't Buy Me Math" — Season 5, Episode 11
Tina falls headfirst into a classic rom-com plot, scheming with fellow nerd Darryl (voiced by Aziz Ansari) to win their respective crushes' hearts, but in the process developing feelings for her bespectacled fake boyfriend. Bob and Linda's romantic activities, prompted by a Valentine's Advent calendar, all end up going hilariously wrong. The best bit of the episode by far has to be Bob's sexy strip tease. He only has one move, but boy does he commit.
---
3. "My Fuzzy Valentine" — Season 3, Episode 13
The first Valentine's Day episode of Bob's Burgers is pleasantly simple, with Bob (and the kids, desperate to get out of school) trying to find a romantic gift for Linda to make up for years of lackluster presents, while Linda runs a speed dating session for lonely hearts in the diner. Bob and the kids run into some classic misadventures involving the weaselly health inspector Hugo and the male strip club Pickles. The episode's highlights all come from Linda's B plot, though, as the hardboiled Sergeant Bosco (Gary Cole of Office Space fame) comes in and ruins her hopes for romance with his cynicism. Teddy, Mort and the other single people at the restaurant all confess their deepest darkest secrets, and each piece of emotional baggage is more hilarious than the last. Extra points to this episode for the "buckle it up or you'll die" song that Bob and the kids sing in the car.
---
2. "Bob Actually" — Season 7, Episode 9
Much like the movie the episode is named for, there are subplots galore here, and "Bob Actually" is all the better for it. Tina's Valentine's Day plans are thwarted by chili-induced diarrhea, Louise worries regular-sized Rudy is in love with her, Bob and Teddy take a hip-hop dance class and Gene falls for an Italian lunch lady, for a start. Episode highlights include Tina's pre-bathroom waddle and Teddy's delivery of the line, "Oh, that's hip-hop."
---
1. "V for Valentine-Detta" — Season 8, Episode 8
The best Bob's Burgers Valentines episode reminds us that all love is important, whether romantic or platonic or familial. Bob and Linda scrap their big Valentine's date so that the girls can go support Tina, who was dumped by Jimmy Junior for a classmate. Led by the wild card limo driver Nat, the Belchers girls discover the joy in choosing friendship over fuckboys. Bob and Gene have a funny but ultimately sweet moment of their own as they struggle their way through a couple's trapeze class. What really pushes this episode over the edge, though, is the ever-catchy "Girl Power Jam."
---
Clare Martin is a cemetery enthusiast and Paste's assistant comedy editor. Go harass her on Twitter @theclaremartin.