After last night's episode, Broad City's second season is looking a whole lot like its first, and that's hardly a bad thing. The show fulfilled almost half of my pre-season wish list with "Mochalatta Chills," bringing back a number of Broad City's most reliably hilarious elements.
Sometimes it even combined them, as with Abbi's energetic, unclothed performance of Lady Gaga's "The Edge of Glory," which incorporated both the surreal musical sequences and weird nudity that were such a delight last year.
Of course, the biggest callback was to Abbi and Ilana's jobs, which we haven't seen this much of since last season's "Working Girls." The little details given to the girls' bosses were particularly fitting and great, like Trey's Zach Braff obsession and Todd's reluctant admission that yes, he is a total Albert Nobbs.
Chris Gethard and Paul W. Downs seem like they were born to play Todd and Trey (roles that were likely written for them), but the rest of Broad City's cast fared just as well. As Abbi tormenter Bevers and Ilana tormentee Nicole, John Gemberling and Nicole Drespel both managed to say volumes with just a look in "Mochalatta Chills," the former with an impish, grody smile, the latter with a glare that perfectly explained what it's like to work with Ilana: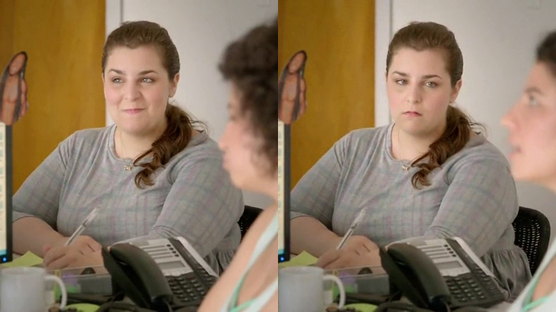 Given how much worked on Broad City last night, it's easy to forget to mention the show's stars, which, in a weird way, is the highest praise I can give the episode. When killer comedians like Abbi Jacobson and Ilana Glazer are just elements of your greatness, you've made something truly wonderful.