Comedy Central's Corporate Gets Renewed for Season Two
Images via Comedy Central
Comedy
News
Corporate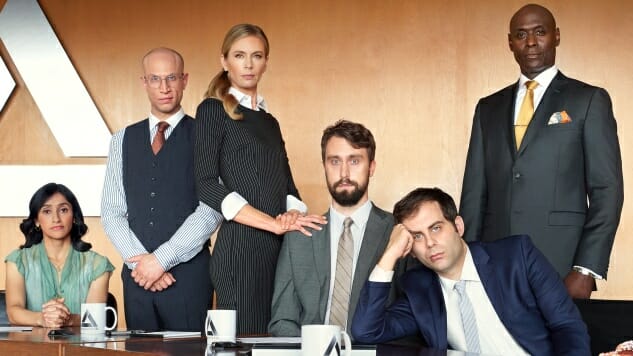 Now you can continue to watch a half-hour dark comedy series about people who hate their jobs more than you do: Comedy Central's Corporate is being renewed for a second season, according to Deadline. Jake Weisman and Matt Ingebretson star in the acclaimed comedy series about two despondent junior executives-in-training, working in corporate hell. Their despotic boss, CEO Christian DeVille (Lance Reddick), and his two right-hand accomplices, sycophants John and Kate (Adam Lustick and Anne Dudek), make the work environment a living nightmare. The two junior executives find solace in their only friend Grace (Aparna Nancherla), a tired Human Resources rep who faces constant scrutiny and attacks at work while maintaining a relationship with the two very needy junior execs.
The series only debuted in January, but has already achieved widespread critical praise. It was the highest-rated basic-cable primetime comedy in the 2017-2018 season among males ages 18-34. The show's two stars, Weisman and Ingebreston, also created the show alongside Pat Bishop. Upon hearing the news, the three creators commented, "We're absolutely thrilled to continue selling our souls making some more anti-corporate comedy for one of the biggest corporations in the world."
Comedy Central President Kent Alterman said, "It's hard to understand why people relate so strongly to the comedic, existential crises of working for corporations, but who are we to argue?" The show departs the traditional norm of office-type shows while instead offering more bleak, yet hilarious deadpan comedy. You can read our recent feature detailing the show right here.
Corporate airs at 10 p.m. EST on Wednesdays, with the season finale set for March 14.