Watch Dave Grohl Guest-Host Kimmel While Dressed as David Letterman
Plus, Alice Cooper backed by the Foo Fighters
Image via ABC/YouTube
Comedy
News
Dave Grohl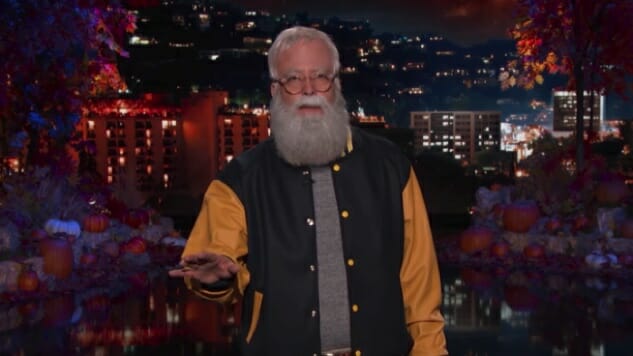 Last night on Jimmy Kimmel Live!, there was only one guest host in the costume of a different late-night host, and that was Dave Grohl, masquerading as the bearded David Letterman, or "Dave Letterman Grohl." There was also only one Metallica and Frozen mashup (as far as we know). There will ever only be one Alice Cooper, dressed as Alice Cooper, even when Alice Cooper is backed by the entirety of Foo Fighters.
"Just like Dave, I'd like to announce my retirement from late-night TV," Grohl stated in his opening monologue, with a delivery as uncanny as his costume. After Grohl-erman interviewed Kristen Bell, whom he flattered by mentioning that his kids were huge fans, they performed a mashup of Frozen's "Do You Want to Build a Snowman?" and Metallica's "Enter Sandman." The mashup featured the grittiest vocals from Bell the world has ever heard.
Beginning with Bell (in her Magnum, P.I. outfit) interviewed by Grohl-erman and ending with the Kimmel Halloween tradition of candy-eating parental confessionals, watch all the highlights from last night's show below. We've also included a 1995 Foo Fighters performance from the Paste Cloud.