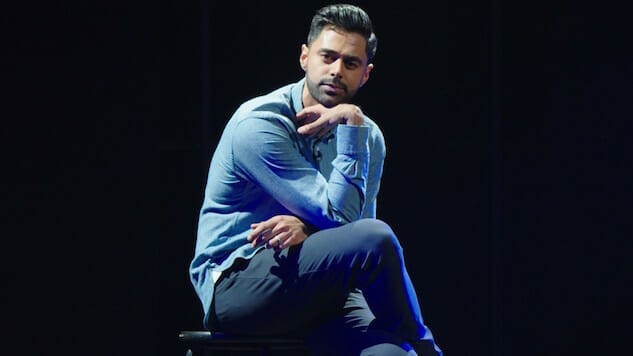 Hasan Minhaj is on a roll. Last month the Daily Show correspondent hosted The White House Correspondents Dinner, where he roasted the news media while also bringing poignant, inspiring points to the event. Not even an absent Donald Trump was enough to bring him down. My thought directly following his closing remarks that night were, "where does he go from here?" His new Netflix special answers that question: He's going all the way to the top.
Hasan Minhaj: Homecoming King, originally performed as an Off-Broadway show, was recorded in Minhaj's hometown of Davis, California. It's apparent from the moment he marches onstage that this is his element. Since Minhaj's main performance style comes out of working in late night television, it's no surprise that he uses visual aids to shape his act into something that doesn't just leave him alone in the spotlight. The act is so personal and well thought-out that it could work without the help of videos or graphics, but some jokes hit harder because of them. Early on, he uses a 12-year-old spelling bee winner as an example in a joke; the video of this child and his facial expressions in the background lets the bit hit harder. At another point, he uses a giant yellow graph to help explain the fundamental (and silly) differences between Muslims and Hindus. In moments like these, the special rides the line between comedy show and TED Talk, a very effective method.
Homecoming King has a lot to unpack and asks more of its audience than the average special. It isn't afraid to enter dark territory where even a full minute goes by without a single joke. The reason this works is that first and foremost, Minhaj is an all-around great storyteller. The performance could have had zero jokes and still would be a compelling piece of work. Luckily, he's a smart comedian who knows how to use his material wisely, even if that means holding back to let the important points hit home.
What Homecoming King feels like is a memoir come to life. Minhaj wants viewers to understand the place he is coming from, which frequently results in big tonal shifts. It's far from a light walk in the park: About halfway in, Minhaj tells a story about the racism he encountered on his prom night as he picked up his date, only to realize her family didn't want her taking pictures with him, afraid that relatives from Nebraska would see them together. The story is upsetting to listen to, but what makes it so powerful is the head-on camera angle. With Minhaj looking straight at the camera, it feels as if he's sharing an intimate memory exclusively with us.
Ending on a happy note, Minhaj recalls his nerve-wracking audition for The Daily Show. No mere mortal stands in the presence of Jon Stewart and acts completely cool—not even Hasan Minhaj. Even though I knew the ending to this story, I couldn't help but let out a gigantic sigh of relief and a big, goofy smile as everybody in the crowd cheered for him landing the job. This is a special you can watch from many different lenses, all of which will have you wanting to cheer for this young new voice that still has a bright future ahead of him.
---
Christian Becker is a writer and improv comedy performer in New York City. Follow him on Twitter @TheAmazingBeck.