Watch Jo Firestone Give a Book Report on Oliver Twist After Reading It for Ten Minutes
Images via Papercuts/YouTube
Comedy
Video
jo firestone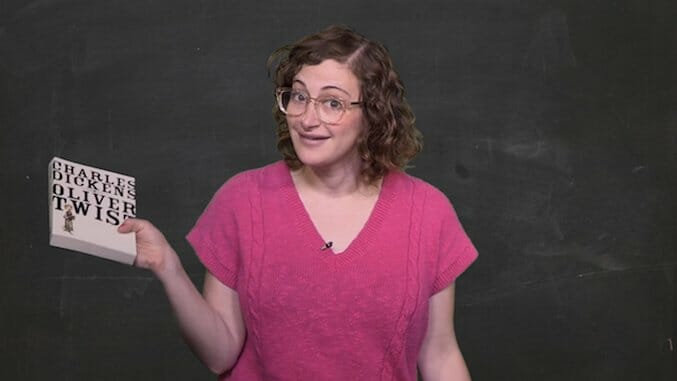 Struggling through something you didn't prepare for can be an excruciating experience, but watching someone else struggle through something they clearly didn't prepare for can be hilarious. Last Minute Book Reports is all about the latter.
Guests, authors and comedians, are given a book to read in 10 minutes and then asked to give a book report on it while being ruthlessly fact-checked by on-screen text. The latest reporter is comedian Jo Firestone, who is given Oliver Twist to talk about; her only prior knowledge of the book comes from her eighth grade production of the musical, in which she played a dying woman.
Firestone drops some interesting tidbits about the book, like that Oliver's famous "please" for more gruel is because he's "making a little gruel house, he's an artist, and he's like, 'If I get one more scoop, I can make a flag on top.'" She also notes that she typically only dates "mealy boys" but is going to go for more "beef-faced boys" in the future.
You can watch Firestone's Last Minute Book Report embedded above.