Allow John Oliver (And a Giant Bird) to Educate You on the Venezuela Situation
Said bird looks and sounds suspiciously like Wilmer Valderrama
Images via Eric Liebowitz/HBO, HBO/YouTube
Comedy
News
john oliver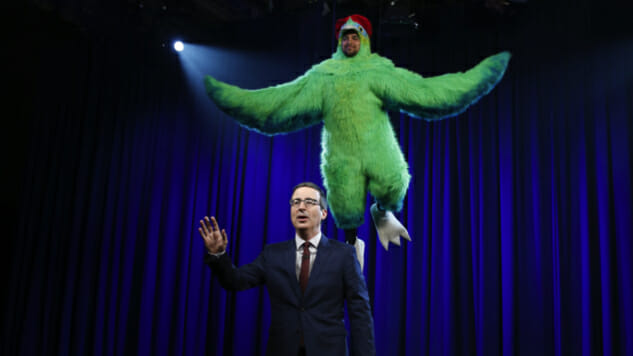 John Oliver's latest installment of Last Week Tonight wasn't supposed to happen—the HBO host literally dropped his mic after last week's episode, in which Oliver revealed that Russell Crowe had named a koala chlamydia ward after him, thereby accomplishing the one and only goal he had set out to achieve with Last Week Tonight, and closing up shop on the spot. But against all odds, Oliver returned to his show (and ironclad HBO contract) to continue its fifth season, turning his rigorously researched comedic attentions to the troubled nation of Venezuela.
The ensuing story finds Oliver delving into the South American country's dire economic situation, focusing in particular on the leadership under which said crisis—caused in large part by Venezuela's economic dependence on oil, prices of which fell precipitously beginning in 2014—has come about. Oliver illustrates how the country has been led astray by its leadership, from the shortsighted government of the late Hugo Chávez to the outright corruption and catastrophic food shortages seen under Chávez's hand-picked successor Nicolás Maduro, an aspiring authoritarian who would rather obfuscate the truth, play the blame game, or outright change his government's rules to protect his power than fix Venezuela's problems. One distressed Venezuelan even refers to her nation under Maduro as "a dictatorship that is in disguise."
Oliver admits that there's not much the U.S. can do to help Venezuela, opting instead to recruit That '70s Show's Wilmer Valderrama, himself of Venezuelan descent, to dress as what is seemingly the only kind of confidant Maduro will heed: "a real, actual bird."
See Oliver's story below and revisit an in-depth Paste Politics piece on Venezuela's situation here.