Killing It's Remarkable Second Season Loses Snakes But Finds Its Fangs
Photo courtesy of Peacock
Comedy
Reviews
killing it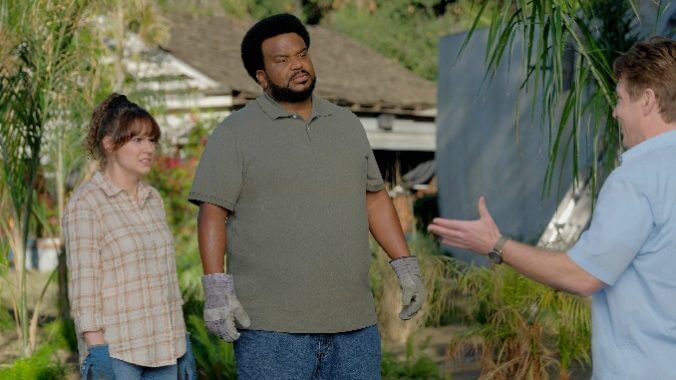 As a working-class citizen, one can find it risky and challenging to chase the "American Dream." But to do so when living in the Sunshine State of Florida, where even the word "weird" ordered a restraining order from it, only raises the difficulty level. Creators Dan Goor and Luke Del Tredici examine that conundrum through their original comedy series, Killing It. The show was initially about Florida-based underdog Craig Foster (Craig Robinson) and perky Aussie Uber driver Jillian Glopp (Claudia O'Doherty) entering the Florida Python Challenge to win $20,000 so he can pursue his dreams of owning a berry farm, and had much to say about the snakes living in our society. 
Killing It started off clunky and generic like many adult comedy series, aiming for shock humor and irreverence and got away with it because "irreverence" is Florida's middle name. Halfway through, though, it found its footing as Jillian and Craig's budding friendship developed. Alongside them were side characters Isaiah (Rell Battle), Craig's younger criminal brother, and Brock (Scott MacArthur), the duo's middle-aged influencer-wannabe opponent, who eventually became more prominent. 
In Season 2, Del Tredici and Goor replace their snake juice with some Bong Joon Ho pills, presenting a harrowing, absurdist satire of American capitalism.
The last we saw of Craig Foster, he and Jillian braved a Floridan hurricane and won the Florida Python Challenge with the snake that digested crime lord Rodney LaMonca's (Tim Heidecker) son, selling out his brother Isaiah in the process. 
Many months after their win, Craig and Jillian finally open up an agricultural farm, growing saw palmetto berries to sell to pharmaceutical companies. Immediately, their business gets shut down by the state ––featuring a hilarious running gag with guest star Beck Bennett–– due to an influx of one Florida's most significant threats: giant African snails (no joke, they cause meningitis) across the farm. Craig and Jillian return to ground zero with no way to pay their few employees. Stuck in a desperate position, they get involved with the Boone family gang––where matriarch Jackie Boone (a ferocious Dot-Marie Jones) calls the shots, and her children Natalie-Ray (Katie Kershaw) and Ray-Nathan (Joe Massingill) are her right hands––to help export the berries from their own farm. Craig and Jillian's philosophies of success and morality are tested as their business goes through a twisty financial rollercoaster involving LaMonca and Isaiah and more parties as swampy as the Everglades. 
Killing It's sophomore season's writing team might've tossed the snakes to the curb, but that python venom activated as they confidently found a union between they show's absurdist wit and stellar social commentary. They cleverly mire logical Craig and sweetheart Jillian in ethical trials that serve as their season conflict and develop their respective characters. Concluding the previous season with Craig's moral bar lowering after he sells out Isaiah to win the [ython challenge prize money, here we see how much lower it may sink, how his selfish choices differ from Jillian's, and how, his influence affects her decision-making. What does it look like when Jillian must let employees who can't afford to be out of work? How much of their integrity will they sacrifice to market a product? In positioning first-time business leaders Jillian and Craig as partners, the writers thoroughly analyze how dark they're willing to let their shades get to maintain control of their business and retain their new class status, fighting against returning to life  below the poverty line. 
Craig Robinson and Claudia O'Doherty already had the comedic dynamic on lock, and that returns in full force, but they, no pun intended, kill it here. As Craig and Jillian's obstacles become increasingly stress-inducing, elevating their emotional stakes, Robinson and O'Doherty sell many moments of their dramatic camaraderie. Although I'm spewing the word "drama" around, another area of Killing It's significant improvements lie within the comedy, which completely embraces and confidently ups the absurdist nature outside its Floridan environment. The writers ensure that each scenario Craig, Jillian, and Isaiah find themselves in is as insane as possible, discussing facets of capitalism in a series of clever, laugh-out-loud gags while furthering their characters. Even the episodic concepts, such as gangsters straight out of a Safdie Bros flick collecting debts, or a Pitbull impersonator group unionizing, or a hillbilly hick gang wanting healthcare benefits, is like a game of mad libs but prove sharp in execution. As crazy as the scenarios are, the writers take each subject matter seriously, providing insightful commentary on how much upper classes screw over the working class. Also, talented comedic guest stars like Jackie Earle Haly, Kyle Mooney, Beck Bennett, Tim Simons, and Melanie Field get in on the fun, and they end up stealing the show despite their minor roles.
The season, while bearing a smaller episode count (eight compared to the first season's ten), strengthens its storytelling and themes. It utilizes the previous season's structure of breaking up the main arc with extensive character-driven flashback episodes interwoven with pivotal plot points. This season skillfully raises the stakes for the interconnected parties of Jillian, Craig, and Isaiah, and many episodic cliffhangers either leave you in stitches or in constant shock, ready to binge the next one. 
The season's backend kicks into high gear, getting to the same seismic assertiveness in its class commentary as Succession's pivotal election episode. The finale, "Timber," penned by co-creator Luke Del Tredici, goes for the jugular as the episode puts Craig and Jillian's partnership to its greatest moral test. The show doesn't come to play when the American Dream argument rears its head around one last time, with the plot and character decisions reaching Parasite level of astonishing. It left me in the same emotion I had with that movie: such a powerful gut punch, it left a pit in my soul and I had to take a walk and let the finale marinate.
Killing It Season 2 is a vast improvement over its previous season and one of the strongest sophomore seasons in television this year. Its sharp satire on American capitalism is rounded out with a precise focus on character relationships and morality. It may have lost the snakes, but this underrated comedy found its fangs.
---
Rendy Jones is a film and television journalist based in Brooklyn, New York. They are the owner of self-published outlet Rendy Reviews, a member of the Critics Choice Association, and a film graduate of Brooklyn College. They have been featured in Vulture, The Daily Beast, AV Club and CBC News.