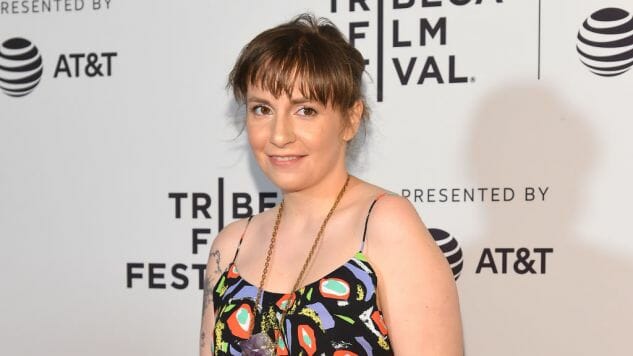 Lena Dunham might've made a pretty okay TV show (it was called Girls, it was on the HBO, that emo Darth Vader guy was on it), but she also pisses off people almost every day with the stuff that she says and does. And not just right-wing talk radio people, who exist solely to get pissed off for divisive political reasons, but many people who ostensibly are on the same end of the political spectrum as Dunham. She keeps tweeting her foot into her rich, white, New York City art scene born and bred mouth, and then trying to make good with insufficient, mealy-mouthed apologies that often just make everything worse. Thus is life in the 21st century if you're a public figure who doesn't entirely know what they're talking about much of the time.
Her latest controversy: Dunham and her Girls co-producer Jenni Konner issued a public statement defending Girls writer Murray Miller from sexual assault charges levied by actress Aurora Perrineau. In the statement Dunham and Konner mentioned "insider knowledge" that makes them believe that "this accusation is one of the 3 percent of assault cases that are misreported every year." Many took that, understandably, as Dunham and Konner saying that Perrineau was lying about the sexual assault. Considering Dunham's brand is heavily tied in with feminism, this public doubt about a woman's claims of abuse felt more than inappropriate, and kicked up the raging anti-Dunham flames once anew. She apologized the next day but it's pretty hard to walk back from that kind of thing, especially in today's environment.
Okay, none of this is funny, we realize. And yes, this is still a comedy section. Hold on, we're getting somewhere with this.
Dunham's history of similar apologies for perpetuating what is soundly condemned online as "white feminism" might be bad for her brand and society at large, but it's at least good for Twitter goofs. On Sunday a new account called Lena Dunham Apologizes appeared, generating future apologies for all sorts of situations that Dunham will quite possibly find herself in. Created by @wheelswordsmith with contributions from @liv_croagh, it's the kind of satire that makes us not entirely hate the internet sometimes. Twitter bots are a fine source of mirth and mischief, and so is this thing. Yep.
Here's a small collection of some of our favorite apologies so far, and you can check out the full account at @lenadunhamapols.
Lena Dunham Apologizes For Dressing As A Geisha For Chinese New Year To Her Vietnamese Beautician

— Lena Dunham Apologizes (@lenadunhamapols) November 22, 2017
Lena Dunham Apologizes For Wearing Cornrows On Martin Luther King Day On A Diversity Panel Full Of White People

— Lena Dunham Apologizes (@lenadunhamapols) November 21, 2017
Lena Dunham Apologizes For Speaking In a 'Blaccent' When Meeting Michelle Obama While On Holiday In Cancun

— Lena Dunham Apologizes (@lenadunhamapols) November 21, 2017
Lena Dunham Apologizes For Her New Book About Wearing A Native American Headdress At Coachella To Her Mexican Gardener

— Lena Dunham Apologizes (@lenadunhamapols) November 20, 2017
Lena Dunham Apologizes For Comparing Rising Netflix Fees To Sexual Assault At South By Southwest

— Lena Dunham Apologizes (@lenadunhamapols) November 20, 2017
Lena Dunham Apologizes For News Reports She Praised European Colonization At A Black Lives Matter Rally

— Lena Dunham Apologizes (@lenadunhamapols) November 20, 2017
Lena Dunham Apologizes For Timing Of Statement About How The Patriarchy Is 'Fetch' On A Diveristy Panel Full Of White People

— Lena Dunham Apologizes (@lenadunhamapols) November 20, 2017