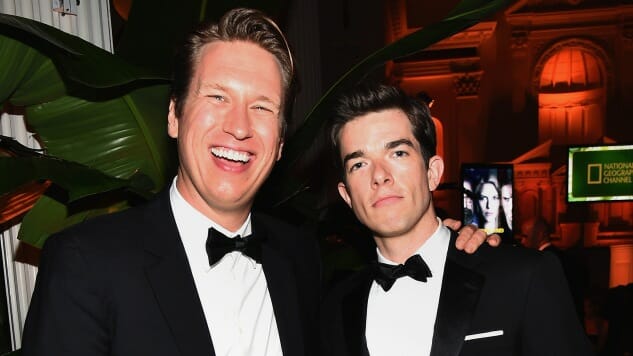 If you're just now learning about Pete Holmes from his new HBO sitcom Crashing, you have a lot to catch up on. For instance: there are 350 episodes of his Nerdist podcast You Made It Weird. Here are the 15 best.—Ed.
Pete Holmes has fully admitted—multiple times—that his podcast is a nice-boy ripoff of Marc Maron's. The What the Heck? to his What the Fuck? But though Maron may have created and popularized the interview podcast—and, let's be fair, redefined the long form interview itself, in the medium's first dramatic update since Dick Cavett—Holmes was the one to personalize it, adding considerable breadth and depth to Maron's already overshare-prone format. You Made It Weird covers an astounding amount of ground, even within its Comedy-Sex-God format. And Pete's ability to spark up chemistry with anyone delivers spontaneous, conversational comedy in episodes with close friends and obscure strangers alike.
YMIW has its fair share of detractors—Holmes' best frenemy Chelsea Perretti vocally abhors the pet name "Weirdos" and I know plenty of people who love Holmes in general but can't get on board with his distinctive belly-laugh—but the people who love this show love this show, and consider it to be Pete Holmes's purest possible expression of Pete Holmes.
With Holmes's new HBO sitcom Crashing pulling in rave reviews, Paste has decided to look back on all 350-odd episodes of You Made It Weird in order to pick the top fifteen (we couldn't pick ten). These are the sweetest, the funniest, and the overall weirdest.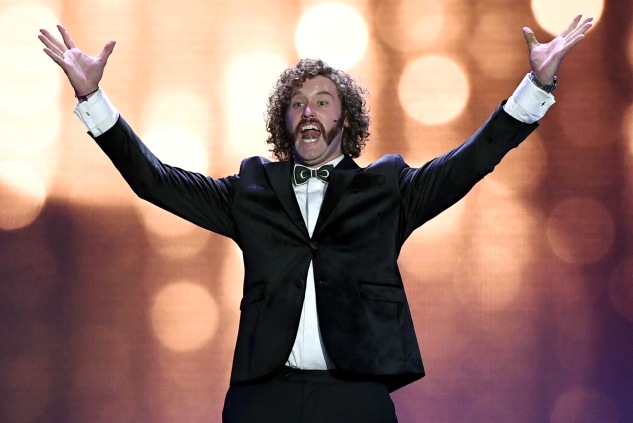 15. #2: TJ Miller
The earliest episodes of YMIW stuck strictly to Pete's inner circle, and they tried to adhere to the show's original format, where Pete brings up three weird things he knows about the guest. From the get-go, you could tell that both Pete and the guest felt limited by this premise. He wouldn't abandon it completely until later, but his first interview with a mostly pre-fame T.J. Miller offered proof that YMIW could do full episodes where they just pal around doing bits without it becoming solipsistic or self-indulgent. In fact, it's delightful! Miller's later appearances are fascinating as well (he returned in another early episode to explain his feud with Dane Cook, and then again several hundred episodes later to aggressively challenge Pete on questions of nihilism), but he's at his most playful here, getting on Pete's case for his "Springs and Sponges" theory and telling the gripping story of his cerebral arteriovenous malformation on the set of Yogi Bear 3D.
---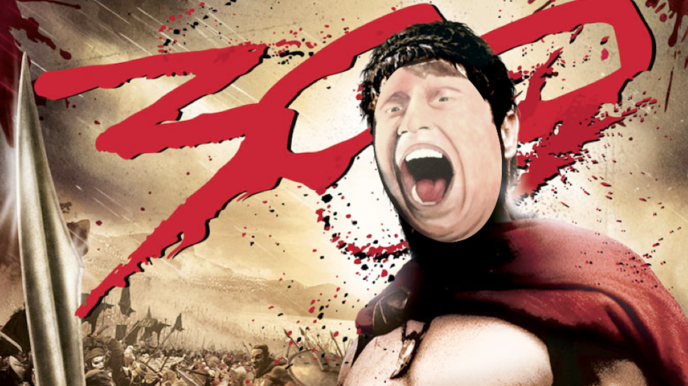 Pete sits down for the 300th episode of YMIW to drink and answer Twitter questions with his opener and friend Brent Sullivan (also the subject of his own fantastic episode). But this episode is most notable for being the first significant on-mic appearance of Pete's frequently referenced girlfriend Valerie. It may seem cheesy and overly narrative, but fans had heard so much about Valerie up to this point, and had become so invested in Pete's romantic life after hearing the story of his divorce (many, many times) that when Valerie finally showed up, and their relationship was as sweet, communicative and passionate as we had hoped, everyone flipped a shit like it was the end of The Parent Trap. It goes without saying, but Sweet Lady Val is a wonderful guest in her own right; charming, whip-smart, and completely holding her own against the two loud, drunk comedians who, of course, happen to be her best friends. Plenty of YMIW episodes have a "hangout" vibe that makes one envy that time in the studio, but this was the first episode that made people want to be Pete and Valerie's dog. If that sounds a little weird, it fully is!
---
---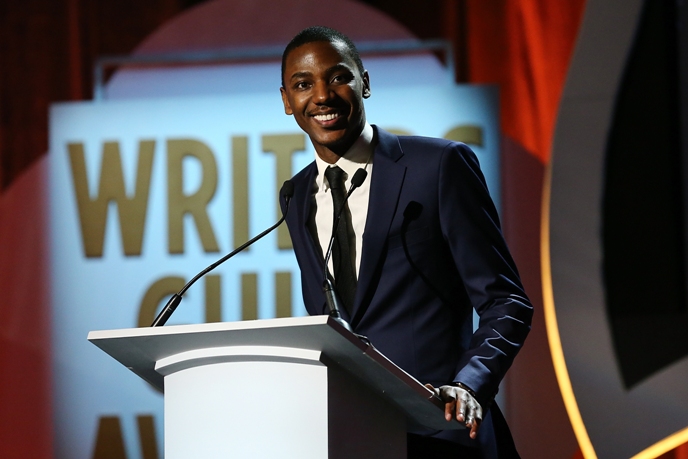 Pete's often referenced this episode as an early example of how a guest can blow his mind, and it's not hard to see why. Our minds are blown plenty, too, as Jerrod Carmichael ups the ante on the podcast from self-reflection to full-on show-biz philosophy. This episode was recorded before Carmichael had begun to break into movies and TV—he was only twenty-five at the time—and his Zen thoughts on the nature and purpose of being a comedian would come off as premature if he wasn't so assured and on-point. Their conversation audibly fills Pete with creative energy and has a similar effect on the listener; it is an essential podcast episode for anyone pursuing a career in any kind of creative field, especially comedy.
---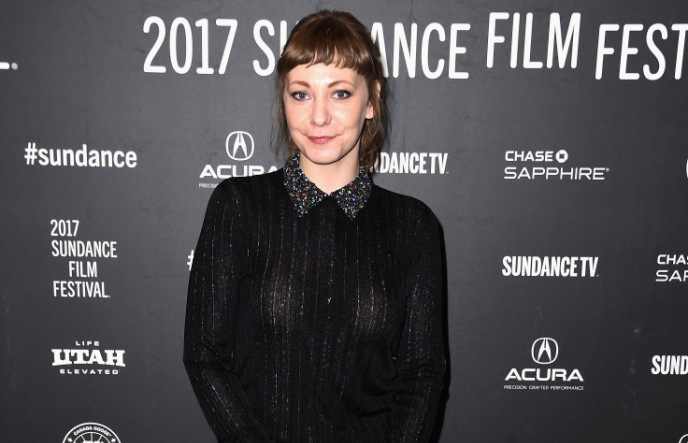 Roughly twenty episodes after interviewing Kumail Nanjiani, Pete sat down with one of his best friends, Nanjiani's wife Emily Gordon. This episode introduced us to YMIW's confidence that a great episode didn't need a celebrity guest. Pete and Emily's relationship is captivating by itself; her background in therapy makes her someone Pete frequently seeks out for help, and her marriage with Kumail makes her the perfect person to address one of the podcast's self-stated themes; who is right for a comedian? Plus, this episode contains one of the most heartbreaking and romantic stories ever covered on the show—the coma Emily fell into early in her relationship with Kumail, and how it set the stage for their marriage. Emily would later join her friends and husband's profession, and has proven herself to be as talented as anyone in that circle. But it's still immensely refreshing to hear a comedy podcast feature someone—at the time—who could give a third-party perspective on the community and its ambitions. Moreover, when you think about Emily-Kumail-Pete as a triad, and Valerie-Pete-Brent as a triad, this episode is crucial in recording the narrative of Pete's life, and the podcast's general reflection on how friends form a family.
---
---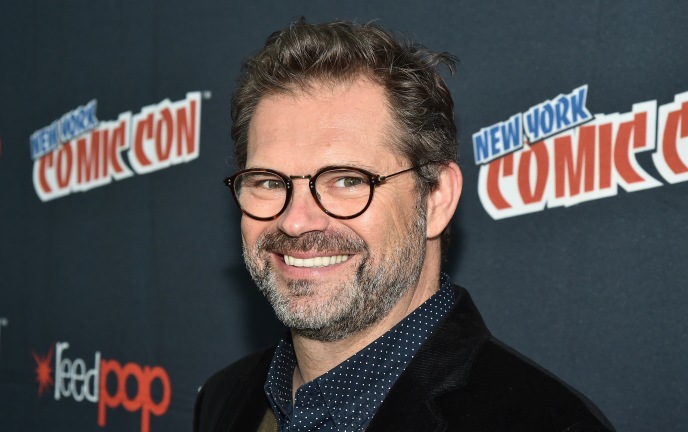 11. #44: Dana Gould
We can look back on Dana Gould's interview as a landmark YMIW episode just based on the running time. It was the first episode to crack two hours, and certainly not the last. When Pete stopped caring about how long the podcast ran, it took a palpable step up, and the level of detail in this episode reflects Pete's relief in being able to run off on tangents and pick Dana's brain as much as he wants. Pete is in full fanboy mode here, as Dana waxes nostalgic about his time writing for The Simpsons. Their conversation somehow avoids any semblance of Fallon-ness. It's just pure, geeky fun. Pete throws his favorite Simpsons bits ("What's for lunch tomorrow?" "Next!" "Chicken necks?"), Dana fires back with anecdotes from the writer's room ("I want to wreck something. Not havoc…") He also delivers some genuinely sweet stories about his interactions with celebrity, including a sentimental moment of confirmation from Elvis Costello. Any podcast that confirms the myth of Elvis Costello is okay in my book.
---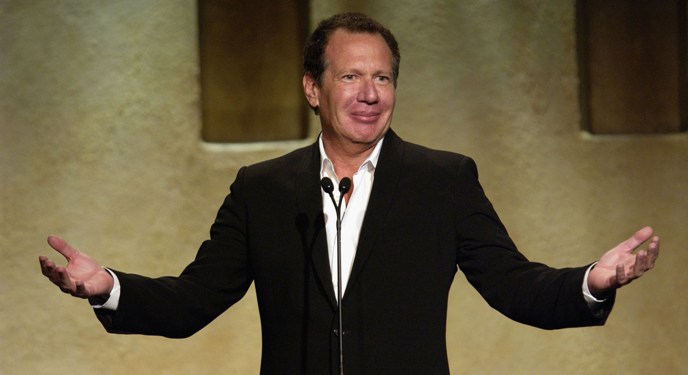 This was one of the last in-depth interviews Garry Shandling did before his death last March. I would almost argue that it's better to listen to Pete's re-release of this episode from shortly after Shandling passed away. The somber introduction makes their chipper conversation a little eerie, but it's crucial listening for those fans who crave some posthumous advice and guidance from Shandling—he was well-known as a sort of reclusive comedy guru after completing The Larry Sanders Show. In a later episode of the podcast, Judd Apatow notes that Shandling thought long and hard as to whether he had another story to tell, and decided he did not—this is the closest possible thing. Parts of their conversation remind me of the time Harry Potter talks to Dumbledore in limbo. It's deeply sad and more than a little unsettling, but it also gives the listener a definitive final talk with a man who was kind, funny, experienced, and had clearly achieved some form of enlightenment.
---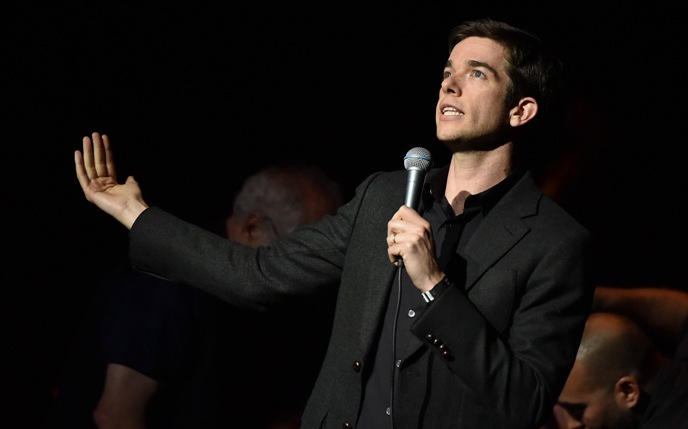 Mulaney and Pete go way back, and from their first conversation together it's immensely satisfying to hear the banter between two friends who have been through the shit together and have both emerged successful ("Do you know about my nightmare show-biz dreams?" "I'm familiar with your nightmare show-biz waking life.") But all that is basically table-setting for Mulaney's return episode, which dives into the fallout from his eponymous sitcom and its cancellation. The entire experience was clearly an unmitigated disaster, but Mulaney's epic rebound, which involved throwing himself headfirst into the ten-year-old act with Nick Kroll we now know as Oh, Hello, demonstrates the perspective you gain when you achieve your dream and it falls flat on its face. Mulaney is both wiser and funnier thanks to that failure, and this episode is proof.
---
Mike Birbiglia has an excellent track record on the show (his Pete burns are among the most unexpected and fun), but he is at his best in this thorough deconstruction of his second film, Don't Think Twice. Pete lost his mind when he saw the movie, and butters Birbiglia's bread throughout, but it only lends their discussion more fuel. If you're a fan of Don't Think Twice, this conversation is a worthy companion piece. Even if you're not, it serves as an immensely compelling dissection of the sadness and selfishness inherent in pursuing improv professionally—whatever that even means—while still examining the qualities of improv that attract people on stage and in life. Birbiglia is an uncanny judge of his own work, and uses the conversation to go over the whole process with a self aware eye—everything that worked, everything that didn't work, and how it all came together. If you're a student of filmmaking at all, it's a must-listen; as far as this podcast endeavors to examine the intersection between art and life, it's a series highlight.
---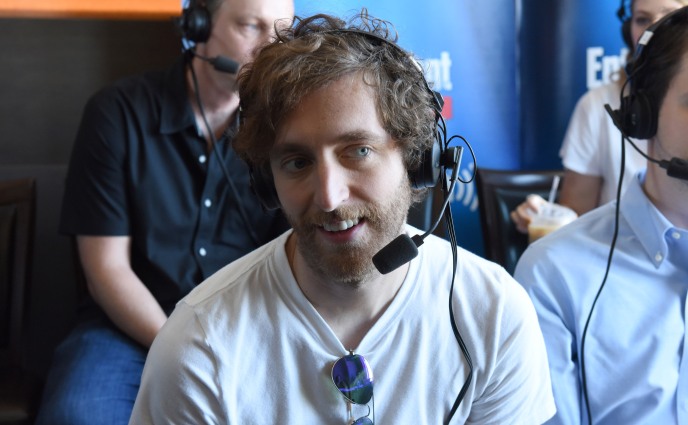 Not all great episodes of You Made It Weird get particularly weird. But when they do? Whoo-boy. Thomas Middleditch (Silicon Valley) and Pete were friends once. And then they weren't. And neither is entirely sure what happened. But they get together to figure it out, and over the resulting two hours, set things back on the right course. In the meantime, it's hilarious and incredibly uncomfortable, especially since their beef involves other members of their circle of friends (and some of Middleditch's future Silicon co-stars). But it's ultimately touching to watch them work so hard through the awkwardness, remembering old bits (their impressions of Kumail Nanjiani cumming blood in front of Emily Gordon) and creating new ones ("Ev-ery-day Je-sus!"). It's utterly unique in its discussion of the under-discussed "friend breakup," and as authentic as a preplanned recorded discussion between friends could possibly be.
---
---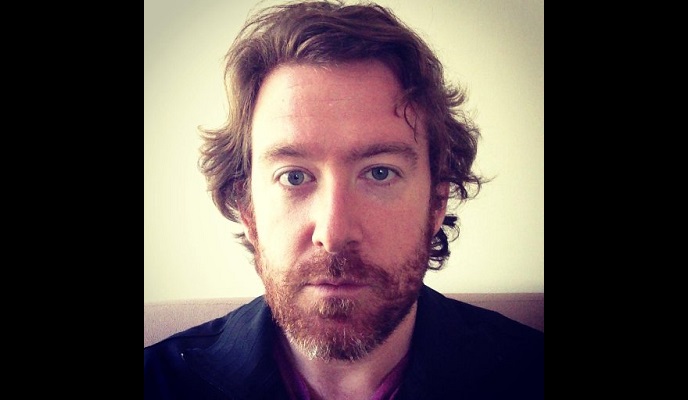 If nothing else, the Patrick Walsh episode gave us two beautiful gifts; the "Not Feelin' It" chicken they invented during their time as staff writers on I Hate My Teenage Daughter (probably the best thing to come out of that show), and Walsh's epic story of an ill-fated male bonding trip to Tijuana that involves a beautiful Pretty Woman stripper and a single paper towel. It is impossible, I repeat, impossible to build up this story too much. The payoff is that brilliant and unexpected. Thankfully, the rest of the episode is just as wonderful. The two friends spend most of the time remembering their own coping strategies for working on a show no one really liked and they themselves did not respect, but as a result its twice as hilarious as most YMIW episodes.
---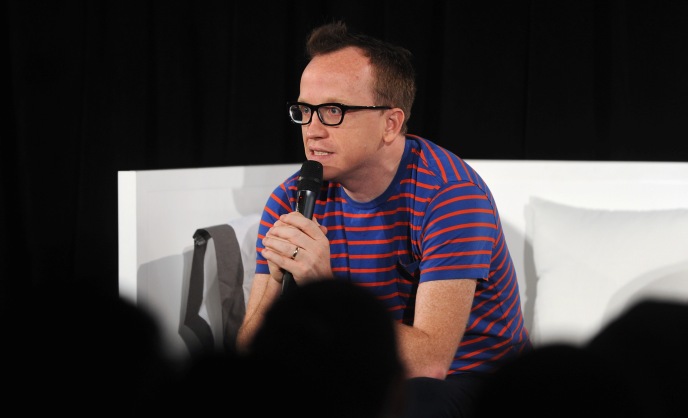 Chris Gethard has never been shy about his personal life. Pete's interview with him covers the same general ground as Gethard's My Comedy Album (the molly-fueled breakup with his girlfriend of eight years, the benefits of regular butt eating) but in way more detail than he was able to go into onstage. In the process, we get a very YMIW twist: Gethard had been approached by Conaco several years back, as Conan O'Brien was interested in picking up the public access version of The Chris Gethard Show. He did not, passing over Gethard's show in favor of Pete's. It's one of the podcast's weirdest moments, even if it breaks the ice and seems to delight both parties. But it's Gethard's honesty about the dissolution of his longest relationship that separates this episode from the pack. He clearly inspires a punk rock, cult-like devotion from his fans, and if you've ever been curious as to why, this episode is a great place to start.
---
---
4. #100: Chelsea Peretti Interviews Pete
From here on out, we're dealing with bona fide YMIW VIPs. Every one of Peretti's appearances on the show has been memorable (particularly her second episode, where Chelsea and Pete listen to a fan-submitted supercut of every time she had been mentioned on previous episodes, leading to Chelsea's detailed description of how she would kill Pete, and vice-versa). Nothing, however, beats her appearance on the hundredth episode, in which Pete takes the guest's chair so Chelsea can riddle him with fan questions. I don't know what possessed Pete to make him think this would be some kind of celebration, or good for him at all, for that matter, because Chelsea tears him, the fans, and the show to pieces and then makes him put it all back together. Pete could have ended the show right there, and this would have served as a perfect finale. Obviously, we're glad he did not.
---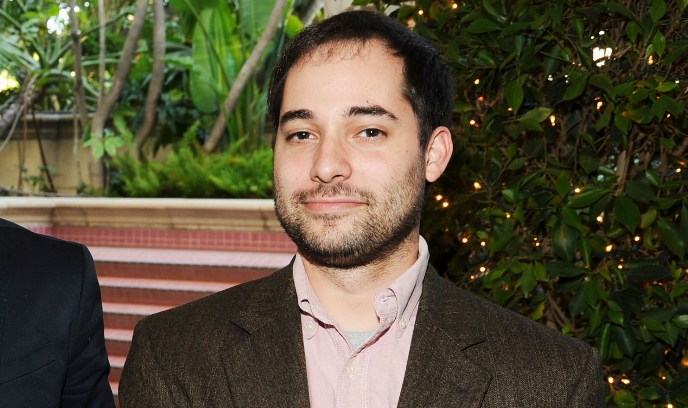 3. #236: Harris Wittels Returns
On February 19th, 2015, Harris Wittels was found dead of a heroin overdose in his home. He was thirty years old. A few months earlier Pete recorded his second interview with Harris, and, among other topics, they discussed Harris' most recent struggle with addiction. Though the stories Harris told were extreme, scary and admittedly—in his hands—hilarious, the episode ended on a positive note; Harris was getting help and getting sober. He said he was in a good place, and according to a set he did at the Meltdown the night before he died, he still was. It was the kind of episode that shook you to your core even before his death. After the fact, it's absolutely devastating. By all accounts, Harris Wittels was one of the funniest people. Period. His episodes of this podcast confirm as much, and additionally introduced us to a warm personality and powerful friend. Plus, I imagine his candidness regarding his addiction helped a lot of people. There's an early episode of YMIW where Chelsea Peretti gets on Pete's case for concluding an anecdote about Mitch Hedberg—a man he had never met—with a comically sincere "miss you, Mitch." Therefore, I don't feel that weird about ending this lil' blurb with a "miss you, Harris."
---
---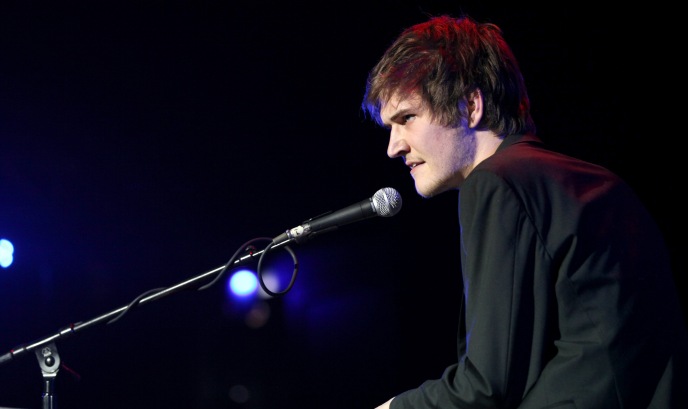 Bo "Boom Boom Boom Boom" Burnham is the reoccurring YMIW guest I look forward to most. That said, even he admits that your reticence about listening to the opinions of a twenty-six year old white comedian who became famous for doing musical YouTube videos at sixteen is reasonable. To those people: I beg you to check in with the new Bo Burnham. Not only have his last two specials been absolutely mint, his appearances on this podcast are increasingly jaw-dropping. I maintain that, even among those people who are obsessed with his specials, Burnham does not get enough credit for being such a force of nature in these kinds of interviews. He has something to say about everything, tripping over his own words as he struggles to communicate his thoughts as he thinks them. This should come off as incredibly annoying, but it doesn't. He delivers a passionate screed that runs through the fall of late night TV, the democratization of content distribution, the culture of selling out, how old white men are the enemy, his own limitations in terms of what he is qualified to talk about, his own unanswered questions, and comedy's incredible potential over the course of his mammoth three-plus hour third YMIW. He clearly lights up Pete's buttons to an absurd degree. Until he gets the talk show he does not want, I eagerly await #4.
---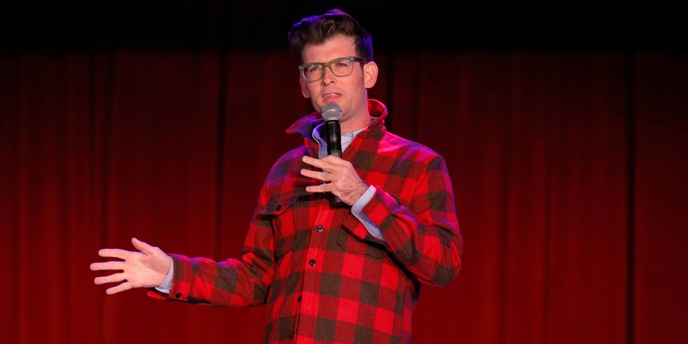 The first Moshe Kasher YMIW is really, really good. They really get into it regarding Kasher's years in the Oakland rave scene and give us the helpful definition of "fuck-guy." The second Moshe Kasher YMIW? I have never laughed harder than I did at the second Moshe Kasher YMIW. If you've never listened to the podcast before, this should be your gateway. Once you learn about Racist Stephen Hawking, "welcome to Gringotts," the Money Meeting, Going Going Gandhi, "Rape is not good for anybody" "You heard it here first, folks," "he's ha-sitting there with his ha-hat," Medium Soup, "you'll be keeping that," what a piece of shit Mordechi Ben David is, and the Bar Mitzvah song that ties it all together, you won't want to go back. But the episode transcends its stellar bits and finds balance. Most of the jokes occur naturally as Pete and Moshe continue to get sidetracked on the road to discussing the other half of Moshe's childhood (he spent part of his time as a kid with his deaf mother and grandmother while he raved in Oakland, and part of his time with his deaf father in the most extreme of Brooklyn's Hasidic sects). This was all partially covered in Kasher's superlative memoir, The Kasher in the Rye, but they dig even deeper here. The result is You Made It Weird's most dynamic episode—comedically satisfying and emotionally satisfying in equal measure. And it's Moshe Kasher, so naturally he makes time for a little discussion about the Council of Nicaea and how the prison-industrial complex is the new slavery. Get. In. To. It.
---
---
Honorable Mentions
This started out as a list of the top ten episodes but after going through the full run again that proved to be impossible. Still, even after expanding it to fifteen, it felt like some fantastic episodes were getting short shrift. So what the hell, here are a bunch of honorable mentions.
Pete's produced some great live episodes over the years, although they generally don't have quite the loose conversational power of in-studio installments. You should check out #33: Live from SXSW with Judd Apatow, Todd Barry & More; you can trace Crashing, Nanjiani's The Big Sick, and Gethard's Career Suicide back to this appearance with Judd Apatow. #83: Live From SF Outside Lands! is easily the most uncomfortable thing I've ever heard in my life.
There are some great fuckaround episodes in addition to the ones listed above. #210: Josh Ruben, in which Josh and Pete just attempt impressions the entire time, is so entertaining that it warranted its own re-release. Early episodes featuring Neal Brennan, Anthony Jeselnik and Nick Kroll set a good precedent for the guest shitting on Pete. In #9: Sarah Silverman, we learn exactly how many pumps it took for Pete to lose his virginity.
Though it's now more of a footnote to his career than anything else, Pete's years submitting cartoons to the New Yorker are fascinating, and #18: Matt Diffee & Alex Gregory, a conversation with two New Yorker cartoonists, is an insider's look at a hyperspecific world within comedy. #303: Bruce Eric Kaplan explores that topic further.
While You Made It Weird is at its best when other comedians are involved—and this list reflects that—Pete's curiosity has produced some great episodes with scientists, musicians, writers, spiritual folks, etc. Check out the episodes with Ben Folds, Glen Hansard, Henry Rollins, Brian Greene: Theoretical Physicist and Rob Bell for more on that. Keep It Crispy.
---
Graham Techler is a New York-based writer and actor. Follow him at @grahamtechler.