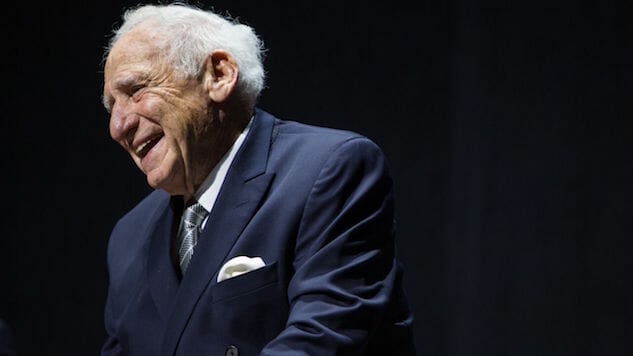 Downtown Los Angeles was a bevy of activity last weekend as the RIOT LA Comedy Festival attracted hundreds of comedy fans for a four-night celebration of joke telling through nine busy venues. Saturday's shows were only a few blocks away from where the Women's March had attracted over 750,000 protesters earlier in the day which brought a fresh sense of energy and excitement to the night's events. On Sunday, a torrential downpour threatened to turn away festival-goers but that would not be the case as audience members still turned out in droves to bear witness to their favorite podcasters, performers, and comedians.
Mel Brooks kicked off the festival to a packed Microsoft Theatre for a question-and-answer that became more of a one-man show as the sprightly 90-year-old stood frequently to address the sold-out crowd and spin anecdotes as funny as they were long, enough to make one completely forget the prompting question. The night's biggest laugh came from a moment that perfectly showcased Brooks' comic mind, as sharp as ever, when an audience member asked "Boxers or briefs?" and Brooks held a long beat before deadpanning: "Depends!"
Brooks might have been the biggest name, but that show was only a small offering in comparison to the whole of what RIOT had in store. Ali Wong headlined multiple sold-out nights at The Theatre at Ace Hotel, which included a surprise drop-in from Dave Chappelle. At the classy Orpheum theater, Jonathan Katz reprised his "Dr. Katz, Professional Therapist" role from his '90s Comedy Central show for a night of counseling the likes of Bob Saget, Maria Bamford, David Wain and Andy Kindler. Todd Barry brought his Crowd Work Tour to the Cigar Lounge for an entirely unscripted set full of riffing on audience members who lapped it up. In truth, every show that Paste had the opportunity to attend was packed full of people happy to be there.
In addition, throughout the weekend, attendees were welcome to enjoy the SuperDeluxe Lot full of food trucks and arcade games (including a VR experience where you could throw virtual dildos at our new president).
We asked a few of the performing comedians about their favorite moments from the festival:
Ahmed Bharoocha:
(@AhmedBharoocha)
My favorite moment was Dave Chappelle dropping in on the fest. I've loved him since I was a kid but until then had never gotten to see him live before. Also watching a 90-year-old Mel Brooks perform at 90 with more energy than I've ever had on stage. The parking lot is also always my favorite part of the festival. It's the life source of the festival. Watching the comics and fans all hanging out playing ski ball, drinking beers and riding the Ferris wheel makes me feel warm inside.
Amy Miller
(@amymiller)
I loved huddling in a rainy basement/foyer thing watching Barry Crimmins and Bobcat sit with each other while Caitlin Gill asked for feedback on her new jokes for red states, and then just watching them on stage together. Also shout out to the rain for flooding Dave Anthony's basement, which got me a set on that show. That's why we call her MOTHER nature (also, sorry Dave!).
Also, I accepted and am now spreading the word that Shane Torres has the best Guy Fieri joke, and everyone else can stop trying to write new Guy Fieri jokes. And I HATE complimenting Shane.
Kevin Camia:
(@kevincarnia)
It's been a great ride opening for Ali Wong on her current tour, she's AMAZING. When Chappelle did a surprise guest set up front and introduced me that was definitely special, but the one thing that stood out most of all, was being in the lobby and watching staff escort out two drunk women. One woman yelled "you're just mad 'cause you can't fuck me!" I laughed pretty hard then felt guilty since it was the night of the marches. Also, I took home 3 bottles of Fiji water from the green room!
Greg Kashmanian:
(@ReadySetGreg)
What struck me is how everyone was in such a great mood, even the comics who are usually a bit of a bummer. Everyone was happy to see each other it was great. My Comics To Watch show at Segovia was packed. Jimmy Pardo was our host. Everyone did well. It was just a great atmosphere.
Kate Willett:
(@katewillett)
I remember watching Irene Tu's set and being blown away. We're from the same home scene in San Francisco, so I've watched her comedy for years. As a comic it's pretty common to see comedians as they were when you first saw them perform, but those moments are great when you see someone you know like it's the first time and you think holy shit this person is good.
Abbey Londer (festival founder):
(@abbeylonder)
My favorite moments were listening to and watching Mel Brooks—I couldn't believe how much energy he had and still am pinching myself about that show. It was magical. Todd Barry's crowd work killed me, Bob Saget's intimate and candid conversation about the current state of the country and riding the Ferris wheel overlooking all of the festival were also highlights for me for sure.
---
Grant Pardee is a comedian and can be followed on Twitter.