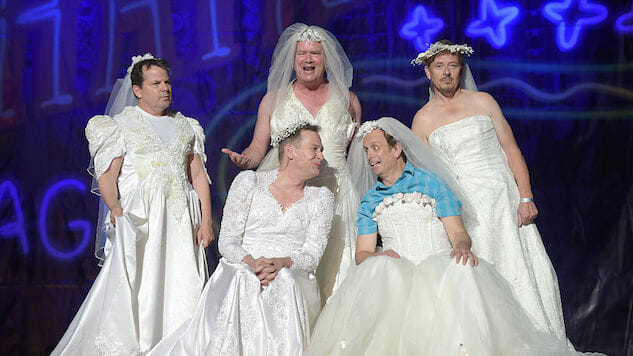 In the late '80s and early '90s, The Kids in the Hall were one of longest-running sketch comedy troupes out there. Their eponymous show ran from 1988-95, first on HBO, then CBS, and had over a hundred episodes.
Now, Lorne Michaels (one of their first fans and producers) wants to bring them back.
In an interview with News-Press.com, founding member Kevin McDonald said that Michaels told them (over group message) that he wants to get them a Netflix-style, six-episode revival, "like what Mr. Show got."
This wouldn't be the first time The Kids in the Hall reunited. In the years since the show ended, they've done live shows, and the films Brain Candy and Death Comes to Town. They still have a dedicated fanbase, despite not being as well known as they were 20 years ago. (Younger viewers would probably know McDonald best as the voice of Agent Pleakley in Lilo and Stitch.)
Nothing official has been announced yet, so fans will have to hold their breath and hope that a streaming service gets involved.
Read our 2015 interview with The Kids in the Hall here and our 2016 piece on their place in sketch-comedy history here.