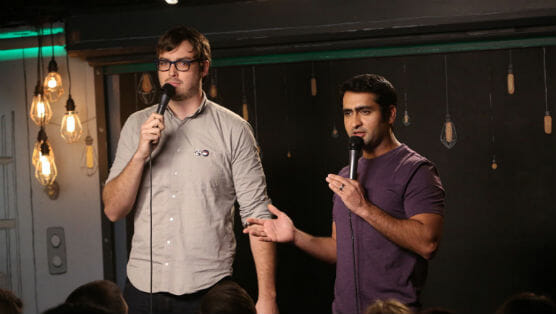 Jonah Ray and Kumail Nanjiani have been hosting The Meltdown in the back of a comic book shop for over four years now. The two hosts know each other extremely well and, along with producer/Kumail's wife Emily Gordon, they've created a unique show and fun vibe that transfers very well to television. Going into production on the show the three made it very clear that they did not want to change anything about The Meltdown. They wanted to keep it in the same spot, at the same time, and make sure the cameras did not disrupt the flow. They accomplished just that. This is why TV version works and works well.
The show starts with Jonah and Kumail doing a completely unrehearsed set, it feels more like a conversation than a stand-up routine and is very inclusive of the audience. This is one of the many things that helped build the show to what it is today. It feels like you're hanging out with friends in the back of a comic book shop, which is pretty much what you're doing.
This feeling really comes off backstage as well. We get to see the comics hanging out and chatting, some of which aren't even there to perform. They come to just watch their fellow comics and hang out with their friends. When Jonah and Kumail start talking about first crushes, one audience member mentions Adam Scott who just happens to be backstage. Adam comes out from backstage, brings the girl on stage and has a nice little discussion with her. These are the kind of things that happen at Meltdown.
The backstage documentation does cut into some of the time on the stand-ups, though. With four booked comedians and only 22 minutes of air time, each comic only gets about one bit on the show that last at most four minutes. The show would probably benefit from an hour time slot, but it's understandable why Comedy Central wouldn't want to commit that much air space to something that is, essentially, and experiment. It airs Wednesday's at 12:30 a.m., which isn't exactly a prime spot, and I do think the feel of the live show could have been expanded upon even further with an addition of time.
This first episode featured comedians Steve Agee, David Koechner, Neal Brennan and Moshe Kasher, who all had great sets. I would say out of the four my favorite set of the show was Neal Brennan. Backstage Brennan talks about a new thing he wants to try out and this show is just the place for exactly that. He takes the stage with three different mics set up, each one for a different kind of joke.
I think The Meltdown with Jonah and Kumail has great potential and it started with a great first episode. I'm eager to see what other comedians will be doing sets and popping into episodes. My biggest concern is the time slot for this show. Hopefully enough people will see it and enjoy it so that Comedy Central will give it a chance. It deserves to be seen, and because it's unlike any stand-up show that has been on television, it might just have a chance to catch on in a similarly unique way.