The Life, Afterlife & Rebirth of an American Icon: Jon Goldwater on The Reconstruction of Archie Comics
Comics
Features
Archie
Comic fans have a complex relationship with change. Based on sales numbers alone, change almost always works—at least in the short term. Purchases spike every time a publisher relaunches, replaces, reconfigures or reimagines a core franchise. Message board chatter from diehard fans frequently leans more conservative, treating change as the enemy of lifelong readers who just want "their" versions of decades-old characters. Serial storytelling is built on walking this impossible tightrope: give us new stories, but not too new.
While Marvel, DC and scores of other publishers have spent years chasing—and frequently overshooting or missing—this target, Archie Comics seemed to follow the path of least resistance. Riverdale and its inhabitants—all-American Archie, girl-next-door Betty, rich brat Veronica, perpetually burger-munching best pal Jughead—remained frozen in amber. Their small-town teenage conflicts didn't split worlds, fracture timelines or break the Internet. Aside from a few tweaks (cell phones, characters of color), the Archie digest you could find at grocery checkout counters in 2009 wasn't much different than the one your parents nabbed from drug stores in 1969. The Archie brand—the selling point behind the world of Riverdale—was consistency, comfort, and familiarity.
Not anymore.
With initial sales of last month's Archie #1 from Eisner-winning incoming Avengers scribe Mark Waid and Eisner-winning Saga artist Fiona Staples topping 100,000 units and #2 fresh on stands today, Archie Comics CEO Jon Goldwater (son of Archie Comics co-founder John L. Goldwater) explains the significant—and deliberate—changes he has overseen since stepping into his role.
"We've taken the opportunity to change, to diversify, to add different stories, to change directions a little bit, and, frankly, to make it a little bit more interesting and exciting," Goldwater says about the beginnings of "Riverdale Reborn," the umbrella term for the company's slate of new titles that places its beloved characters in the current day.
Between October and next summer, the publisher will launch Jughead with Sex Criminals rapscallion Chip Zdarsky and Squirrel Girl artist Erica Henderson; Life With Kevin by Kevin Keller creator Dan Parent and out-artist J. Bone; and Betty and Veronica, written and drawn by longtime DC cover talent Adam Hughes.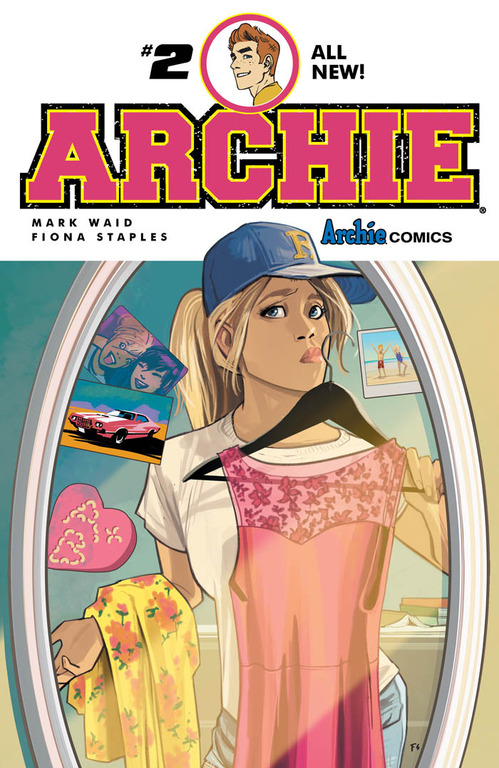 Archie #2 Cover by Fiona Staples
"The reason that you bring on a Mark Waid or a Chip Zdarsky, or whoever it may be, is that you trust them and you love what they've done in the past," he says. "These characters, to me, are so important that I'm giving them to creators I trust implicitly. Even though Mark's Jughead and Chip's Jughead may not be coming from the same place, it goes back to the integrity of the characters. They get it. They know the DNA of the characters, and they're not going to deviate where one [version of] the character is the polar opposite of another. There may be differences in personality or quirks, but I want that. I want each creator to put their stamp on the character. I want them to enjoy writing it and drawing it and being part of the Riverdale universe. I want them to make it their own."
The writers and artists entrusted with making Riverdale their own are not taking the responsibility lightly. Waid, known for character-defining runs with Wally West and Daredevil among other Big Two and creator-owned accomplishments, feels the character's legacy deeply.
"Maybe this is because I'm a comics historian as much as anything else, but I really have a deep-seeded respect for the characters that have been around since before I was born and are probably going to outlive me," Waid says. "My feeling is that it's not really about me or any other creator coming in to impose his own ego or voice on the comic. It's about respecting the reason these characters have existed this long. And part of that is that they're good, strong characters, and you just have to dig in there sometimes and discover what makes them contemporary and 21st century, that's all."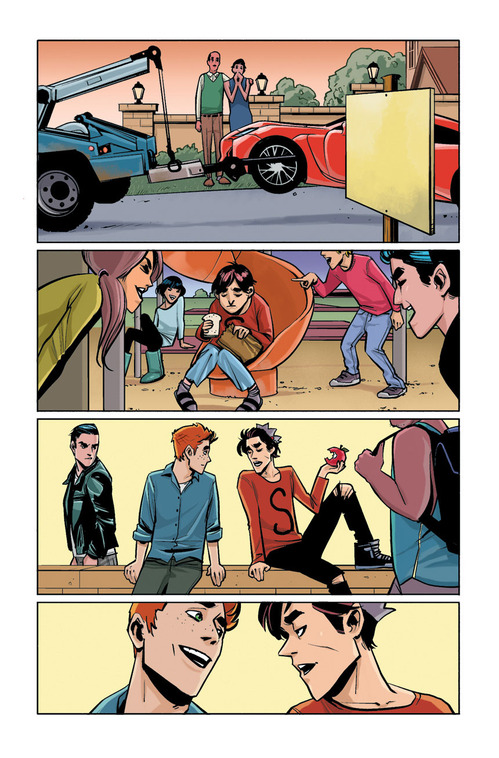 Archie #2 Interior Art by Fiona Staples
Jughead scribe Zdarsky shares that sentiment. "Jughead spans generations and so many creators that I feel more like I'm joining a family by writing his adventures for a while," he says. "This is aided by the fact that the staff at Archie treats me like family by asking me when I'm going to have kids and how come I never call."
While initial Archie artist Staples has committed to a three-issue run and Waid has promised to stay with the book as long as the publisher will have him, the remaining titles won't see publication for up to a year from now, with Jughead next at bat in October and Life With Kevin and Betty and Veronica to follow in 2016.
The slow start is largely a matter of economics. In May of this year, Archie Comics launched a Kickstarter with the goal of raising $350,000 to accelerate the publishing schedule, but shuttered the campaign after less than a week in response to criticisms over reward tiers and an established publisher turning to crowdfunding. Goldwater took the unexpected cancellation in stride.
"The Kickstarter is behind us," he says. "We've made the adjustments, and even though things may slow down just a bit, it's not going to table them from happening. I'm just as excited about all the projects as I ever was."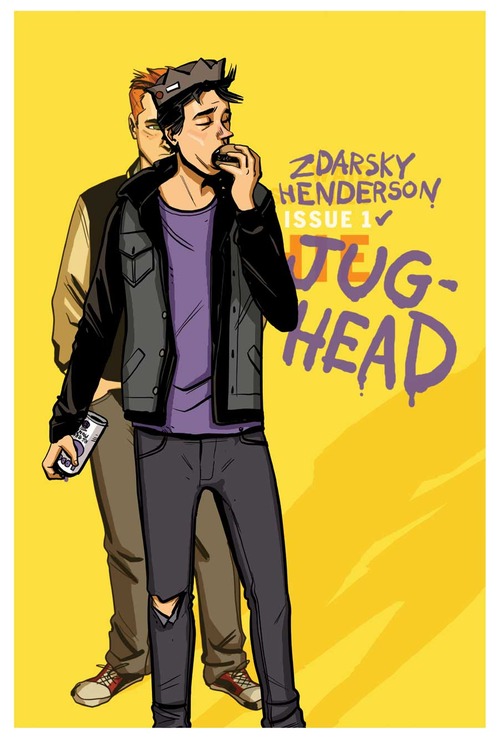 Jughead #1 Variant Cover by Chip Zdarsky
But in its relatively recent quest for reinvention, Archie Comics' "Riverdale Reborn" is only the latest in a string of new ventures for the historic publisher. Over the last five years, Archie Comics has slowly, confidently shifted directions, aiming for a bigger chunk of the direct comic market in the process.
Under Goldwater and the editorial team's stewardship, Archie has grown up, gotten married, died and battled zombies on his path toward renewed relevancy. Looking back over the company's big moves in the last half decade, it's easy to identify a pattern of risk-taking. At the time, though, each new Archie "moment" felt spontaneous and surprising, atypical for a publisher with a history of creative conservatism. Goldwater doesn't view the company's evolution into the present day as a happy accident.
"To be candid, I think it's all put-your-foot-down," he says. "I don't think anything's organic. Everything we've done here has been thought out and discussed and it's all come from us. There wasn't that much happening six or seven years ago.""
The statement has merit. The larger part of a decade ago, Archie Comics enjoyed the same wide distribution outside of comic shops that it has today, but its presence in the direct market was negligible, and fandom was largely supported by nostalgia. The first inklings of a substantial shift came a few months apart in 2010, with the introduction of the "grown-up" Life With Archie series and the arrival of openly-gay Riverdale resident Kevin Keller.
"Obviously Kevin Keller and his introduction into Riverdale was a watershed moment for the company, as was Life With Archie," Goldwater says. "The success of that—that people were interested in those stories of a little bit older Archie—that tied everything together for me."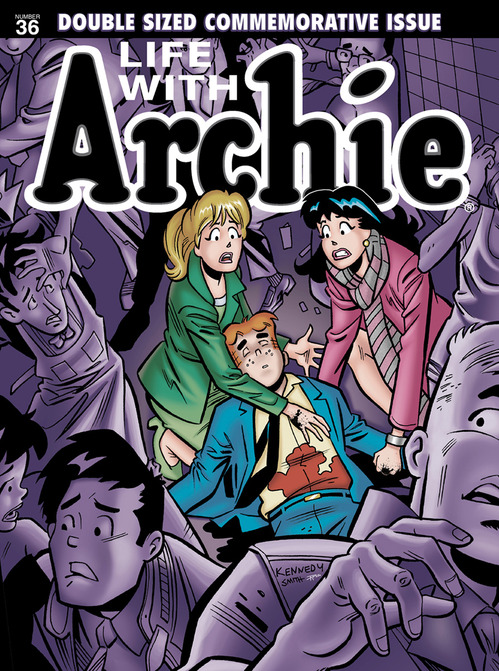 Life with Archie #36 Cover Art by Pat & Tim Kennedy
Life With Archie allowed the publisher to test the waters on more complex storytelling. While the writing and art weren't far off in tone from the primary Archie title, Life dealt with adult issues like death, marriage woes and financial problems, with divergent storylines exploring possible futures where Archie married either Betty or Veronica. This more serious take on America's Favorite Teenager concluded in July 2014 when Archie died to save his friend Keller from a political assassination attempt (Keller had been campaigning for gun control reform at the time, another hefty topic tackled in the book).
Kevin Keller presented another form of success for the publisher. Created by cartoonist Dan Parent, openly gay Keller proved that the nostalgic confines of Riverdale could be a welcoming place to characters beyond the five or six straight white kids associated most with the franchise. While the publisher had previously made a push for more inclusive diversity and nuanced portrayals of originally tokenistic characters like Chuck and Nancy, Kevin captured the public attention in a major way: Veronica #202, his debut, was the first issue Archie Comics sent to reprint in the company's then-70-year history, and Kevin's first ongoing series netted Parent a GLAAD Media Award in 2013.
Holding the attention of more typical comic readers—the kind that show up weekly for new issues of Amazing Spider-Man, Batman and The Walking Dead—required something more. The severed head of lady luck landed in Goldwater's lap in the form of a zombie-themed Life With Archie variant cover from prolific artist Francesco Francavilla, which soon spun into an inspired full-series pitch with comic writer and playwright Roberto Aguirre-Sacasa.
Afterlife With Archie, the company's first direct-market-only title, made its debut in October 2013 as an instant hit. The no-holds-barred gore-fest dropped Riverdale's denizens into the middle of a zombie apocalypse and wasn't afraid to rack up a casualty count. Despite the book's outlandish premise, Aguirre-Sacasa stuck to established character traits, attracting both core Archie fans and horror aficionados. Francavilla's moody, shadow-drenched artwork (a serious departure from the publisher's typical sunny, clean-line fare) helped entice readers who otherwise couldn't tell the difference between Moose Mason and Dilton Doiley. It's also the sort of book that helped attract new talent to the publisher.
"I read a ton of Archie books as a kid, and, like a lot of people, got back into them with Afterlife With Archie," Zdarsky explains. "It was such a fun, fresh take on the characters and really showed that you can take risks with the property."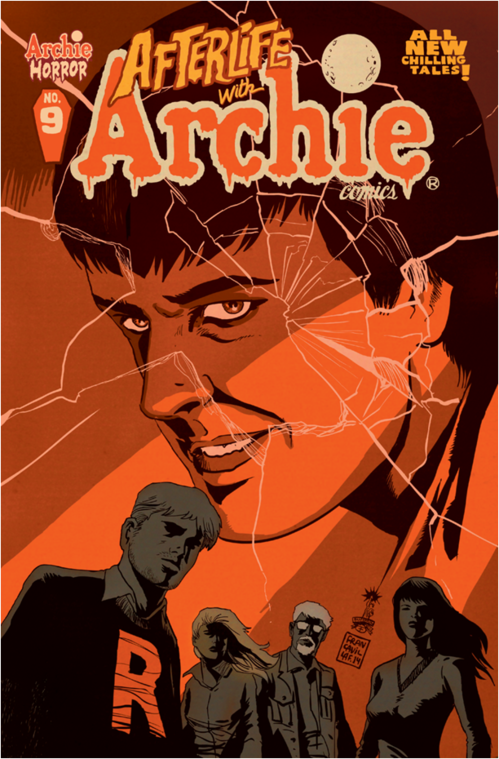 Afterlife with Archie #9 Cover by Francesco Francavilla
Issues of Afterlife have shuffled to stands at an undead pace, but its impact outweighs its delays. A second title, The Chilling Adventures of Sabrina, soon followed, and the surprise alchemy of mashing Archie into the horror genre helped lay the groundwork for the Dark Horse crossover series Archie Vs. Predator and the recent Archie Vs. Sharknado one-shot.
"When we came up with the idea for Afterlife, even though it was something that could be conceived as being completely out of left field—that Archie could be in a zombie apocalypse—we still never broke the integrity of who the characters are," Goldwater says. "We placed him in the middle of this insane situation, him and all the characters, but as long as we kept the core integrity of who they were, their DNA so to speak, we felt that we could tell whatever story we wanted to tell."
Last month, at San Diego Comic-Con, Archie Comics released a teaser drawn by Francavilla asking "Who is Vampironica?" The campily creepy image features Veronica in a Vampirella's busty red dress sitting against a grave, smirking at Jughead's skull. It remains to be seen if this will be the third entry into the emerging Archie Horror imprint, the next development in the Afterlife series, or even a crossover with Dynamite's Vampirella.
Horror isn't the only new genre that's proven to be a surprise success for the historically slice-of-life publisher. After reclaiming the publishing rights to the classic Red Circle superhero characters from DC (and briefly attempting a digital-first revival), Archie's newly rechristened Dark Circle line has taken off. Under the editorial guidance of Alex Segura (who pulls double duty as head of PR for the company), Dark Circle arrived with the f-bomb-laden Black Hood #1 from crime writer Duane Swierczynski and Alias artist Michael Gaydos, another direct-market success story for Archie Comics.
"Alex is the impetus and the energy and the brains behind the launch of Black Hood," Goldwater says. "Frankly, it's my favorite book, and I say all of the Archie books are my favorite, but it's so brilliantly put together. We view Dark Circle as an opportunity to expand our platform in the direct market with the comic shop readers. We have some great characters in the Shield, the Hangman, the Web, and many, many other things that people are very excited about going forward."
Several of these characters have already been announced to helm ongoings, including The Web from novelist Dave White and frequent Batman artist Szymon Kudranski, in which the titular hero is reimagined as a 14-year-old cosplayer. Dean Haspiel and Mark Waid's The Fox, the sole surviving title from the previous Red Circle attempt, is back under the Dark Circle banner as well, balancing out Black Hood's grim grittiness with its zanier Silver-Age heroics.
Like a successful career politician, though, Goldwater hasn't abandoned his core supporters. In addition to Archie Comics' recent experiments and the refreshed Waid/Staples ongoing series, the publisher's popular digest volumes will continue with new stories in the classic Riverdale setting by veteran creators like Dan Parent and Fernando Ruiz. And thanks to new distribution deals with Walmart and Target, those volumes have the potential to reach more fans than ever before.
"The characters, the stories in those books, are the Archie characters that everyone recognizes over the last 75 years," Goldwater says. "Those stories are very consistent, the look of the characters is how you would expect. If you want to hearken back to how Archie's been for the last number of decades, you'll get that in our digest books."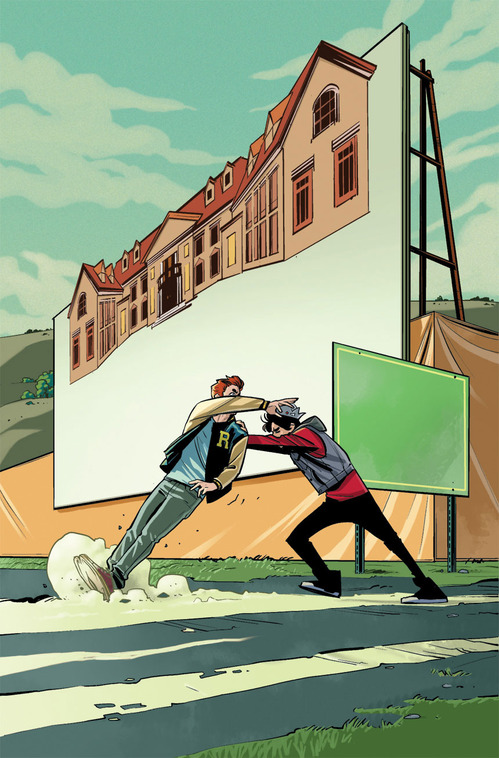 Archie #2 Interior Art by Fiona Staples
Anyone who expects "Riverdale Reborn" to be a brief tangent before a return to normalcy should ditch that expectation, though.
"For me, the relaunch of the 75-year-old Archie universe is the next golden moment in the history of this company," Goldwater says. "The storytelling is fantastic, the art is second to none. We actually have a second wave, which we will be announcing at some point a little bit down the line."
Without providing concrete details or hinting at creators involved, Goldwater suggested that this second wave might include a certain feline girl group frequently requested on social media.
"Josie is very important to Archie, and we love her, and Valerie, and Melody and all of the Pussycats," he says. "Josie's on the plate and there's a bunch of other things that we're going to announce down the line."
Despite shifting genres, changing time periods and outlandish situations, Archie, Betty, Veronica, Jughead and the rest of the Riverdale gang remain, at their cores, the same characters the company has been publishing for decades. Archie is Archie, whether he's fighting an undead Jughead, a relentless Predator or stage fright during prom. This core character integrity allows the publisher to be almost impishly inventive as it enters its 75th year. With "Riverdale Reborn" officially in motion, a live-action TV series in development at the CW, a Broadway production written by Adam McKay and classically fun one-shot like Archie Meets The Ramones in the pipeline, Goldwater is more than optimistic about the next 75 years of the company.
"Everyone's supportive, everyone's onboard, everyone's saying let's go, let's make this happen," he says. "Let's enjoy what we do. We make comic books, for goodness' sake."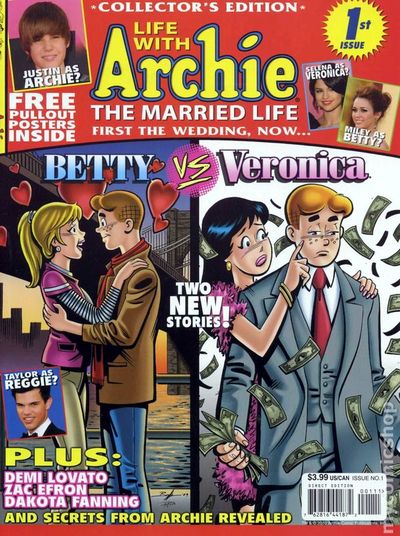 July 2010
Life With Archie #1 hits stands. The series tells two divergent stories: one in which Archie marries Veronica, and one in which he has wedded Betty. Storylines grapple with lasting adult conflicts, including the death of beloved teacher Ms. Grundy from cancer.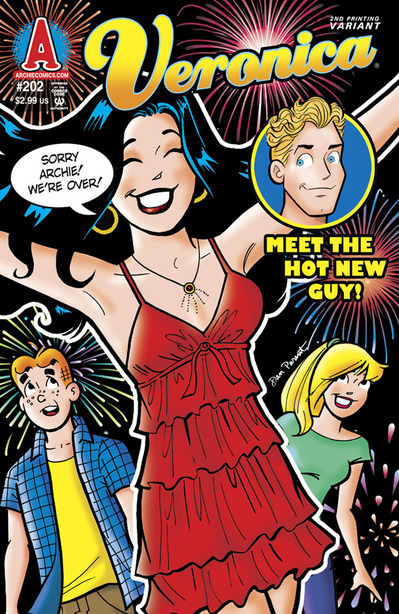 September 2010
Veronica #202 introduces openly gay Riverdale resident Kevin Keller, whose sexuality is accepted without drama by the cast (although Veronica is disappointed that her crush on him is fruitless). The issue is Archie Comics' first-ever reprint caused by a sell-out.
September 2012
After a failed attempt by DC to integrate the Red Circle superhero characters into their shared universe, Archie Comics reclaims the license and launches the digital-first New Crusaders: Rise of the Heroes. Dean Haspiel and Mark Waid's The Fox find critical success and sustainable sales, but the rest of the line quietly fizzles out.
May 2013
Kevin Keller's creator Dan Parent takes home a GLAAD Media Award for Kevin's portrayal in his eponymous ongoing series.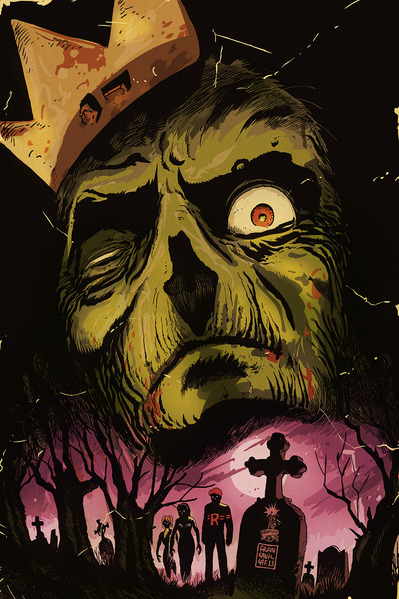 October 2013
Inspired by a zombie-themed Life With Archie variant cover, Archie Comics launches the direct-market-only Afterlife with Archie #1. Written by Roberto Aguirre-Sacasa with moody art by Francesco Francavilla, the series is an instant success and helps launch an Archie Horror imprint.
July 2014
In a much-publicized move, Life With Archie #36 features Archie Andrews sacrificing his life to protect Kevin Keller from a political assassination attempt. The series ends one issue later with a somber memorial story.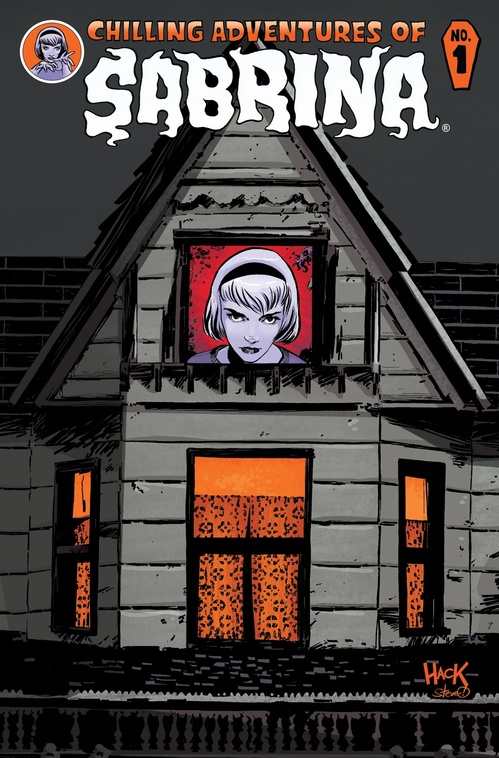 October 2014
With Afterlife With Archie progressing at a slow pace but to continued support, Archie Comics launches a second Archie Horror title. The Chilling Adventures of Sabrina, also written by Roberto Aguirre-Sacasa with art by Robert Hack, shares several characters with Afterlife but takes place in an unrelated continuity.
February 2015
Duane Swierczynski and Michael Gaydos launch The Black Hood, the first title in the rebranded Dark Circle superhero line. The first issue is another direct-market success for the publisher and features, as several websites were eager to point out, the first use of the word "fuck" in an Archie Comic publication.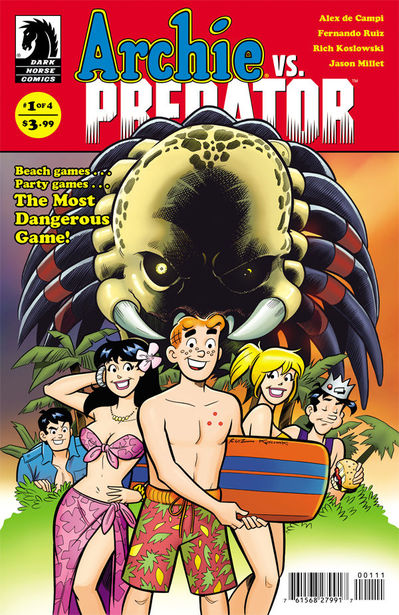 April 2015
Archie Comics capitalizes on its horror success with the Dark Horse crossover Archie vs. Predator, written by Alex De Campi and drawn by classic Archie artist Fernando Ruiz. The company also announces an Archie vs. Sharknado one-shot to coincide with the third Sharknado film debuting in July.
May 2015
Archie Comics announces its "Riverdale Reborn" Kickstarter to raise $350,000 and launch three new titles: Jughead by Chip Zdarsky and Erica Henderson, Life With Kevin by Dan Parent and J. Bone, and Betty and Veronica by Adam Hughes. After heavy criticism over reward tiers and an established publisher turning to crowdfunding, the campaign is cancelled in its first week. CEO Jon Goldwater releases a statement promising that the "Riverdale Reborn" titles will still be published, albeit on a longer timeline.
June 2015
The publisher's longest-running series (and one of the last remaining long-running series in all of comics) ends with Archie #666.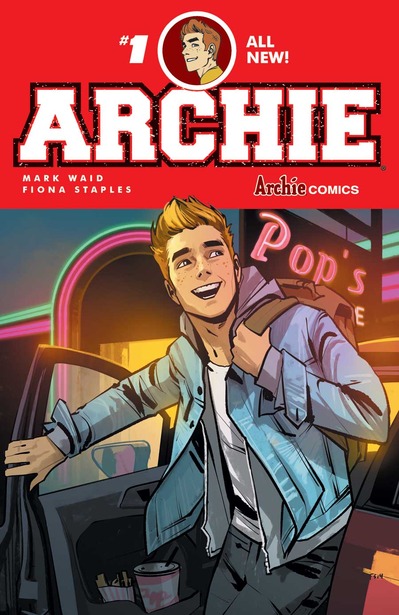 July 2015
Archie #1 by Mark Waid and Fiona Staples reboots Riverdale in a contemporary setting and is met with nearly unanimous praise.
Archie Comics announces several new projects at San Diego Comic-Con, including the live-action Riverdale show moving to the CW from its original home at Fox, an Archie Meets the Ramones one-shot, and a teaser for what may be a Vampironica series for the Archie Horror imprint.