The Real Folks Blues Kickstarter Zine Celebrates Cowboy Bebop's Enduring Legacy
Main Art by Patrick Crotty
Comics
Features
Cowboy Bebop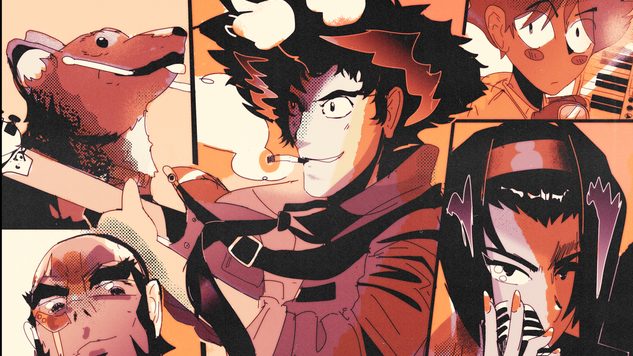 There are few anime whose popularity and impact in the West is matched by that of Cowboy Bebop. Produced by Sunrise Inc. and directed by the now-legendary Shinichiro Watanabe, the series is credited not only as a highwater mark for anime of its period, but also for introducing a generation of western audiences to the medium in the early 2000s. Following a misfit crew of bounty hunters searching for their next big score while reconciling with the ghosts of their past, the series set itself apart from its ilk with its mature themes, dazzling animation, anachronistic mashup of sci-fi noir and western action-drama and its unimpeachably iconic score composed by Yoko Kanno and The Seatbelts.
This year marks the 20th anniversary of Cowboy Bebop. The original 26-episode series and accompanying film Knockin' on Heaven's Door consistently rank among the greatest anime series and movies ever produced, and with rumblings of a possible live-action adaptation brewing as recently as last year, it's safe to say that the stories of the Bebop crew are more than capable of standing the test of time.
All the more reason why publisher and critic Zainab Akhtar and her publishing press ShortBox have put together The Real Folk Blues, a fan anthology of comics, illustrations and essays celebrating the legacy of Watanabe and co.'s magnum opus by a host of artists and writers who know and love the series best. Paste reached out to Akhtar over email to talk about the origins behind the book, why Cowboy Bebop endures in the year 2018 and what might lie ahead after this Kickstarter campaign reaches its goal.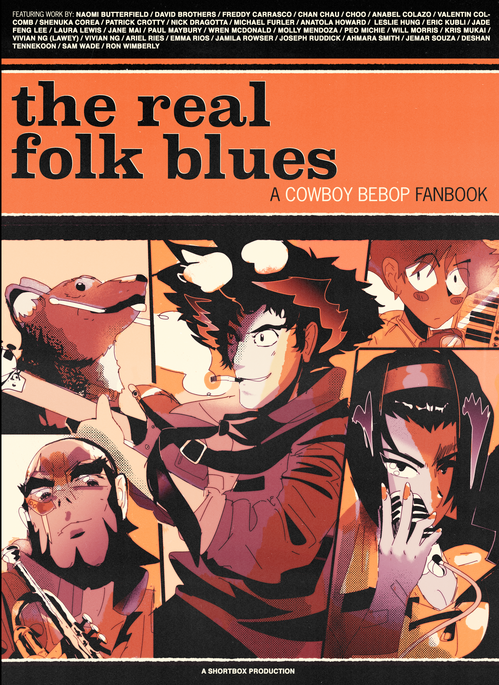 The Real Folk Blues Cover Art by Patrick Crotty
Paste: A 130-plus page fan anthology is no simple task, let alone one devoted to arguably the most iconic anime series of the late '90s. Where did the idea for this book first come from, and how are you putting it together? (Besides Kickstarter, that is.)
Zainab Akhtar: Earlier this year, I edited and produced my first fan-zine, a 30-odd page book of comics and illustrations dedicated to Pingu, a (ostensibly) children's claymation series that ran in the '90s. I was lucky enough to have some flat-out superb artists come on board: Nico Delort, Luke Pearson, Jessi Zabarsky, Lottie Pencheon, Rosie Brand, Joe Decie and many more. Putting together a fan-zine felt really different to working on something completely "new." There's a shared pool of passion everyone's drawing from: we're all familiar with the source material, and most often, we're all participating simply because we love the material to the degree that we want to pay homage to it, and create new art and stories that convey that passion. Once the Pingu zine was wrapped, I was both inordinately proud of it and immediately wanted to work on another fan-zine. I floated the idea of a Cowboy Bebop one on my Twitter, and the response was overwhelming. Bebop is so loved and highly regarded but there's not a ton of fan-material (or even many affiliated products) out there, so that helped the decision in terms of which property to take on, rather than doing something on The X-Files, for example.
Paste: The list of contributors for the book is absolutely stacked with heavy-hitting comic artists, from Nick Dragotta (East of West) and Ron Wimberly (Prince of Cats) to Jane Mai (Sunday in the Park with Boys) and Vivian Ng (Legend of Korra). How long has the book been in production? How did you manage to pull this many names together?
Akhtar: The book has been in production since May and that initial tweet. In terms of pulling together artists, I think I had around 500 responses via Twitter and email from interested artists and writers. Quite a few were names I knew, whose work I appreciated so that side of things was easy to select. The rest: I went through every single person who responded individually, checking out their portfolios/sites/blogs/etc., and selected accordingly. I trust my eye…as strange as that may sound! I'm very lucky in that I've worked with a lot of amazing cartoonists, artists and writers—and those people where I hope the experience has been mutually decent, I'm always happy to work with again. I enjoy building working relationships with cartoonists where possible. I think seven of the people involved are people I've worked with previously, and lots of others are people I know either from when I was writing about comics or as a publisher. A few I reached out to at a later date, after having some people drop out. I'm very grateful to have people place their trust me.
Paste: This year marks the 20th anniversary of Cowboy Bebop's premiere in Japan. Why do you think the popularity of this series has endured for as long as it has?
Akhtar: I actually only became aware of and watched Cowboy Bebop last year! I'm not sure I can speak to its longevity, but there's a few aspects that struck me. One: it's a tight, contained series. Not only does that make it more accessible, specifically to Western audiences, but it's obvious there's a very particular story that the creators had in mind and set out to tell—and it's a damn good story! Two: the animation—it's visually beautiful and holds up today. There are whole gif sets on Tumblr of just Bebop backgrounds that are so bustling and detailed, full of warmth and life. Three: the music. It's relatively rare that music plays such an integral part to TV, but Bebop would be much, much lesser without it, and it's done in a way that feels symbiotic to the text and adds to the overall atmosphere and character. In a way, the whole structure of the series was built around its music. Four: it was inclusive. It had black people, Muslim people, gay people, trans people and that's not something you see even today as a baseline for animation. It may not have always handled those in the most sophisticated way, but the effort was sincere and people connected to that. Five: it's about people. They're flawed people like us, but they're cared about in the way they're written. Honestly, I just think that it's a brilliant piece of work and that's why it stands the test of time.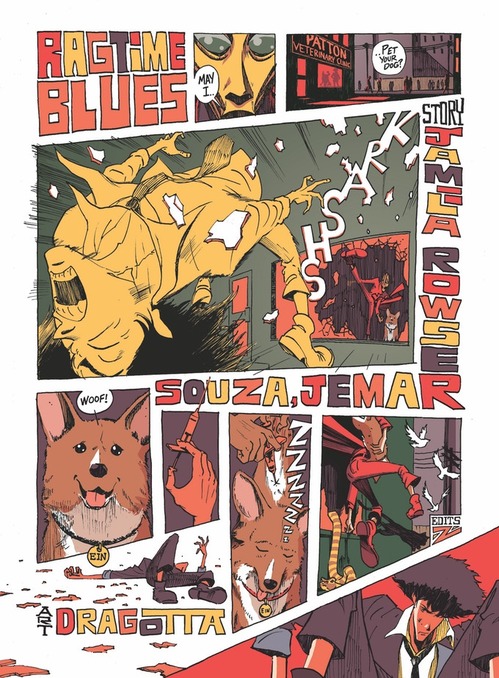 The Real Folk Blues Interior Art by Nick Dragotta, Jamila Roswer & Jemar Souza
Paste: Although Cowboy Bebop first premiered in 1998, it wasn't until the series began airing on Adult Swim in 2001 that it became known to fans in the West. What do you remember from your first impression of watching Bebop? What was your favorite episode?
Akhtar: Without wanting to sound pretentious, I think what resonated with me, and possibly a lot of people, is the theme of trying to find hope in futility. Each of us experiences that futility to some degree, looking for reasons and meaning. Spike, Jet, Faye and Ed are all adrift or abandoned and alone, and it speaks to me that this seminal sci-fi isn't just about a bleak dystopian future, but about individuals: about the fact that if we can't find hope and meaning in one another, we won't find it anywhere. We can't better a world without bettering ourselves. And that maybe we won't. No matter the advances in technology, whether humanity moves to space, it starts and ends with us. My favorite episode is probably "Pierrot le Fou," largely due to the visuals. I'm a bit of a sucker for the abandoned theme park set-up.
Paste: How can prospective backers support the project besides Kickstarter? Will the campaign only cover the cost of printing the initial first run, and are there any plans to make the book (including prints and extras) available through ShortBox's store?
Akhtar: The best way for people to support the fanbook is to support the campaign. Supporting the campaign means you're directly contributing to helping the book become a reality, and if we get funded, you're guaranteeing you'll get your copy. The book is complete and just waiting to be printed. Likewise, the "extra" rewards such as the pin and the prints are only available through the Kickstarter. Depending on how well the campaign does, it's likely we'll print extra books to sell through the ShortBox store at a later date. But we won't be producing any more pins or prints. I'd really love for us to hit the "process pages" stretch goal: there's some great sketches, in-process work, alternative designs, etc., that are too good not to be seen. If we hit that goal, we'll be able to make the book bigger and add in that section.
Paste: After The Real Folk Blues is published, what's next? Shinichiro Watanabe and co. have produced several other series since Bebop's conclusion. Is a Samurai Champloo fan-book a possibility?
Akhtar: I have no idea yet! I don't think there will be another fanbook or zine for the foreseeable future. I'm working on a slate of new ShortBox comics for next year and an anthology of comics and art by Muslim women creators, so I don't have a ton of time available. Chances are it will actually be a zine again, something shorter and stapled! I do really want to do something Banana Fish-related, though….