Kansas City is an area on the rise. Its Midwestern charm is further melding with modern accouterments and is bursting with local creativity. Brady Vest, owner of the Hammerpress design company, feels right at home in this buzzing sector. Ever since he started his letterpress business in 1994, he's sought "a new invention of an old idea."
The artist, along with his half-dozen or so staff members, nimbly combines the thrum and tactility of time-honored press tradition with vibrant patterns and palettes that appeal to today's hip eyes. It's this robust interweaving of classic design and futuristic thinking that has made Hammerpress' products smash hits worldwide. One can find their clever, dazzling special-occasion cards, posters and patches in Urban Outfitters and small specialty shops or online.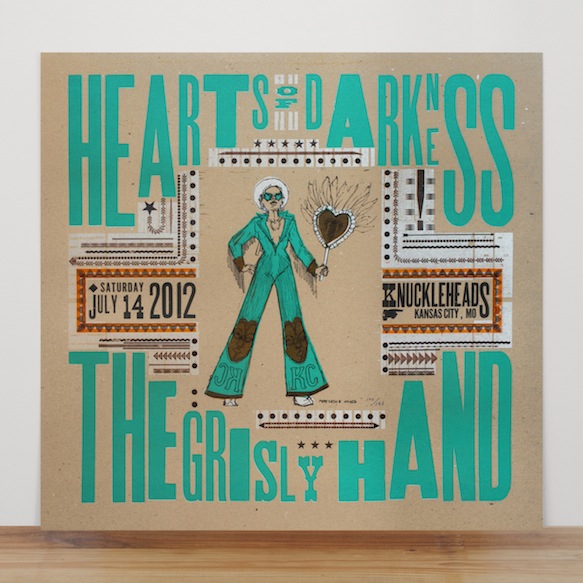 Vest recalls how his dream project flourished as Kansas City's arts community grew. Hammerpress relocated nearby in January 2015 due to high output demand.
"Where we were, actually, it had changed quite a bit and continues to change a lot. But we're just a few blocks down from where we were," he says of the updated, sprawling location, which houses the presses and a retail space. It's also located in a prime spot for local socializing. "(W)e have First Fridays of the month, which, it started as a very small thing 15, 20 years ago, when this neighborhood was basically just a couple art galleries and mostly artist studios. But it turned into a pretty gigantic monthly thing, with thousands of people coming down here from all over different parts of the city."
Curious shoppers would come into Hammerpress and would immediately like what they saw. The throwback style was originally based on "the newer version of general stores," as Vest explains. Included at the former locale were artisanal foods and even a tiny hair salon. "That helped (but was) not the best fit," he adds. When his company consolidated and focused on their best-selling products – the greeting cards and art prints – that when he says it really came into its own. Ten years ago, Hammerpress began its wholesale offerings, which are now available as far away as Japan, Australia and New Zealand.
The cheerful designer attributes this international success to a few elements. "I think people tend to gravitate toward our designs specifically just because they're a little bit different than a lot of other letterpress stationery products that are out there," he says. "(T)here's a lot more color, there's a lot more layering and large fields of color. … To me, other people are doing work that's equally as good. I think our stuff has a little bit of a different approach to it, just from our background in doing posters and more experimental projects."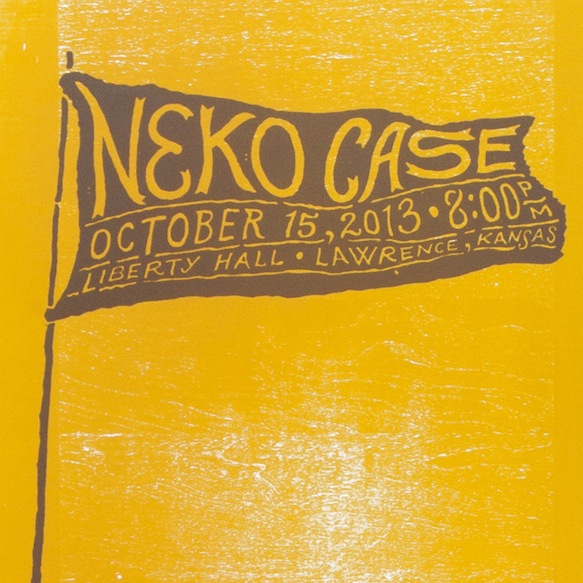 A shining example of those bright color palettes is in a Neko Case poster the company created. Its canary yellow imposed on a cinnamon flag is at once bold and calming, much like Case's music.
"I think that Neko Case was probably one of the favorites because everybody here is a pretty big fan of her music and she's also really nice every time we've worked with her," Vest says. He notes that this poster was unique in that Hammerpress usually works with local concert promoters, rather than directly with the musicians, which tends to give his designers more freedom. Still, he shares one of his proudest poster accomplishments:
"The poster for the band Loop, who reformed and toured last year, this sort of early '90s, psychedelic band from England. That's an unusual poster to do, and I was a huge fan of their music, so I just kind of jumped on it." The purple and orange piece forms (depending how you look at it) either a fabric loom or a piano— both timeless concepts made anew by this innovative firm.
It's evident that every piece is a labor of love, but just how much labor goes into each creation? Vest breaks down the process, which including conception can last up to a year before a product hits the shelves: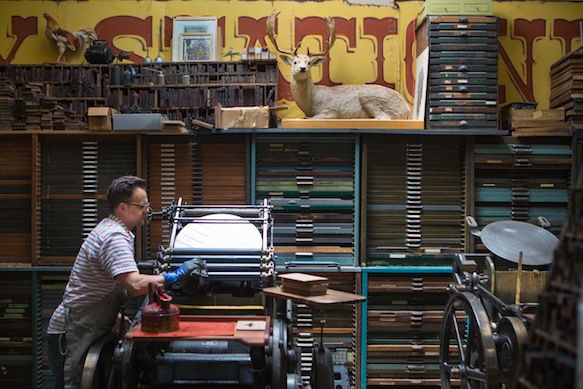 First, a flurry of drawings and patterns are kicked around by the three in-house designers (Vest, Matt McNary and Jenn Rogers). They pull inspiration from color palettes, textiles, other card companies and anything design-wise that's been exciting them. They also consider which looks are in demand and which ought to be termed out. Then, after more doodles and revisions, a design is approved and turned into a digital plate. Lastly, they are manually pressed in the production quarters and shipped or sold in-house.
You might not be able to wear Hammerpress' work, but Vest likens their output to another creative industry.
"I think it's kind of similar to the fashion world, not in production or how it's made. But in the fact that … you're always working into the next year," he says. "In the middle of the summer, you're working on card designs for December and February."
Their array of holiday cards keeps the spirit of the season flowing all year long. The designs range from Navajo-inspired tones and shapes to Norman Rockwell-like vignettes of ice skaters ($5 each). And their calendar offerings, such as the Surfers or Clipper Ship items (both $30), can allay the pains of this past brutal winter. Their next venture will likely be matching stationery and envelope sets, encouraging another seemingly bygone pastime: letter writing.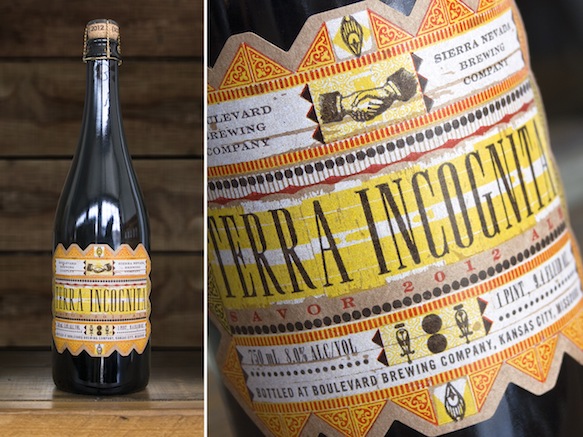 Though, Vest doesn't turn his nose up at technological advances. After all, the Internet has allowed his business to service faraway nations.
"It's much different than when I chose to start a letterpress shop," he says. "Mainly just because … the ease of not only to find equipment online or resources online or forums to discuss how whether it's to fix a press or whether it's where to buy paper. There's all sorts of resources that were not as readily or easily available then. And then the ability to put your work out there is much different now. You know, you have sites like Etsy. You can get a website put together."
It's been nearly 21 years since Brady Vest put the classic letterpress styling and cutting-edge visuals together in Kansas City. And as demand grows for this tactile handiwork, so too will the creative output of the Hammerpress team. Their success is more than worthy of a "Congratulations!" greeting card.