Both Chile and Peru stake a claim to Pisco, a distilled alcohol made from grapes. The rules for making Pisco in both countries are highly controlled, with regions, types of grape and processes differing for each nation. Where they come together (sort of) is in making Pisco sours, a tangy aperitif made to start the meal. The main ingredients are Pisco, the juice of limón de pica (a type of lemon not dissimilar to a key lime), and powdered sugar. Recent innovations include mango sours, raspberry sours, and I once even had a cassis sour.
Pisco is not only for sours, though. It's for making eggnog-like drinks, and refreshing cocktails that may remind you of some you already know. At some upscale bars in the US, in Peru, and in Chile (where I live), they're getting even more creative, adding bits and pieces, spices and herbs to make the kind of cocktails you wish you could get the recipe for, though bartenders will only sometimes indulge you. The following are seven ways to drink Pisco that are not a Pisco sour. Choose whichever Pisco you can find, though the lighter drinks are where the flavor of the Pisco you choose (which can be more floral, more fruity or more pure alcohol) will really shine through.
---
Algarrobina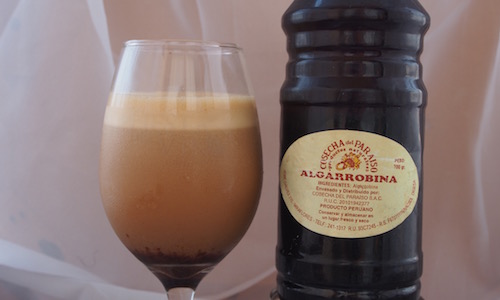 ??Algarrobina is a syrup made from the carob tree, and its taste is somewhere between molasses and chocolate, with something mineral behind. Blend it into this eggnog-like drink—of the same name—to surprise guests with what many Peruvians consider to be one of the essential flavors of Peru. Don't believe me? There are even algarrobina Frappuccinos at Starbucks in Peru. Look for the syrup in international, Latino or Peruvian markets, or order online. Combine 1 ¾ cups of pisco, ½ cup algarrobina syrup, 1 can of sweetened condensed milk, 2 egg yolks and ½ tsp ground cinnamon in a blender with enough ice to chill thoroughly. Blend well, strain out any large ice pieces and serve in a red wine glass (recipe makes 4).
---
Chilcano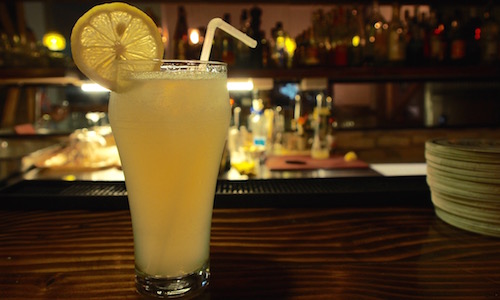 This not-pisco sour recipe looks a bit like a pisco sour, but with the addition of ginger ale, or if you prefer, another clear soda, or even soda water (but then you'll need simple syrup to sweeten it). The difference is that while pisco sours are an aperitivo, to open your appetite, a chilcano goes on its own (without food), or accompanies the meal. It is originally from Peru, but can be found in some places in Chile as well. For one chilcano, pour 2 oz pisco with ½ oz lemon juice over 8 ice cubes in a pint glass. Add ginger ale (or other clear soda) to nearly top off the glass, and garnish with a lemon wheel, and two drops of Angostura bitters.?
---
Pisco Mojadito
This drink comes from the Hotel S33W70 rooftop bar at the Hip Hotel in Santiago, Chile. It lists on the menu with with gin, but the bartender happily switched out pisco for a more citric, less gin-centered drink. Muddle 5-6 basil leaves together with a ½ inch wheel of orange that has been cut into quarters. Add ½ oz simple syrup, 2 oz pisco and top up with Fever-Tree ginger ale. ?
---
Piscola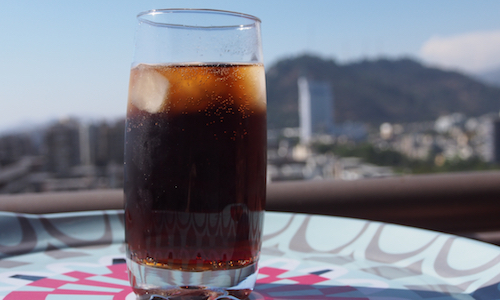 This is a drink that Chileans grow up drinking (the legal drinking age is 18 in Chile), and you'll see all ages drink it at barbecues and other warm-weather events. It's Chile's answer to a rum and Coke, and you can make your's as strong or weak as you like, by adding more Coca Cola (or diet Coke, or Coke Zero). It's a fine use for middling-pisco, but I wouldn't use my best stash in this trago. Pour 2 oz pisco into a tall glass, filled with ice, and top up with Coca Cola. You're ready for the asado (barbecue).
---
El Fraile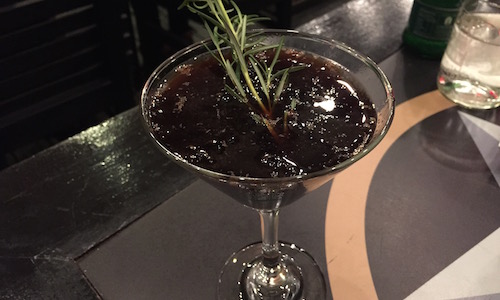 This was one of the fancier drinks I came across while eating at a restaurant called Chipe Libre, which specializes in Pisco and other northern Chilean/Southern Peruvian food and drink. They wouldn't give me the recipe, though I do know the ingredients, so I recommend combining what seems like a sensible combination of 40-proof, vodka-like pisco, Cointreau, balsamic reduction and lemon juice. Pour it into a martini glass, and add a rosemary sprig as garnish.
---
Straight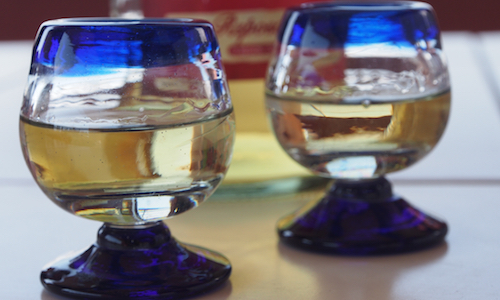 ??If Chilean Pisco sommelier Felipe Avendaño has anything to say about it, we'll all be drinking Pisco straight at the end of meals as a bajativo, instead of brandy or port. Take high quality pisco, pour a few fingers of it into a small glass, and serve. Quality Piscos include Santiago Queirolo (which Avendaño represents) from Peru and Armidita, or Kappa and Waqar from Chile.
---
Infused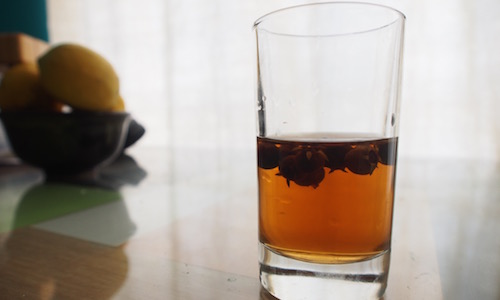 ??Another way to drink pisco, though it will take some time, is by macerating the fruit in pisco for up to a year before drinking it. At Bodegas RE, a winery in the Casablanca Valley close to Santiago, they make it with cherries, apricots and mandarin oranges. Combine about 1/3 fruit, 2/3 Pisco (or aguardiente) in a bottle, and leave it for about a year. Dilute with simple syrup to bring the alcohol grade down before serving. Pictured here is an example of an infused Pisco, made with the berry of a small evergreen bush called murta (Chilean myrtle berry) which you'd be hard-pressed to find in the United States, but you can always improvise. Serve the macerated alcohol in a small glass and fish out the fruit to include in dessert (over ice cream is great) if you like.