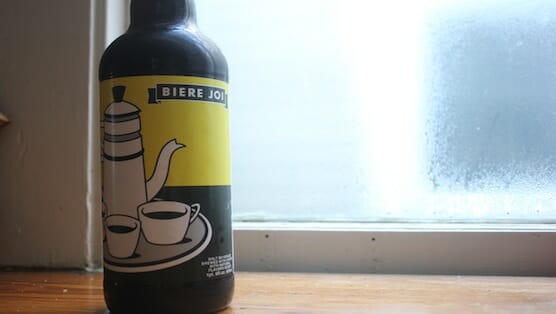 Coffee beer naysayers have familiar choruses. They complain that it's hard to even sip, that you can't see through it, or that it's heavy to the point of being a meal in a glass. Above all else, they dismiss any offer to sample a new coffee beer with a succinct shutdown—if you've had one, you've had them all. How they don't see the delight in this typically dark, aromatic, and rich category of craft we don't know. But we'll admit… there is plenty of similarity across these beers.
Bayou Teche Brewing is making the coffee beer you've never had. Already established as a local flavors champion (recall Bayou Teche's Paste-approved crawfish-pairing beer), the brewers seized an opportunity to riff on two Louisiana staples—coffee and peppers. (For non-locals, these are most popularized through Tabasco and a Café Du Monde café au lait.) The brewery paired up with Mellow Joy coffee (for a French roast) and Primo peppers (for some chilies). And rather than separate creations, Bierre Joi is the combination of these seemingly contrast ideas.
Bierre Joi gives off a typically delightful scent. Sure, it pours dark, but this beer starts differentiating itself from its coffee compatriots from there. The first taste has subtle bits of coffee, but it's nuttier than anything else. And even the coffee flavor isn't quite a pure one, thanks to a welcome undertone of bitterness. Therein lies the pepper, and this ingredient will make itself more known with an unexpected heat finish. It's immediately invigorating like you wish caffeine could be.
Even if Bierre Joi would complicate the anti-coffee crowd's view of such brews, this is a beer for enthusiasts. It's got a malt profile like a Trappist Dubbel, but the generous amount of the local ingredients alters things. It's racked in whiskey barrels and aged with cacao nibs on top of everything else. The result is a really complex flavor that, coincidently like most coffee beers, will probably be hit-or-miss for many. For us though, that first bit of pepper was all it took to declare Bierre Joi a winner.
Brewery: Bayou Teche
City: Amaudville, La.
Style: Coffee ale (non-traditional interpretation of a Dubbel, Trappist-style ale)
ABV: 7%
Availability: Rotating (22oz bottles)