With something like 4,000 craft breweries in the United States—which is to say nothing of the many, many kindred spirits overseas—the importance of distinguishing oneself is growing more and more important. There are several ways to go about this: a focus on unique marketing and branding, niche brewing, crowd-sourced recipes, etc. More often than not, however, this drive to create and maintain identity results in wing-spreading, boundary-pushing, and precedent-shattering. Sometimes—okay, most of the time—these efforts result in a liquid faceplant*. But occasionally, just occasionally, a brewery will churn out a beer that, by all rights, shouldn't taste as good as it ends up tasting. These are five of those beers.
---
Brewski Sehe Coffee Berliner Weisse
This beer represents the convergence of disparate, yet tacitly related roads. Everyone who has ever had a more classically styled Berliner Weisse with breakfast or brunch knows that they're the perfect beer for that meal. The tartness matches up with mixed berries and yogurt—lactobacillus, the culture that accounts for the beer's tartness, is also what helps make yogurt yogurt—for the health nuts among us, while simultaneously cutting through fattier items like over-easy eggs and hollandaise. And Berliner Weisses are no stranger to the adjunct treatment: depending on where you are, you can fairly easily find dry-hopped versions, darker iterations, and a myriad of fruited varieties.
But coffee just seems…odd. And it is, at first. To many of us, coffee just tastes like, well, coffee. Take the time to dig into some of your favorite roasts, however, and you'll uncover a depth of flavor and character on the level of boutique beer and wine. Lighter roasts, in particular—like the one utilized in this beer—can exhibit fruity, citrusy, cereal-grain notes that sync well with a light, tart ale. I had this beer at the Shelton Fest this fall, and in a festival populated by the likes of Mikkeller, Arizona Wilderness, Fonta Flora, Funky Buddha, and De Molen, this was one I kept going back for.
---
Bissell Brothers i-Lucky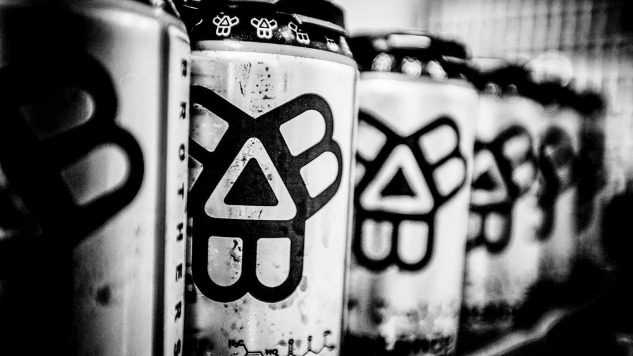 I've crowed the praises of these Portland, Maine, hop savants on several occasions. Their flagship IPA The Substance is one of the best in the country, and Swish, their IIPA, catalyzed the rare hoppy ISO on trade boards that's actually justifiable. But whatever, those are just big ol' hop monsters, right? What if the Brothers B went and spread their wings and did something craaaaaazy?
Well, you jaded prick, let me learn you a thing. This bad ratchet, i-Lucky, quietly dropped earlier this year to a cacophony of "Whuh?" And, to be fair, it was a complete swerve not only for the brewery's portfolio, but for the IPA style in general: not only is it brewed with flaked malted rice, rye, and ginger, but it's hopped with Lemon Drop and Sorachi Ace, which is just about the most challenging hop combo a brewer can use if his aim is to NOT make it taste like pickled Warhead candies.
And damned if this beer isn't a complete success. The key here is balance and the Bissells managed to maintain an even-handed approach with so many nutty ingredients. There's a mild spicy note from the ginger and rye, with the hops primarily spitting out juicy lemon flesh and pineapple, followed by just a hint of dill on the end. These guys can do literally anything.
Saugatuck Neapolitan Stout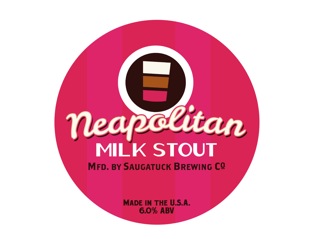 This beer gets marks not for sheer weirdness, but for being far better than it has any business being. The notion of a chocolate/vanilla/strawberry milk stout isn't THAT bizarre on paper, but it should by all rights be a saccharine, Ovaltine demon fart nightmare. When the Saugatuck rep brought out a bottle of this for me to sample during a distributor visit, I fully expected my tongue to leap out of my mouth and throttle me to prevent me from taking a second sip.
I couldn't have been more wrong. It helps that the base beer is as solid a milk stout as you'll ever find: smooth, roasty, earthy, with a hint of cold-press coffee about it. And when the adjuncts kick in, they do so with the grace and smoothness of a James Bond post-kill quip: the cocoa presence is that of the 90% Ecuador dark variety, the vanilla comes from actual Madagascar beans, and the strawberry—that which SHOULD have ruined everything about this beer—actually lends a nice, bright counterpart to the other two ingredients. You can find this on nitro in some bars, and it's the rare beer that's actually better on that delivery system.
---
Fantome Noel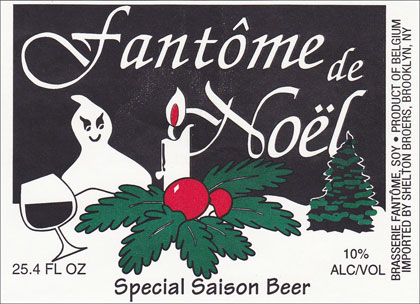 I don't need to tell seasoned tickers that buying a bottle of ANY Fantome is kind of like playing Russian Roulette, only instead of a bullet, your final act upon this earth will be to taste the vapor trail of that golem your Wiccan friend made out of clove cigarettes. Brewer Dany Prignon's process triggers apocrypha and rumors like the north-south position in a women's MMA fight triggers the douchebag mating call: word is that he doesn't really write down his recipes or take many notes, going only by a recollection of what he's done before, hundreds and hundreds of times. And it shows: his flagship saison is, at its best, a bright, bubblegum-laden farmhouse candy bowl liquefied. At its worst, it tastes like paint thinner and evil.
But the Noel—his kitchen-sink holiday saison—seems, against all odds, to be the most consistent, if not in terms of flavor profile, but in terms of quality. Vintages over the past two decades have included black and white pepper, cardamom, honey, caramel, orange peel, and who knows what else. Combine that with his trademark blend of finicky yeast strains and catch-as-catch-can brew system, and you might be looking at a disaster.
And yet—barring one batch a couple of years ago that turned, somehow, into Jell-O—the beer remains complex, festive, and utterly unique. The farmhouse aspect is ever-present in terms of effervescence, peppery notes, and phenolic esters; the middle palate is made up of cocoa, maple smoke, and caramel-dipped apples; the finish is fruitcake and mulled wine. This, along with the Hiver (not nearly as good), tends to sit around a bit, so grab one for now, and a couple to squirrel away; this beer will continue to do weird, wonderful things.
---
Funk Factory/O'so Sikaru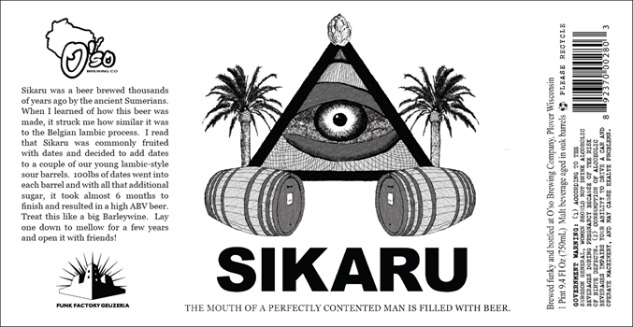 Before owner/blender/barrel-whisperer Levi Funk's awesome spontaneously fermented beers were getting nipples twisted from coast to coast, he was very much an under-the-radar operator known mainly to the Wisconsin inner sanctum. Nearly three years ago, he quietly released his first three beers in collaboration with O'so, two of them relatively normal by wild ale standards: Dweller on the Threshold, a geuze of sorts, and Scarlet Letter, a wine barrel-aged sour ale with cranberries.
And then there's Sikaru. Essentially a spontaneously fermented barleywine, Funk added 100 lbs of dates per barrel to some of his young lambic-style beer, and let the fruit ferment out completely before packaging. The result is a wild ale that clocks in at a whopping 12% abv, with the complexity to match: after about a year and a half in the cellar, I tasted hints of date, ripe lemon, some buttery oak, parmesan rind, and a whiff of sugared breakfast cereal. This beer has some staying power, and I'm saving my lone remaining bottle for another five years, at least.
*Liquid Faceplant is the name of the author's electro-punk band.