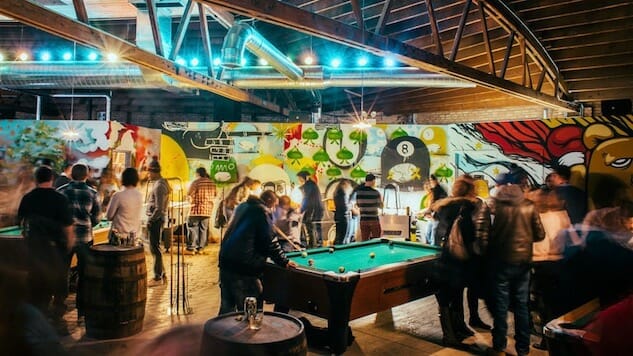 It may not hold a flame to Brooklyn or Portland in terms of sheer volume, but Chicago certainly has its share of flannel wearing, beard-donning, ironic mustache grooming hipsters. However, unlike a few years ago, that term no longer comes with a heavy hand of spite or negativity. In fact, these hipsters are the ones who are helping revitalize some of Chicago's newest "it" hoods, like Logan Square and Bridgeport, for example. And, as appreciators of small-batch liquors, craft beer and locally distilled spirits, they're also inspiring a new wave of bars in the Chi-town area – ones that boast unique and mismatched decor, innovative cocktails made with egg white foam and aromatic bitters and playlists that sound like they belong in Garden State. If you're tired of penning your screenplay or need a break from running your digital agency, hop on your scooter, unicycle or $3,000 bike and head to one of these quirky watering holes. And, even if you're not identified as a hipster, don't fret – these bars have plenty of appeal for the regular folks too. Plus, can you get any better people watching?
Emporium Arcade Bar
Unless you've been living under a rock, you've probably heard of (or at least seen) the new wave of arcade bars sweeping the country. Tapping into millennial nostalgia, bars like the Emporium Arcade Bar in Logan Square and Wicker Park offer a slew of vintage arcade games for patrons to play completely free of cost. Emporium's location in two of Chicagoland's most hipster hoods plays well to its advantage, and you'll find this bar filled with an eclectic array of people any day of the week. With Mario Cart inspired murals painted on the wall, exposed brick, wood-paneled bars and a vintage bus slanging food cart fare (in the Logan Square location), there's plenty to gaze at while the familiar chorus of a pinball games decorate the air. The beers are a plenty, and both locations offer a hearty draft selection with even more locally brewed beers in bottles and cans. Note, they only serve food at the Logan Square location, but the bartenders encourage you to BYOF to the Wicker Park spot. All of the games, except for the pin ball, are free if you drink.
---
Three Dots and a Dash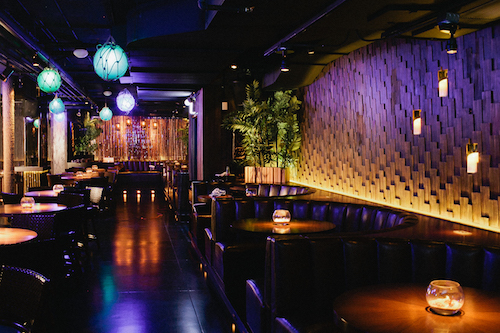 Part secret speakeasy, part Hawaiian tiki bar, Three Dots and a Dash is a far cry from the other bars and restaurants that line the swanky Gold Coast/River North area. Paying homage to the original tropical bars like Trader Vic's and Don the Beachcomber, the bartenders in this basement-level bar all rock Hawaiian shirts and serve up original tiki cocktails, like the Aloha Felicia (Caribbean rum paired with coconut cream, pineapple and Thai basil) in hipster-approved ceramic mugs. The décor is just as you'd imagine any subterranean, Polynesian bar to have – like vintage tikis, colorful globe lights hung from the low ceilings and a thatched grass roof overhanging the bar (white sandy beaches and mint-hued water sold separately). If you find yourself a tad inebriated on too many Treasure Chests (a giant pitcher of rums, pineapple, guava and Dom Perignon), order a few nibbles from the food menu. The burger and pupu platter are crowd favorites.
---
Simone's
Located in the still-blossoming neighborhood of Pilsen (penned to be the next Ukrainian Village or Bucktown), Simone's bleeds hipster charm. Eco-friendly mismatched enough to look like the basement in Stranger Things, Simone's fits right in Pilsen's main commercial drag. With a décor that's described as upcycled and eclectic, you'll easily spot old arcade game shells, a submarine tracking device, vintage ice-cream parlor stools and reworked chess tables just on your walk to the bar. Along with recycled finds, the bar touts an art gallery-esque collection of graffiti painted by local artists. The bar's passion for sustainability doesn't just show itself in the décor, but also in the actual building. The rooftop dons a hearty herb garden that's used to add fresh pizzazz to the fare and the roof is thatched with banks of solar panels to bathe the area in that hazy grey natural light Chicago is famous for. Drink wise, you'd be remiss not to partake in their seasonal beer list (that changes monthly) and features brews from all over the country. For food, their pizzas pair well with any of the brews (PBR tallboys included), and their appetizers, like the fried ravioli or tempura vegetables, offer just enough carbohydrates to help you successfully order yourself an Uber at the end of the night.
---
AceBounce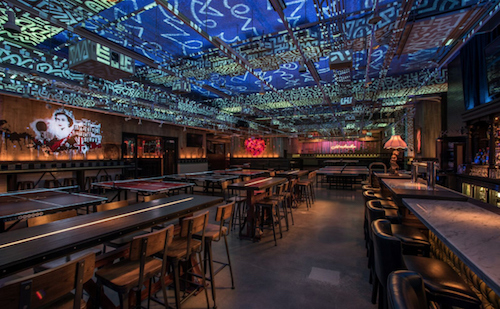 Who didn't spend many of their Saturdays in college playing aggressive games of beer pong (where more beer ended up on your shirt than your mouth)? AceBounce, the hip, Dave & Busters style bar in downtown, celebrates those long-forgotten college Saturdays in a slightly classier atmosphere than the fraternity basement you're used to. Unlike college, patrons take their ping pong seriously here, with tables renting out days in advance. If you can't get a table right away, order a signature cocktail – like the Gin soaked Night Harvest served with Aperol, Cider Noir Tea and Spanish cider – and gaze up. The entire ceiling is covered in glow-in-the-dark graffiti. You'll also find a neon-lit Chicago Bulls head over the bar and quirky figurine lamps on both bar tops. As you'd expect from any bar downtown, the prices can skew high, so head over for a hipster happy hour and order a $5 Ketel One Dutch Mule paired with a hearty pepperoni slider or grilled chicken thigh kebobs. If you're in the mood for more elevated cuisine, hop over the rails to the 1901 restaurant, which is framed by bright red subway tiles. The food here is reflective of Chef Rick Gresh's love of simple, but inspiring food. Opt for the fried oysters to start and savor the red quinoa tacos or the pappardelle with melt-in-your-mouth braised short ribs for the entrée.
---
Handlebar
Obviously we're not going to leave a bar off this list that's ironically named after the handlebars on the bike (although one must wonder if they weren't naming if after the infamous mustache shape). At home in hipster haven Wicker Park, Handlebar serves up some of the area's best vegan and vegetarian cuisine. The menu is varied and internationally mixed, with a hearty assortment of meat-free bites, like eggs with a side of sietan sausage or fried avocado tacos served with a side of meat (and dairy free) chili cheese nachos. Since the space is small, the back beer garden and patio provides refuge from the crowds during the summer months. Inside, the purple painted walls and an assortment of mismatched posters and artwork pair perfectly with the leather and floppy clad patrons sipping craft beers or noshing on tofu. Although the beer list isn't as expansive as other bars on the list, it still offers a hearty selection ranging from Empire Brown brewed in Syracuse to Cleveland's own Great Lakes.
---
Maria's Packaged Goods & Community Bar
One of Chicago's coolest neighborhoods is also one of its least frequented, sadly due to the misconception that all of the Windy City's South Side is dangerous. Bridgeport, dubbed the community of the future, is seeing its own hipster revival – but it wasn't started by your average bearded trust fund baby. It was started by a lady named Maria, who owns the immensely popular Maria's Packaged Goods & Community Bar. Owned and operated since 1986, this bar started as a classic slashie – half liquor store and half tavern. Since then, it's grown into a massive community bar and, perfectly fitting enough, a Korean/Polish street food joint called Kimski. Don't fret, the packaged liquor store is still there, in case you want to grab a six-pack of PBR on your way home. The design is more LA modern than traditional hipster – with bright yellow stools, cartoon framed artwork and an assortment of vintage packaged goods lining the top shelves. For food, you have to try the Kimchi Fried rice (made with a mix of rice and kraut) and the Meat Potskis, which are filled with ground beef and potato, farmers cheese and a pickled onion. The beer list is enough to make even the biggest of brew snobs salivate, with over 500 selections of American craft beers in the packaged store and over 200 in the bar alone. Plus, they receive rare shipments each week that sell out faster than their Kimchi fried rice.
---
The Empty Bottle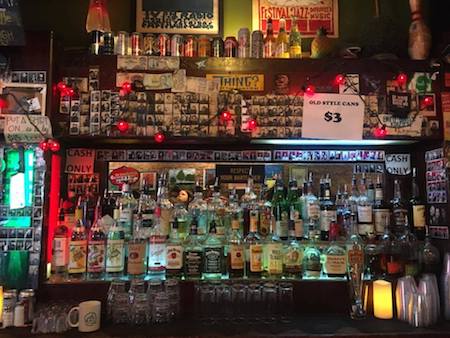 On the corner of North Western Ave and West Cortez in Ukrainian Village, The Empty Bottle has been around longer than the term "hipster" has been coined. Opened in 1992, the bar opened as a true "hole-in-the-wall" where beers cost less than $1.50 and a game of pool cost just 50 cents. With the Old Style Cold Beer sign serving as a magnet for attracting hipsters, the dimly lit interior that's plastered with old concert posters and splattered glow in the dark paint only adds to the appeal. Despite being open for 25 years, the cost of beer has only increased by a smidge (think $3 – 4 dollars for a draft PBR or a can of Old Style). Beyond just cheap beer and a cool ambiance, the venue also hosts live shows and concerts three days a week, and they host a weekly art and craft show on Saturdays. Plus, the bar partners with other local festivals in the city, like Do Division (the first week in June) and West Fest (the first weekend in July).
---
Scofflaw
Easily one of Chicago's coolest bars, Scofflaw – located on W. Armitage- serves up gin-centric cocktails in an intimate, speakeasy themed bar. Coined from what you'd call a person who drank illegally during Prohibition, Scofflaw 20's inspired gin cocktails, local craft brews and easy eats every single night. Adding to the theme of Prohibition, the bar can only fit a certain number of people at a time, so there's almost always a line queuing at the front door of people jonesing for a stiff $12 cocktail. The inside is tight (there's just one bar and limited seating) but if you can score a coveted seat on one of the tufted couches in the small dining room, make sure to order one of their fried eggplant Po'Boys (served with a vegan remoulade) or a plate of their pimento aioli topped fries. When it comes to libations, you can't go wrong with any of their signature gin cocktails, but the Jasmine (made with North Shore #6 gin, lemon, combier d'orange and Campari) and the Swizzle #3 (Made with dark rum, local gin, cream de cacao, passion fruit, lime and aromatic bitters) are hipster favorites.
---