5 Bars and Restaurants Breathing New Life into the Gold Coast and River North
Food
Lists
restaurants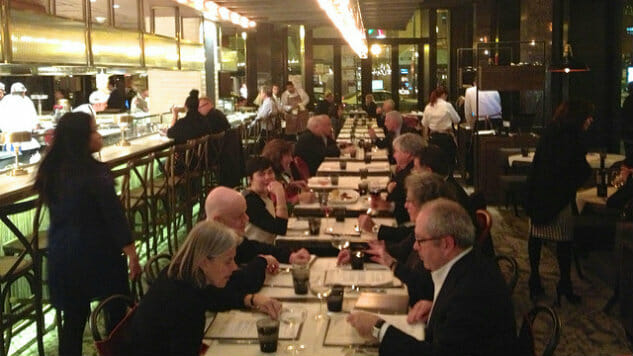 North Chicago gets a bad rap. Neighborhoods like Gold Coast and River North, often described as the Midtown of Chicago, are overshadowed by younger, trendier areas like Logan Square and Wicker Park.
With a steakhouse on every corner, Gold Coast usually conjures images of white tablecloths and $75 cuts of prime beef. Luckily, a handful of daring restaurants and bars are working to shake things up and bring a freshness to Gold Coast's nightlife.
Nico Osteria
Leave it to trailblazing restaurant group One Off Hospitality to drop a fish-driven Italian joint in the middle of a steakhouse town. Adjacent to the Thompson Hotel, Nico Osteria serves impeccable handmade pastas and meats, but their crudo menu is the real star. The chef's selection is a superbly curated array of fish that builds from light and flaky to rich and buttery. The fresh hamachi topped with potato chip is not to be missed, nor is the surprisingly unique wine list, which includes funky orange wines and more esoteric chardonnays. The restaurant interior is refined and warm without being stuffy and the open kitchen lends a liveliness to the proceedings. Try to snag a bar seat or a banquette by a window. For an anti-powerlunch, drop by the salon midday for the Brussels sprout bruschetta and raisin-infused vodka highball. The buzzy cocktail bar features garden-fresh herb infusions and homemade bitters, to the delight of palettes everywhere.
Sparrow
This swanky, under-the-radar rum bar is just two blocks from the iconic Gibson's steakhouse. Serving handcrafted cocktails heavy on rum, Sparrow's exceedingly cool art deco décor and Cuban flair playing over the sound system are a refreshing change of pace from Chicago's usual martini haunts. The Cuba Libres are served DIY with lots of ice, a generous slug of golden rum, and a single-serving Coke in a glass bottle. The specials change regularly, but the relaxed, neo-hip vibe is resolute. The spacious hightop and bench seating in the front also makes it great for groups. It's a sophisticated bar without being pretentious, and it makes an excellent departure point for an evening fueled by more dubious shenanigans.
The Hangge Uppe
A self-professed "dive club," The Hangge-Uppe is the delightfully tacky, top-40 playing, well liquor serving dance club where any proper Chicagoan lets their night devolve. It is not new, but it is often forgotten. Featuring two floors with multiple dance floors, it's usually packed with questionably dressed dance fiends by midnight. It may not be a regular stop, but it's certainly worth rediscovering, or discovering once as a conclusion to One Epic Night. Balance a respectable evening of dry martinis and red meat with shots of Jaeger from any of Uppe's 5 bars. There is a cover charge, but on Friday and Saturday nights they run a special for "$5 Bacardi flavors." So it all evens out.
Velvet Taco
After downing Cuba Libres and cheap shots all night, curtail the inevitable hangover with a late-night stop at Velvet Taco. Conveniently located next door to The Hangge Uppe, this cheap eats taco parlor is the perfect drunk food serving up fun and funky taco fusion into the wee hours. The tikka masala tacos are delicious in all the wrong ways. Fluffy basmati rice, juicy tandoori chicken, and a tangy crema wrapped up in a soft flour taco: it's the perfect amount of excessive carbohydrates to soak up even the cheapest booze. The Cuban ham combo is also divine with gruyere, shredded pork, and ham- essentially shoving a Cubano sandwich into a corn tortilla. The downstairs queue can fill up fast, especially as the night wears on, but the upstairs is usually open and offers a reprieve from the night.
Sumi Robata Bar
This tiny robata bar bordering River North is not to be undersold. Featuring an open kitchen, Chef Gene Kato individually prepares every single dish behind a meticulously maintained charcoal grill. The space is light and minimal, featuring handful of two and four tops and limited bar seating. Try for a seat at the bar and leisurely sip Japanese whiskey while watching Chef work his magic. Start with the tofu dish. It is truly a game-changer and will sway even the staunchly tofu-averse. Silky and full of umami, the dish is powerful and delicious and topped with briny caviar. The grilled romaine, scallop, and chicken thigh are must-haves picking up a profound but delicate smokiness from the grill. If the octopus is on the specials menu that night, be sure not to miss it. In lieu of a sweet finish, opt for the chilled udon noodles instead. The broth is inexplicably complex yet crisp and the noodles tender and expertly pulled. It is easily a contender for best dish in the city.
Main and preview photos of Nico Osteria by Lou Stejskal CC BY.