Allagash White in a Can Is a Strange, Beautiful Sight
Photos via Allagash
Drink
News
craft beer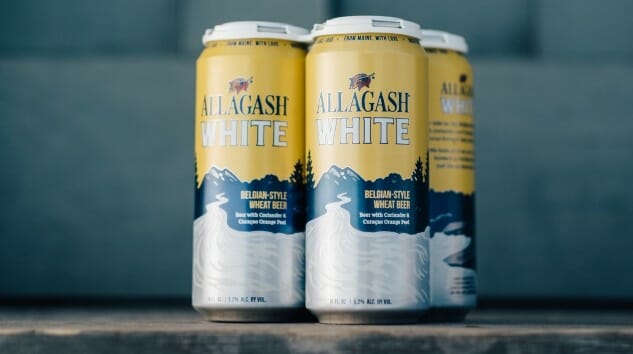 Quick: Name a more consistently exemplary beer than Allagash White. If you're claiming to have come up with one by the time you finish this second sentence, we'll know that you're lying. No such beer exists.
The iconic Allagash White is the first thing that just about any beer geek will picture when they read the word "witbier"—hell, it might be the first thing they think of when they see "wheat beer" in general. We certainly are of that mindset, considering that White finished #1 when we blind-tasted an array of wheat beers a few years back. It's the beer that built Allagash into the playground of experimental fermentation and wild ales that it later became, and even today it's the beer that pays the bills—more than three-fourths of the brewery's total volume, in fact. The perfect, approachable nature of White is the straw the stirs the drink at Allagash, making everything else possible. It's nothing less than one of the most important beers in the history of American brewing.
And now, you can crack open an Allagash White in the form of a 16 oz can.
Yes, after years of preparation, White is coming to cans. This is something we've known since the fall, but new details (including the lovely can design above) are now beginning to emerge as we approach the beer's first official canned release. In a press release that went out today, members of the brewery team commented on the novelty of seeing White in four-packs of 16 oz cans:
"If there's one beer that defines us as a brewery, it's Allagash White," said founder Rob Tod. "The idea of enjoying this beer in a new way—on a boat, on the trail, even on the couch at home—has everyone at the brewery super excited. I've been loving Allagash White for around twenty-four years, and pretty soon I'll get a new way to experience it."
White won't be alone, though—it will also be joined by another new year-round beer by the name of River Trip, a 4.8% ABV Belgian session ale that Allagash describes as "dry-hopped for balanced notes of grapefruit, lime and stone fruit." Comparisons to the brewery's own Hoppy Table Beer (also 4.8% ABV) are inevitable, but this is indeed a separate, similarly low ABV, hop-forward product according to Allagash—one that they also note is "the lowest calorie beer in the Allagash year-round lineup" at 128 calories per 12 oz serving (although 170 per 16 oz. can). You can compare that to White, which is cited as 175 calories per 12 oz and 233 per 16 oz, and note that the calorie conversation in craft beer is continuing to get louder and more prominent.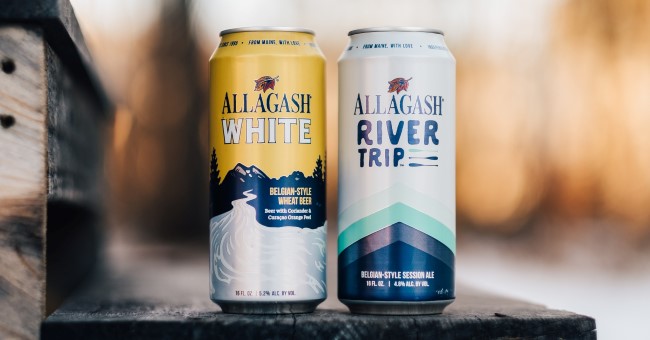 One question that fans may find themselves asking is why the 16 oz can format was chosen, as opposed to 12 oz cans that would mirror the 12 oz bottles Allagash White has been found in since its inception. Allagash marketing director Jeff Pillet-Shore notes that "we selected this packaging format with input from our consumers and sales data in our launch states," and says drinkers should expect the canned four-packs to be priced "about $1-2 more" on the shelf than the current 12 oz bottles—an expected bump, given the additional ounces of beer. This strikes us as a format that will likely please some fans and irritate others, who might have been hoping for 12-packs or even 24-packs of 12 oz Allagash White cans to be available at a significant discount.
Regardless, the first commercial (can-conditioned) cans of White and River Trip will be hitting their initial markets beginning in February. The beer will first be rolled out "close to their home market," which for these purposes means Maine, New Hampshire, Vermont, Massachusetts, Rhode Island, New Jersey, Connecticut and Western/Upstate New York. Subsequent waves would presumably expand the footprint of Allagash cans into all the other markets where White is sold. It will be interesting to see just how much of the Allagash White bottle volume is ultimately given over to cans, which have seen much of the craft segment's growth in the last few years. The brewery is no doubt hoping that cans will also help get White into the hands of consumers who have somehow never sampled it before.
With all that said, there will certainly be a degree of novelty in drinking an Allagash White from the can for the first time. We're looking forward to revisiting this classic as soon as we can.