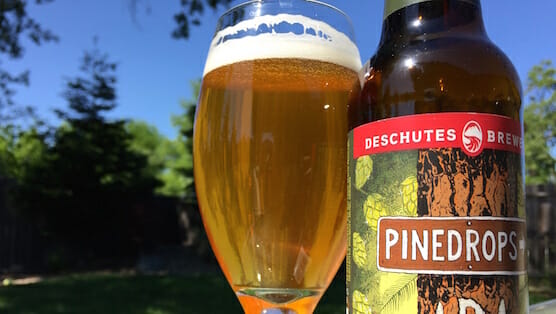 I love a good winter warmer as much as anyone, but as the mercury starts to rise, it's time lighten up. When the leaves are back, the snow is gone, and the sun warms the air, the search for something pale begins.
Just in time, Deschutes Brewery has bestowed upon us the latest member of their year-round family, and the Bond Street Series. On the heels of the likes of Hop Henge, Chasing Freshies, and Fresh Squeezed, feast your taste buds on some Pinedrops IPA: A mouthful of F-yeah from a bottle of awesomeness. After being a draft-only, brewpub exclusive last year, Pinedrops' popularity grew and Deschutes was kind enough to bottle it for all to enjoy.
Pinedrops is a delicious, bright, golden IPA with so much pine, you might actually feel like you're walking through the woods, even if you're surfing on your couch. The ample pine on the nose, mixed with lemon peel and grass, is so fresh, after a six-pack you may not need to shower for a week (warning: not showering for a week many result in the loss of employment and/or friends). The brew pours with a white, medium head and has a crisp, clean mouth feel. Pinedrops goes perfect with hot days, long days, lazy days, or any day you're up for a solid, well-balanced IPA.
Pinedrops packs a solid 70 IBUs and makes no apologies for it, employing just enough Pilsner, Pale and Crystal malts to round out the heady Chinook, Centennial and Equinox hops that give this brew its strong citrus and pine profile. When I search the aisles of my local bottle shop for an IPA, this beer is the sum of what I look for in the genre: bright citrus and a mouthful of pine needles. The bitter, dry, piney finish lingers just long enough to slow your session, but keeps you coming back sip after tasty sip.
If you live out west, look for six-packs this spring. Everyone else will just have to wait till summer.
Brewery: Deschutes Brewery
City: Bend, Ore.
Style: American IPA
ABV: 6.5%
Availability: Draft, Six-pack, year-round