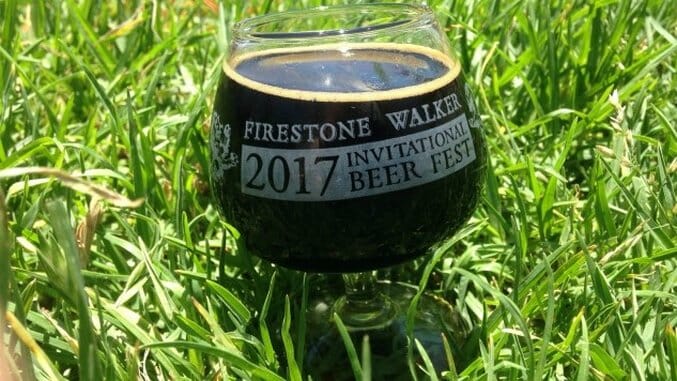 At this year's Firestone Walker Invitational Beer Fest, I several times posed a question to brewers while chatting off the record. To them, I asked: "Have you been to any other beer festival in the last three years better than this one?"
In every single case, the answer was "no."
Yes, the outside location in Paso Robles, in the heat of early summer, may not exactly be ideal for the consumption of barrel-aged imperial stout, but goddamn, when the lineup looks like it does you're willing to look past the fact that your underwear is doggedly sticking to your body. The FWIBF is bringing together beer lineups on a yearly basis that are almost impossible to get elsewhere. The best of the best, not only from the U.S. but internationally as well. It's a yearly embarrassment of riches, and there's no way to get through it all, even with 6 hours of tasting. There's simply too many things that any beer fan would want to try—and entirely too much booze to successfully metabolize. It's the only place I've been where a beer menu says something like "pecan mud cake stout," and it's reality rather than self parody.
Just looking at the names of the breweries in attendance doesn't tell the whole story. If there is any criticism of FWIBF online, it's most likely the refrain that there are too many larger "regional" breweries in attendance, but even craft beer old guard are turning over new leaves for this event. Go visit the Stone Brewing Co. booth at FWIBF, and you're not going to find them pouring Stone IPA and Ruination. Instead, they have four beers that no one outside of their San Diego taproom has even heard of before. That's how you do a beer festival right—even if everyone knows your brewery, find a way to provide some true novelty.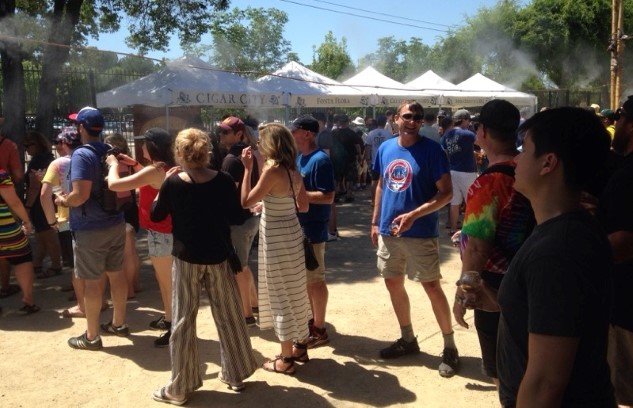 Keeping cool in the 90-plus heat, surrounded by booze.
This was my third year attending FWIBF, and in terms of the average beer quality it may very well have been the best yet. As in the past, Paste beer writer John Verive and I have divvied up some of the most memorable brews we tasted to create this list. If it's here, then I can say without reservation that it's one of the best beers I've tasted in recent memory.
---
Societe The Thief
This is how you start out a day at FWIBF. Not with a 15% ABV imperial stout, but with this lightly tart, juicy and expressive "feral ale" from San Diego's Societe, brewed with local California Grenache Blanc grapes. Very soft, supple tartness is the feature that makes this 5.9% ABV wild ale so dangerously drinkable. It was one of the very first things I tasted on Saturday, and I immediately felt a pang of "I kind of wish this wasn't a big beer festival and I could just keep drinking this beer all day." It was nice to quickly find a kinder, gentler sour compared to some of the lactic acid bombs at the festival, and one that features bright, citrusy, white winey accents. This beer is "crushability." I didn't drink anything else all day more perfectly suited to the weather. – Jim Vorel
---
Side Project La Fosse Batch #2
Gorgeous. There's no other word to describe this beer. Absolutely beautiful in every respect. Side Project is of course a phenomenon at this festival; one of the chief places where the beer geeks run as soon as the 12 p.m. starting gun is sounded. But when you simply look at the descriptions of the beers that Cory King produces with the Side Project label, it makes it so much easier to understand the hype. Consider La Fosse: A "Missouri wild ale" that spent 18 months fermenting and then aging in chardonnay barrels, before being racked onto apricots for an additional 6 months. And then bottle conditioned for several months more. That is, if we don't miss our guess, at least 26 months or more of waiting in order to create a single apricot sour. It's an absurd expenditure of time and resources, but god, the results. Tartness is bright and punchy, but never overwhelming. Pure stone fruit invades every sense—it smells like ripping apart apricots and peaches with your bare hands, and smelling one of the pits. It's what so many other fruited sours dream of being. I can't think of any other beer at the festival that was more of a revelation than this. If I could have stolen one bottle of anything and carried it away with me, this would have been it. – Jim Vorel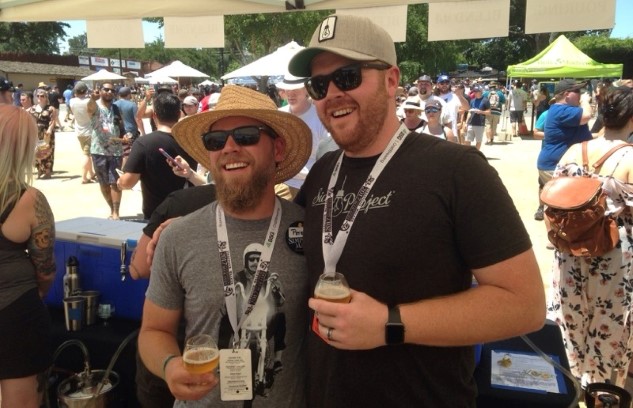 A titanic meeting of minds: Side Project's Cory King and Firestone Walker's Matt Brynildson.
---
Russian River Scratching Post
The best beer at the festival is Russian River's immaculate golden sour Beatification. Spontaneously fermented and oak aged in the lambic tradition, Beatification tastes like a chorus of angels singing just for you, and it smells even better. It's a beer that is as unsurprising as it is excellent, and this year it was nearly overshadowed by the most humble of Russian River offerings: a table beer called Scratching Post. Scratching Post takes the crisp bitterness and hoppy essence of the modern (post Pivo) pilsner, marries it to a whiff of phenolic yeast, and delivers it to your face with the drinkability of a blonde ale. Dry hopped and bone-dry, Scratching Post is both elegant and workaday, a triumph in brewing an unassuming style so well it will stop you in your tracks and remind you why Vinnie Cilurzo is probably your favorite brewer's favorite brewer. – John Verive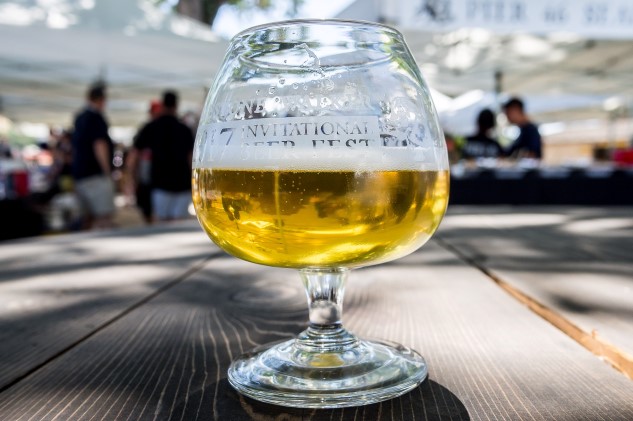 ---
Crooked Stave Von Pilsner
There's a certain pleasure in drinking a great beer from a great brewery, but having it be a style of beer you never considered before that they might produce. That was me, walking up to the Crooked Stave table to see what kinds of saisons or sours they might be pouring, only to find that they had a pilsner on tap. And not just "a pilsner," either, but an unfiltered, hoppy-as-hell keller pils at that. Von Pilsner is invitingly cloudy; it looks alive and vibrant gold, with huge hop aromatics on the nose from a melange of different noble hop varietals: Tons of Hallertau, Saaz and more that I'm forgetting. Crisp, grassy, spicy and floral all at once, it may be the best lager I drank all day. The other best pilsners I tasted, while I'm on the subject, happened to both come from the same place—Highland Park Brewery in Los Angeles, which was packing very awesome pilsners with both noble and American hop profiles. They should collaborate with Crooked Stave to create the ultimate hoppy pils. – Jim Vorel
---
Trillium Raspberry Soak
Speaking of "beer from breweries that you might not expect," it's probably safe to say that no one would have expected Trillium to be present at this festival but not pouring a single hoppy beer. Instead, they were packing an imperial coffee stout, and this very tasty raspberry sour. What's up with THAT, Trillium? Regardless, this was some lovely beer. I feel like I drank fewer red/black fruit sours this year than at previous editions of FWIBF, but this one was the highlight. Fermented in huge, 600L wooden puncheons with a blend of lacto and the brewery's house culture of microflora, it yields a moderately tart, clean, not-too-funky sour that features bright acidity and jammy red fruit flavors. The wheat malt helps give a bit of backbone to the underlying beer, keeping it from being completely fruit dominated or candy-like. At this point, "raspberry sour" is a common enough substyle of sour beer that it should be common to just about all craft beer drinkers, but the best versions of the style are still among the most delicious sours that exist. – Jim Vorel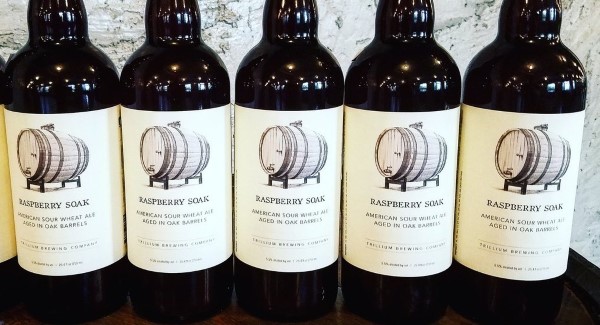 ---
Fonta Flora Carolina Custard
Now here's an interesting one. Fonta Flora brought its typical A-game, always seemingly gunning for "best in fest" status with an array of truly unique, unusual brews, most of which were fruited. But while cherry or blueberry beers aren't too difficult to come across at such a fest, paw paw beer is still a bit more of a novelty. The name is presumably a reference to the creamy, custard-like texture of paw paw fruit's flesh, but it's also well reflected by the creamy texture of this sour. The beer is white wine barrel aged and fermented with a blend of brettanomyces and lactobacillus, but also gains an unusual fruited sweetness and juicy character from the paw paws—I can only compare it to being sort of like a cross between kiwi and mango, at least to my taste. Kudos to these guys for presenting truly new and ambitious flavors on a yearly basis. – Jim Vorel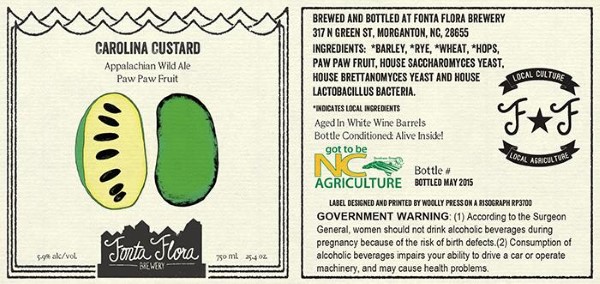 ---
Fonta Flora Rhythm Rug
When you see both "Sour Jim" Crooks and Jeffers Richardson—the driving forces behind Firestone Walker's Barrelworks sour beer project—hanging out at one booth, you get in line for those beers. North Carolina's Fonta Flora focuses on local ingredients and mixed fermentations to create what they call Appalachian Wild Ales. Rhythm Rug showcases local strawberries, a notoriously difficult fruit to work with, and the bright, floral berry character was remarkable and bolstered by just enough fermentation funk. Palate fatigue is second only to heat stroke as dangers to combat at the festival, and after a half-day of big stouts and lots of hops, Rhythm Rug sparked my palate back into action with invigorating acidity and some of the most perfect expressions of the subtleties of strawberry I've tasted. Everything the brewery poured was equally lively; beers that literally brought a smile to my face. – John Verive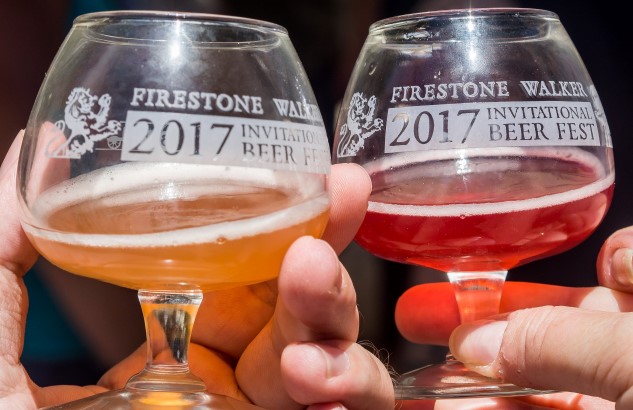 ---
Bagby Beer Co. Fancy Pants
The lager love at the festival continues to swell, and there were more lagers in more different styles than any year before. One lager fan even created a printed "lager lanyard" punch-card that you could use to track your tasting through the dozens of pilsners, IPLs and schwarzbiers pouring at the festival. That last style – the black lagers that demonstrate the lighter side of dark beer—is one of my personal favorites, and each year the Firestone Invitational is one of my few chances to drink one of the best craft examples: Moonlight Brewing's Death and Taxes. I was dismayed to learn that Moonlight wouldn't attend the festival this year, but San Diego's Bagby Beer Co. took up the schwarzbier flag. Their Fancy Pants was every bit as complexly quenching as Moonlight's superlative lager. A black beer might not seem like the best beverage for a near 90-degree day, but the roasty bitterness and dry finish is as refreshing as a cold brew iced coffee on a hot day, and Fancy Pants demonstrates Jeff Bagby's skill at creating beers in traditional styles for today's craft drinkers. – John Verive
---
Beachwood Brewing & BBQ 28 Haze Later
As one would no doubt expect, there was a lot of NE-IPA at this festival. Even since the time that FWIBF was held last year, the hazy substyle of IPA has come much further into the public consciousness, and some of the best examples now have nothing to do with the Northeast. Case in point: This lovely beer from Beachwood, which I'm prepared to call my #1 IPA of the festival. Beachwood, it must be said, is just a phenomenal brewery, and especially at this event. Everything they do is spectacular; and all three years of FWIBF that I've attended, they've always been stand-outs. The holy trinity of Mosaic, Citra and Galaxy lead the way on this wonderfully juicy beer, projecting massive citrus and tropical fruit juice flavors, along with some drying resin. Like many of the best examples of this style, there's a not-insignificant residual sweetness and low bitterness, although it may have slightly more balancing bitterness than most. If only everyone trying to replicate NE-IPA could make it this cleanly, and wring this kind of flavor out of their hops. – Jim Vorel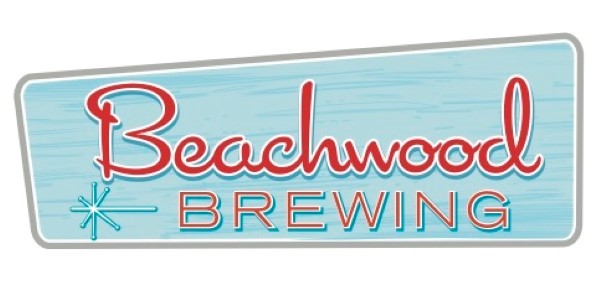 ---
Creature Comforts Southerly Love
After years of inadvertently avoiding beers from the Georgia favorites, I finally got a taste of my first Creature Comforts beers, and now I understand what all that fuss is about. Tropicalia lived up to the considerable hype, but the Tritonia cucumber gose was even more memorable. I hated it. I dumped my taster after a couple of sips, and as karmic punishment ended up accidentally pouring a whole pint of the beer for myself at the post-festival BBQ. I still hated it for the next three sips, but after that the beer seemed to disappear from my glass on its own. I couldn't stop sipping the balanced and refreshing beer that made me rethink my blanket distaste for cucumber beer. But it was a bottle pour of Southerly Love, the brewery's collaboration with 7venth Sun Brewery, that I found most impressive. The dry-hopped brett pale ale was intensely aromatic with a deep brettanomyces funk and dank hoppiness, and it danced on the tongue with effervescence before the tart finish balanced out each sip. Lots of festival beers are great for four or five ounces and then you're happy to move on to the next tick, but Southerly Love is a beer that I want to drink all night long. – John Verive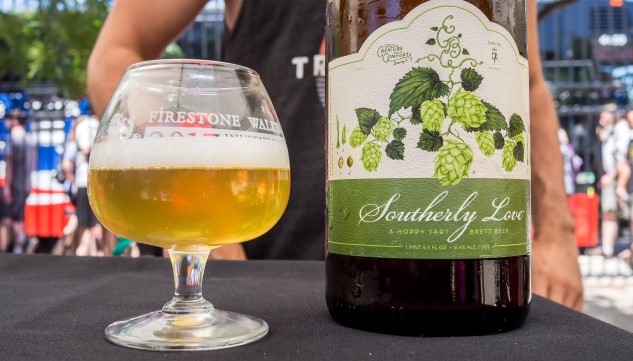 ---
Three Floyds Sicario Pina
I stared at the label of this beer for about five minutes before finally determining what the hell the name was supposed to be, but there's Three Floyds for you. Truly a unique concept here: A pineapple saison, fermented with brettanomyces, aged in muscat barrels. The result is intensely juicy, but with a startling blast of earthy, funky aromatics on the nose. It was one of the most interesting things I smelled all day, drifting from bright fruit to dank wood, grass and hints of vanilla. Juicy and moderately sweet on the palate, it sits at 8% ABV—approachable enough, but so unusual that it demands introspection. As I immediately told the employees of the Three Floyds booth: This beer was born to be a cocktail ingredient, among other things. It would be the perfect base to the most amazingly odd paloma you've ever consumed. – Jim Vorel
---
Garage Project Mutiny on the Bounty
It's now become FWIBF tradition for New Zealand's Garage Project to astound with some kind of crazily experimental layered beer, but the one I walked away from their booth marveling at was Mutiny on the Bounty, a burly, 11% ABV imperial stout brewed with an intriguing blend of adjuncts. As the name would suggest, the beer is thematically inspired by the 1789 mutiny aboard the HMS Bounty, but the association even extends to the ingredients: They include breadfruit, the starchy tropical fruit that the Bounty was carrying as the main objective of its mission before the mutiny. It's a brilliant bit of thematic pairing, in a stout that also includes roasted plantain, coconut sugar, toasted coconut and Tahitian vanilla. Subtlety is the watchword here, as the final product isn't dominated by any of the coconut elements, nor the vanilla, as so many flavored imperial stouts are these days. It's a rich but elegant dram that delivers the subtle caramelization of plantain/banana, and hints of coconut and vanilla coffee. Beautiful beer, and distinctly "Pacific islands" in execution. – Jim Vorel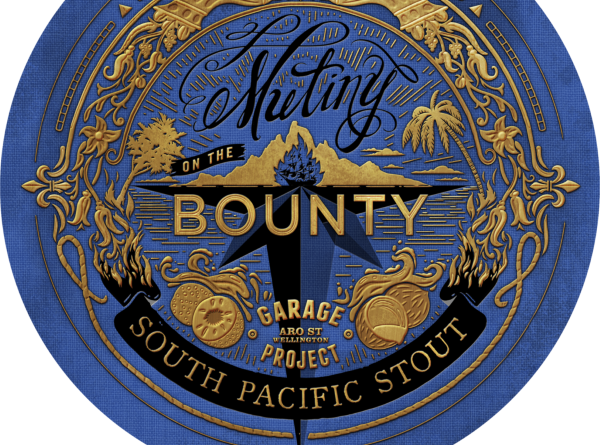 ---
Half Acre/Tired Hands Heavy Gem Virga Saison
If there's one brewery we haven't tasted nearly often enough at Paste, it's Tired Hands. I was pleased, therefore, to run into a collaboration beer featuring the brewery alongside some of our favorite Chicago hop-slingers at Half Acre, who were also pouring their delicious Galactic Double Daisy Cutter. This one is a style I don't necessarily associate with Half Acre, which was interesting—a funky, mixed oak saison. That's it; nothing else fancy, no other adjuncts trying to get in the way. Lightly tart and with an exotic bouquet of funky, yeasty notes on the nose, it reminded me of a beer one might have from Side Project or Casey Brewing & Blendery, and there are few compliments you can give more glowing than that these days. The sheer amount of great, funky beer out there these days is hugely encouraging. – Jim Vorel
---
3 Floyds LazerSnake
Each year the line for 3 Floyds at the festival snakes across the fairgrounds as fans vie for a taste of the legendary brewery's best, and every year I hit their table first to get a glass of Zombie Dust—I think it's one of the best drinking man's pale ales in the world. This year I intended to continue my tradition but I simply could not resist ordering a LazerSnake instead—that is just too good of a beer name to ignore. The brewery calls it a "good old fashioned India pale ale" and LazerSnake was perfect. This is an IPA that rises above the hazy versus bright conversation with high resolution hop flavor and an operating room clean finish. LazerSnake tasted simultaneously like a throwback to the citrus-driven IPAs from a decade ago and a glimpse of the post-hazy IPA future: novel and compelling hop character presented through an immaculately brewed ale that prioritized drinkability over appearances, trends or gimmicks. – John Verive
---
Garage Project Bhang Thandai
Perennial festival favorites, the New Zealand brewers always bring something amazing that you'll never see again. This year's two-tone beer was every bit as visually appealing and palate pleasing as their prior special fest pours, but it was their high concept brew inspired by the Silk Road that captured my imagination. Bhang Thandai is a milk stout inspired by the traditional Indian beverage of the same name—a type of cannabis-infused chai—and the beer features a market's worth of spices (green cardamom, saffron, peppercorns and more) along with a certain black market ingredient: hemp. The story behind the brew is compelling, and the secret additive enticing, but in typical Garage Project fashion it's the execution that makes the brew. Bhang Thandai is super smooth and rich, but as balanced as a Yoga Guru with no single spice dominating. As for the hemp, there's no psychoactive THC in the industrial plants grown at the "secret undisclosed location" in New Zealand, but the inspiration and intention of the beer—to be shared in a festival setting as a celebration of new friendships—elevated the experience nonetheless. – John Verive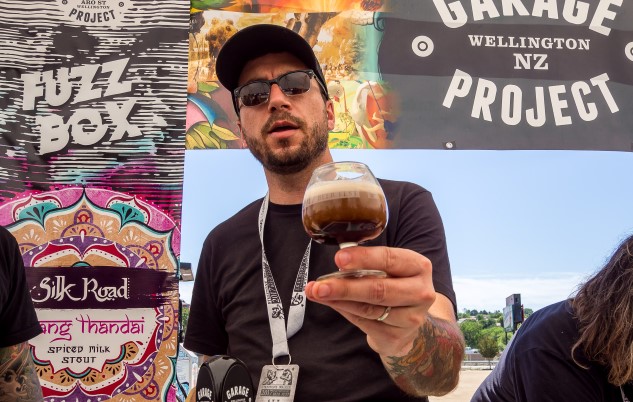 ---
Revolution Brewing Co. V.S.O.J.
Oh dear lord. So you're probably thinking, "What, didn't you drink ANY massively boozy, barrel-aged monstrosities?" And the answer is yes; I did get to a few of those, including this 15% ABV behemoth. The "base beer" is Revolution's Straight Jacket, an already bourbon barrel-aged barleywine that won Paste's blind tasting of 35 barleywines back in 2016. That beer gets an even more ridiculous treatment here, resting a full TWO YEARS in various Heaven Hill and Old Forester barrels until they have presumably stripped every possible unit of flavor from that wood. The result is like maple creme brulee, a hugely rich, sweet, overwhelming flavor bomb that you just want to pour over vanilla bean ice cream immediately. Dark and dried fruit flavors are dunked in caramel/molasses sweetness and waves of booze/oak. You could presumably put this beer away for a decade, and it's hard to imagine that it wouldn't be great when you cracked it open in 2027. – Jim Vorel
---
Jim Vorel is a Paste staff writer and beer evangelist. You can follow him on Twitter for much more beer coverage.