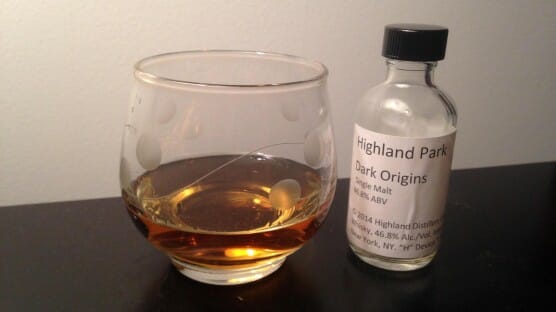 As part of the ongoing whiskey boom, both in the American and scotch marketplace, it's easy for even a novice to see the effect that an increasingly savvy customer base has on the manufacturers. It's a broadening of old guard styles and universal rules of thumb. The more drinkers learn, the more they realize that there are exceptions to be made.
This is likely a factor in the rise of non-age-statement whiskys. More experienced scotch consumers know that the number stamped on a bottle isn't everything—isn't even the main thing, in some cases. And as such, you start seeing slightly more experimental, less traditional offerings from a classic distiller such as Highland Park, which is selling a non-age-stated release like Dark Origins for $70 or $80 a bottle.
This release is instead targeting a more specific flavor profile—a specialty profile if you will, that Highland Park clearly hoped would appeal to a certain segment of the market who like their scotch a certain way, with somewhat more individually than the expressions in their classic line.
They achieve this by blending in twice the amount of malt whisky from first-fill sherry casks than would be used in the regular Highland Park 12 Year, and the results are intriguing: A fruity, intense whisky with no shortage of personality.
On the nose there's plenty of spice and leathery notes, a honey-like sweetness and a definite hit of booze. Slightly harsh, it announces its presence brashly, ending with a burnt sugar sweetness like creme brulee.
On the palate, it's spicy once again, but also quite fruity, both with ripe red cherry and dried fruit (apricot? prune?) flavors. The added sherry character just enhances the juiciness of those fruit impressions. It's pretty hot for being just a tad over 90 proof, with a lingering burn, but further contemplation brings out a few more complex flavors: a bit of biscuity malt, honey sweetness and smoky peat, but nothing that goes too far. The most intense impressions remain fruitiness and alcohol heat.
Dark Origins is an intriguing, unique scotch that is unlikely to be compared to other offerings from Highland Park, which is presumably exactly what they were going for. If its taste profile aligns with your own taste, you may find it worth a little extra cash, or deem it an appropriate stocking stuffer for the whisky-lover in your life.
Distillery: Highland Park Distillery
Location: Kirkwall, Orkney, Scotland
Style: Single malt scotch
Proof: 93