Chambord originates in the Loire Valley a really long time ago (it's now produced by the Brown-Forman Company). It's a cognac-based liqueur whose dominant flavor is red and black raspberries, though honey, citrus and vanilla are also present. Its original aristocratic French ancestor was probably designed to accompany rich, elegant meals, but Chambord is more likely to be found in cocktails these days (though it's quite nice straight if you like fruity liqueurs). It makes great Champagne cocktails and also features in the "French Manhattan", the "French Martini" and…um… the (ahem) "Purple Hooter Shooter." For that matter, it's pretty dang tasty splashed over vanilla ice cream or used for poaching pears.
Chambord's decadent richness and its deep velvety-red color both make it a fun spirit for holiday cocktails.
We got the nice folks at Chambord to offer a few suggestions for what to do with their raspberry potion this holiday season. Here are three! As always, make your own substitutions and feel free to play. As you can see from the recipes, these concoctions are not the most exacting!
MERRY MANHATTAN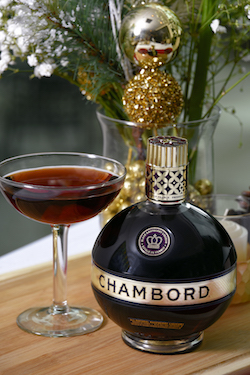 Ingredients
½ oz. Chambord Liqueur
1½ oz. Bourbon (Woodford Reserve was recommended; you no doubt have your allegiances and you should stand by your whiskey without apology!)
Dash of Angostura bitters
Maraschino cherry (I strongly recommend the real-deal candied Marasca cherries from Luxardo, not the cartoon cherries you grew up putting on sundaes)
Directions: Take a cocktail shaker filled with ice. Pour in Chambord, bourbon and a dash of bitters.
Shake and strain into a fancy glass. Top with cherry and holiday garnish. (An Orange twist? Sprig of spruce needles? Mistletoe? So many options! OK please do not garnish your cocktails with mistletoe, as it is toxic to humans)
---
HOLIDAY CHEER (AKA "Holiday Edition Kir Imperiale")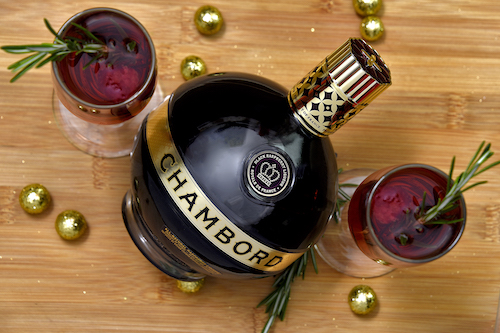 Ingredients
¼ oz. Chambord Liqueur
Champagne
Raspberry
Directions: Pour Chambord into a flute glass. Top up with your bubbly of choice. I might suggest going cuckoo and opting for a dry blanc de noirs, since pinot grapes will often hand over a lot of raspberry notes. Traditionally, a non-pink Champagne is used for this, and you can play around-generally, if you're going for mixer-gade bubbles, proseccos will give you more apple and citrus notes, cavas will tend toward peaches, and chardonnay from the west coast will often have pastry and cream notes. The raspberry goes in last, dig? Holiday in a glass!
---
PUNCH ROYALE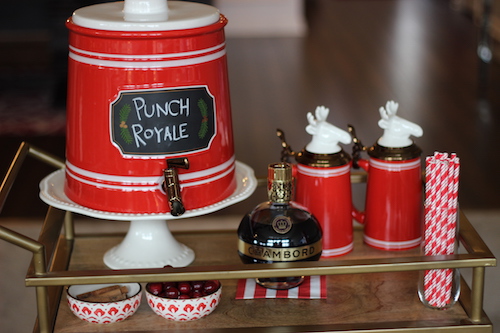 Ingredients
8 oz. Chambord Liqueur
8 oz. Cranberry juice
2 cold bottles (750mL) Korbel Brut California Champagne (or other dry-dry bubblefest of your choosing.
Raspberries and/or blackberries
Directions: Get a big ol' punch bowl or a pitcher. Combine these ingredients. Stare anxiously at the clock. Is it 5:00 yet? No? Who cares? Your office holiday party just became the best ever! In fact, if you find the holidays "difficult," try making a batch of this and carrying it around in a large water bottle. Tell people it's kombucha. If they look at you funny, mutter something about your "microbiome" and walk away insouciantly. You did not get this idea from me.
---