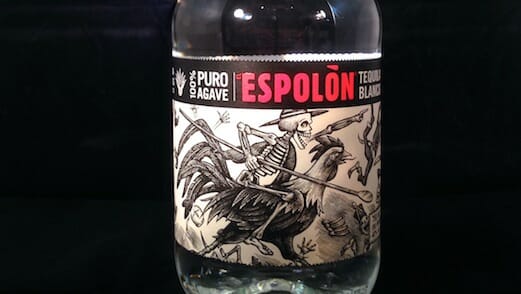 There will be a day when you can walk into your local liquor store and find just as many small batch tequilas as you can small batch bourbons. Smart entrepreneurs, distilleries and importers are finding pure agave tequilas to introduce to the North American market at an astonishing rate, and your tequila choices get better every month. It's a beautiful thing.
Espolon Tequila has been available in the U.S. for a few years, winning some impressive awards at international competitions during that tenure. Like any tequila that's worth your time, Espolon is 100% agave, and it's made where all pure agave tequila is made, in Los Altos (the highlands), Jalisco. But Espolon comes in at half the price of most of its "pure agave" competition ($20-$25).
You have two options of Espolon to chose from, the Blanco and the Reposado. They're the same tequilas, made by the same process, but the Blanco is rested in stainless steel for a few months, while the Reposado is rested in American oak barrels for six months.
The Blanco has a slightly sweet nose with a hint of pine and tropical fruit. It's subtle, and the nose disappears almost entirely once you pour it on ice. There's an undeniable heat to this tequila when you drink it on the rocks, and the agave takes a prominent role in the profile, followed by a peppery finish.
The Reposado has more of a roasted flavor, and picks up some notes of char and caramel from the time it spends hanging out in American oak. Neither tequila is as smooth as some of the other pure agaves that you'll find on the market today. It's not necessarily a bad sipper, but this tequila, intense and vibrant, was really made for cocktails. Espolon makes a big deal out of the wild, experimental concoctions that its bartenders and fans create using the Blanco and Resosado, and the brand's Facebook page is full of options.
I found a good one they call the "Senor Ramon" that uses a little bit of maple syrup and tastes like tequila-covered pancakes. The Espolon Resposado shines through the sweet/sour dichotomy that's created by the maple syrup and lemon juice in this incredibly mellow and tasty cocktail.
Senor Ramon
2 ounces Espolon Reposado
1.5 ounces Lemon Juice
2 ounces Apple Juice
1/2 ounce Maple Syrup
Shake all ingredients and strain in to a rocks glass. Garnish with a lime or lemon.
Distillery: San Nicolas Distillery
City: Los Altos, Jalisco, Mexico
Style: Pure agave tequila
Proof: 80