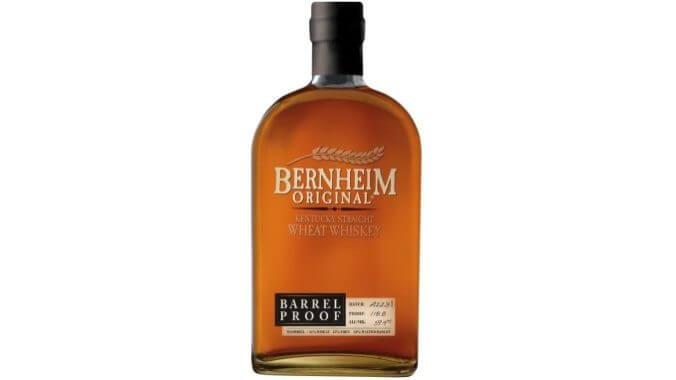 Of all the iconic, old-school Kentucky whiskey distilleries, it might be fair to say that none of them have such a consistent idea of their own identity and brand as Heaven Hill. Even as the company has introduced new products to its lineup over the last decade of unfettered bourbon mania, they've done it in such a way as to maintain an obvious and logical flow. After the beloved (and high value) Elijah Craig Barrel Proof Bourbon had long since established itself, for instance, the company simply extended the same format into its younger Larceny brand of wheated bourbons, keeping the same branding almost entirely intact. Now they've done it again, taking their somewhat less heralded wheated bourbon brand, Bernheim, and simply extended the barrel proof format its way. The result is Bernheim Barrel Proof Wheat Whiskey, and in the process they've transformed a bottle that doesn't always get a ton of attention into one that may very well fly off the shelves. Quite savvy.
Bernheim Original Wheat Whiskey is a brand that has been around since 2005, when Heaven Hill introduced it as the first U.S. whiskey to use winter wheat as the main grain of its mashbill. It's made at company's titular Bernheim Distillery in Louisville, and aged in Rickhouse Y of Heaven Hill's Bardstown facility. Unlike Larceny, which uses just 20% wheat in its mash bill (in place of rye), Bernheim Original is a genuine wheat whiskey, with a mash bill of 51% wheat, 37% corn and that old Heaven Hill signature: 12% malted barley. It's bottled at a gentle 45% ABV (90 proof).
This inaugural release of Bernheim Barrel Proof, on the other hand, is the original wheat whiskey's bigger, older brother. It's a blend, aged for 7 to 9 years, with the same Bernheim mash bill, but this one is bottled at 59.4% ABV (118.8 proof), in a similar jump to the one between Elijah Craig Small Batch and Elijah Craig Barrel Proof. Like ECBP, it's retained the same naming system for batches: "A223" simply means that "A" is the first release of the year, "2" means a February release, and "23" denotes the year.
So with all that said, let's see how its increased stature has impacted this wheat whiskey.
On the nose, the signature grain is readily apparent—when smelling this, you really can't shake the idea of freshly baked wheat bread, toasted with butter. I'm not always necessarily a fan of that kind of grain-driven profile, but in Bernheim Barrel Proof it's really just the start—this nose is also completely inundated in caramel in particular, with additional notes of vanilla, some slight gingerbread, and perhaps a touch of blackberry jam. In particular, the caramel really stands out, so lovers of that profile will want to take notice.
The same is true on the palate, which is very sweet and awash in caramelized sugars. I'm getting milky, creamy caramel and butterscotch here, along with some syrupy dark fruit, clove and stem ginger. The texture is notably very smooth, a delightfully silky mouthfeel that demonstrates the supple allure of wheat whiskey. All in all, it's a nice, desserty dram with a moderate oak presence as well, though I find that overall the sweetness is definitely winning out. Ethanol is quite gentle—although the proof is somewhat lower than releases like ECBP tend to be—making for a dram that is quite easily enjoyed neat.
As far as first releases go, Bernheim Barrel Proof A223 certainly feels like a winner, and I could see this bottle being quite popular among the bourbon geek crowd for its sweetness and accessibility. In fact, I feel like blind tastings might well land this expression above most bottles of Larceny Barrel Proof, which is impressive given that the company hasn't had much chance to refine it or take in customer feedback yet. Regardless, I wouldn't be surprised to see Bernheim Barrel Proof become a hotly anticipated, biannual release.
Distillery: Heaven Hill
City: Bardstown, KY
Style: Wheat whiskey
ABV: 59.4% (118.8 proof)
Availability: Limited, 750 ml bottles, $65 MSRP
---
Jim Vorel is a Paste staff writer and resident liquor geek. You can follow him on Twitter for more drink writing.