Heaven Hill Revamps Elijah Craig Barrel Proof Bourbon with Variable Age Statements
Photos via Heaven Hill
Drink
News
whiskey
In a move that is sure to result in rumbles of speculation, excitement and distrust all at once in the bourbon whiskey community, industry leader Heaven Hill has announced that it is tinkering–at least a little bit–with its beloved cask strength bourbon expression, Elijah Craig Barrel Proof. Don't worry, good old ECBP will remain an extra-aged cask strength expression, and it will likewise remain one of the best pure values in the modern whiskey world when you consider its age, proof point and $70 MSRP. But the company announced that starting with the May release of Elijah Craig Barrel Proof B523, the bourbon's age statement would become variable to at least some degree, resulting in batches both younger and older than its classic 12-year age statement. As the press release from Heaven Hill puts it:
Elijah Craig Barrel Proof will now be barreled in small batches with varying age statements. Each batch of ECBP will have its own unique taste profile and proof, as in years past, and now a unique age statement that will retain the extra-aged characteristic the brand is known for. All other qualities of the series remain the same–non-chill-filtered and uncut to preserve all the natural esters and taste components from the barrels to the bottle. The variance in proof, and now age, from batch to batch is an exercise for true whiskey aficionados to experience the consistency in quality across the series while allowing for the unique intricacies of each batch to pull forward.
This is certainly an interesting move, one that will be reflected on the front label of ECBP bottles going forward. Bourbon geeks, being the apprehensive types that they are, may well react to the news of any ECBP age statement change with fear, but as someone who's reviewed quite a few batches of this whiskey myself, I find the news more intriguing than overtly concerning. I look forward to seeing how distinct batches of ECBP may become from each other, and I'm mostly just pleased that the change isn't being used as a pretense to bump up the MSRP of the whiskey, which remains at roughly $70.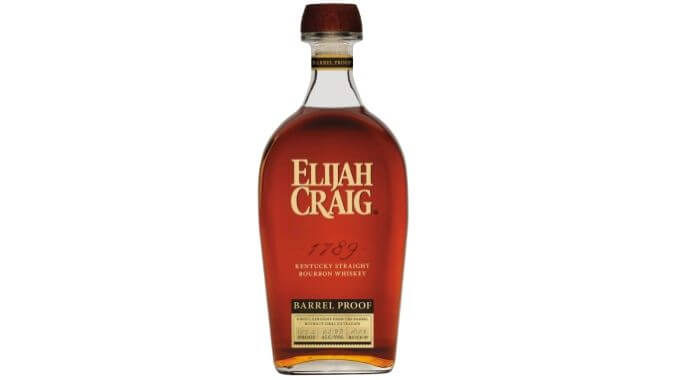 As for the upcoming Elijah Craig Barrel Proof B523 batch, it will weigh in with an age statement of 11 years, 5 months, which by law reflects the youngest barrel of spirit in the blend. It has a strength of 62.1% ABV (124.2 proof), continuing the trend of recent years that has seen ECBP releases hovering largely in the 120 proof range, rather than the 130-140 proof behemoths of yore. Future batches will be free to fluctuate in various directions in terms of age, with Heaven Hill hinting that the C923 batch could bear an age statement of more than 13 years…
The first batch of this new variable, small batch ECBP revamp should be hitting shelves very soon, so keep an eye out wherever you hunt your bourbon. We'll have our own full review of the B523 bottle very soon as well, so check back next week.