Whiskeys Revisited #4: Wild Turkey Master's Keep, Knob Creek Rye, Single Malts and More
Drink
Lists
whiskey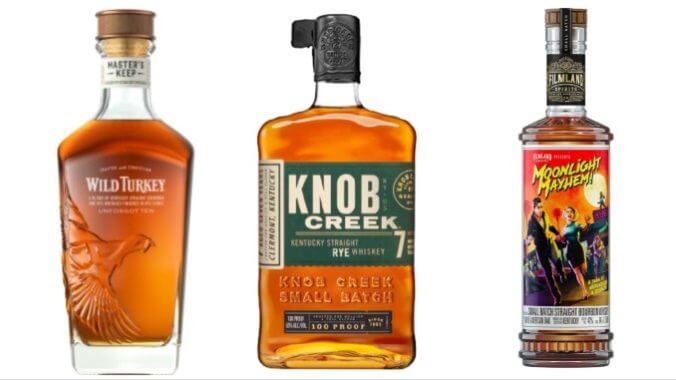 Whiskeys Revisited is a Paste series that gives us a welcome excuse to go diving through the dustier corners of our liquor cabinet to taste bottles we haven't sampled for a while, in search of fresh perspectives. You can see all previous entries in the series here.
---
With the worst facets of the pandemic now hopefully in the rearview mirror, things have gotten at least nominally "back to business" in the spirits world. Regularly scheduled limited release whiskeys have come and gone, the obsession with Buffalo Trace products has continued unabated, and in general things have felt more familiar for whiskey geeks in 2023 than they did in the two years prior.
And when things feel familiar, and spirits writers are operating as they tend to operate with a constant influx of new products to taste, one thing that always seems to get forgotten are revisits to previously released bottles. It's only natural, given that this scene is hyper focused on newness and novelty, but it's also a shame that we don't revisit some of those other bottles in our liquor cabinet more often.
This is the Paste series that gives us an excuse to do exactly that, so let's get to tasting.
---
1. Wild Turkey Master's Keep UnforgottenMSRP: $200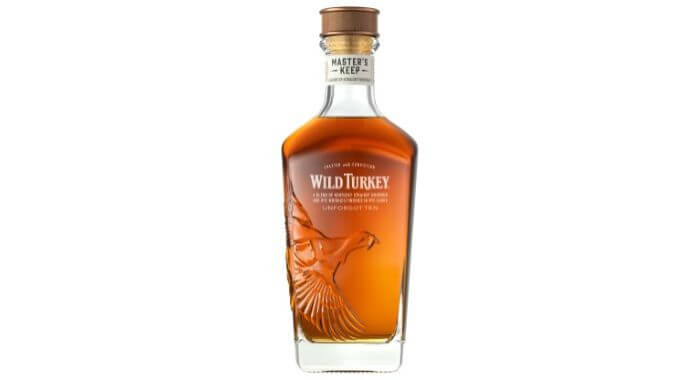 The 2022 entry in Wild Turkey's annual Master's Keep series was one of the year's most highly anticipated whiskeys among those geeks who have always loved the brand's rarely seen brand Forgiven–a legendary creation that came about when the distiller mistakenly combined mature bourbon and younger rye in the 2000s, and then decided to sell the resulting happy accident. Forgiven has subsequently been produced only a few times by WT, but Unforgotten is the brand's tribute to its notoriety, elevated into a more mature and prestigious release. This is a very interesting "bourye," featuring some of the oldest rye that Wild Turkey–a brand that doesn't put a lot of stock into big age statements, especially for rye–has ever released. All in all, it's a blend of 13-year-old bourbon with 8- and 9-year-old rye, given a second maturation in rye casks and then bottled at 52.5% ABV (105 proof).
The result is a wonderfully heady and complex WT whiskey blend, with a nose combining assertive tones of dried herbs, earthy rye spice, subtle smoke and vanilla, along with nutty chocolate, black pepper and leather. On the palate, smoked clove duets with subtle strawberry fruitiness, along with French roast coffee, vanilla frosting and herbal complexity. A beautiful blend of subtle sweetness and slightly drying finish, it's a wonderfully balanced dram that is a lot of things all at once–lightly honeyed and fruity, but also spicy and slightly smoky. Like so many of WT's best bottles, it seems to evolve and change each time you taste it.
---
2. Filmland Spirits Moonlight Mayhem BourbonMSRP: $55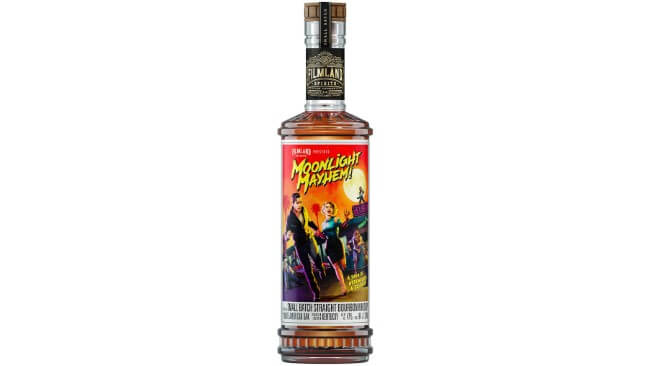 I previously wrote about the rye whiskey from Filmland Spirits, a non-distiller-producer whose B-movie laden theming I really couldn't help but love–there's no shortage of places where one can get young bourbon and rye sourced from MGP of Indiana in this market, but few come in a package that is this fun and visually appealing. With that said, it becomes a question of absolute value-for-the-specs and appreciation of the marketing: Are you willing to pay $55 for younger MGP high-rye bourbon (21% rye mashbill, 94 proof) when there are other people selling the same sourced spirit somewhat cheaper? To its credit, Moonlight Mayhem Bourbon is just as attractive a package as the rye, though, with a label and story built around 1950s werewolf creature features in the vein of I Was a Teenage Werewolf. If I had a cinema bar, I'd definitely stock it with this.
On the nose, this one displays cornbread, caramel and some fresh cracked pepper, along with vanilla bean and a suggestion of something like creamed corn. On the palate, Moonlight Mayhem proves to be easygoing but spicy at the same time, with more vanilla, hot cinnamon, pepper and brown sugar, dusted with clove. You can certainly suss out that this is high-rye bourbon, and overall it's a bit on the sweet side, with lots of dark brown sugar, pairing nicely with flamed orange and espresso roast. It would be right at home in an old fashioned, there's no doubt about that, although one might say it feels a tad hot for the relatively modest proof. All in all, feels like an affable cocktail bourbon.
---
3. Compass Box Whisky Flaming Heart 2022MSRP: $155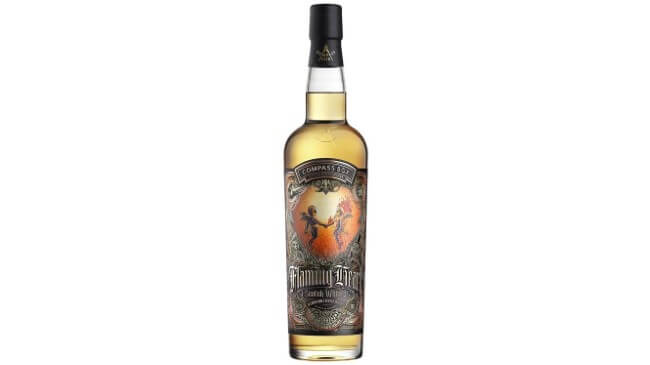 As a blending specialist, Compass Box produces many interesting whiskeys every year, but Flaming Heart is a particularly curious malt whisky blend, for the fact that it's combining several flavor profiles that don't often come together. Most distilleries produce malts (or blends) that may favor the heavily peated whiskies of Islay, or spicier and fruitier mainland malts given the extra boost of richness provided by French oak. But together? Not exactly a common combination. Flaming Heart combines these elements in a musically themed packaged, with the distillery saying "The smoke machine is powered by a combination of malts from the Laphroaig, Caol Ila and Talisker distilleries, while our Highland Malt Blend has spent more than five years in richly toasted virgin French oak custom casks to deliver round, booming spicy richness." This 2022 expression was bottled at a pretty robust 48.9% ABV (97.8 proof).
On the nose, Flaming Heart shows off the peat and brine first and foremost, with smoldering campfire melodies that slowly begin to hint at cinnamon and toffee. On the palate, this is strong and peaty, with forceful smoke and charred oak, but it then makes a rather surprising turn into quite assertive sweetness and spice box elements. If you didn't know to expect it, one might almost find the trick this whisky is pulling to be sort of disorienting, in fact, but those who revel in the warm baking spice profile of French oak should find it intriguing, provided they also are interested in the saltier, brinier Islay elements. The flavors here are big and bombastic, with the blend holding nothing back. Some drinkers would likely find it a tad overwhelming; this is a whisky for the thrill seekers.
---
4. Knob Creek 7-Year Rye WhiskeyMSRP: $37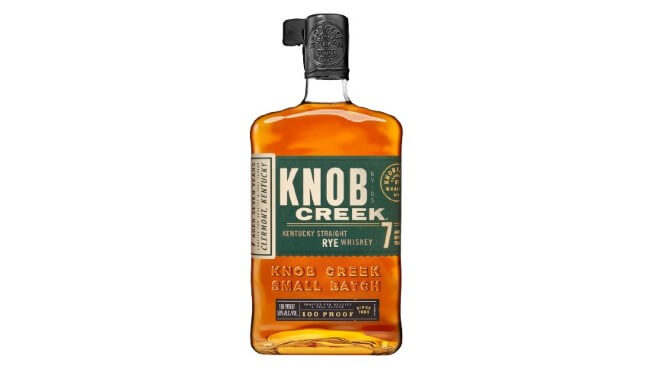 The flagship Knob Creek Rye Whiskey has never been one of those whiskeys I turned to all that often, as for my own cocktail purposes I've typically sought out the more modern style of "high rye" rye whiskey rather than the classic Kentucky style, in which rye often makes up only 51% of the mash bill. It was intriguing, however, to see Jim Beam unexpectedly adding an age statement to this brand, giving Knob Creek rye a 7 year minimum age statement when the whiskey had never possessed an age statement before. This implies a couple of things: The average age in the blend has likely increased in a pretty substantial way, and it likely represents an even stronger value than it already did, now being a 7-year-old, 100 proof rye expression for an MSRP of $37. That definitely puts it in good stead, comparing the new Knob Creek Rye with some of the other best values on the rye shelf today.
On the nose, this new formulation of Knob Creek Rye displays more spicy oak and char than I remember previously getting from it, combined with elements of baking spice, cornbread, mint and fresher lumber. On the palate, that mint follows through in an assertive way, with green apple, a little ginger ale, brown sugar, black pepper and moderate toffee sweetness, into rye spice and a drier finish. Initially, this actually seems a little bit subdued on the palate to me, but it moves quickly into a more prickly, spicy and chile-like heat on the finish. All in all, it's still what you expect it to be, a highly versatile cocktail rye, albeit with more of an oak presence following its new age statement. Take advantage of the value.
---
5. Virginia Distillery Co. Scholar's Craft Coffee Cask Malt WhiskyMSRP: $60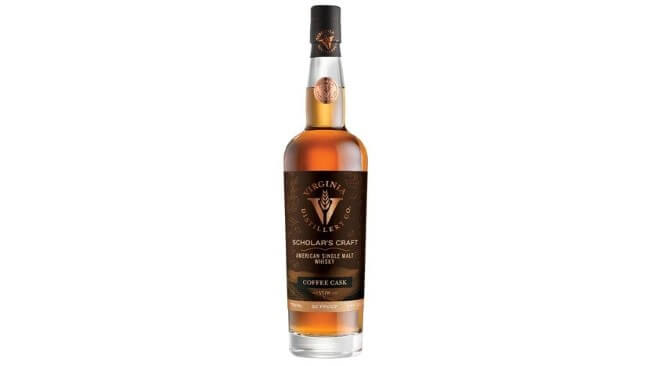 Virginia's impressively ambitious Virginia Distillery Co. is one of the country's biggest producers and believers in various styles of American single malt whisky, which includes quite a few experimental variations on their normal themes of bourbon, sherry and wine cuvee casks. This one, dubbed Scholar's Craft, is first aged in ex-bourbon casks but then finished "in barrels that previously held ethically sourced, small-batch coffee." That's interesting; I'm not sure I've had a whiskey finished in barrels that were previously used to age coffee beans before. For VDC, this release is part of the company's newly endowed Angela H. Moore — Women in Distilling Scholarship, which invested a $100,000 endowment to Appalachian State University, to support scholarships and research opportunities for students at the university. Sales of Scholar's Craft support the endowment, and the coffee theming was chosen to reflect student life. The MSRP is notably $10 lower than the brand's flagship Courage & Conviction American Single Malt Whisky, which would seemingly suggest this is younger spirit.
What I can't help but wonder here is this: Will putting whiskey back in the barrel used to age coffee beans actually infuse that whiskey with all that much coffee essence? Does the presence of the beans leech into the wood itself, in that scenario? And as it turns out, the answer is "yes it does, quite a bit." On the nose this one is distinctly coffee forward, with a character that is earthy and a little bit vegetal, with notes of green bell pepper, combined with dark chocolate-covered digestive biscuits. On the palate this is a bit grain-forward, malt sweet into big coffee roast with some degree of drying astringency. The charred flavor is prevalent, and I'm again getting that more vegetal coffee tone of bell pepper, with an overall balance that is both sweet and bitter in equal measure. All in all, this definitely brings the roasty intensity, matched by slightly bitter toffee sweetness, and is pretty assertive overall for the 46% ABV (92 proof).
---
Jim Vorel is a Paste staff writer and resident beer and liquor geek. You can follow him on Twitter for more drink writing.