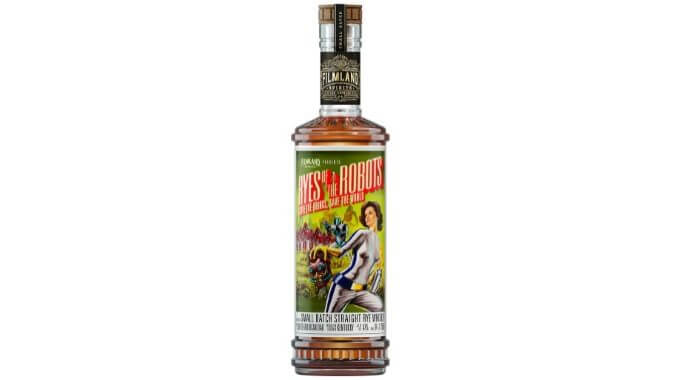 How much do the aesthetics of a brand really matter to the average spirits consumer? Say we're talking about American whiskey, especially bourbon and rye—does the person buying a bottle care whether it has a pretty label? What percentage of drinkers care whether a brand reflects one of their hobbies? And if they're consumers who know whiskey and understand where the liquor in the bottle is coming from, are they willing to pay more for the same whiskey, just because it comes in an attractive bottle? How much more?
These are the types of questions one can't help but grapple with as you dig into the newly released starting lineup from American whiskey brand Filmland Spirits. Featuring gorgeous labels and attractively designed bottles, along with highly detailed theming that will appeal to anyone who loves cinema and B-movies in particular—that's me, 100%—they certainly should manage to stand out on the shelves of a package store. But considering that the spirit in the bottles are very familiar, sourced bourbon and rye from the kings of sourced whiskey, MGP of Indiana, how much are those labels ultimately worth when the same whiskey is also available significantly more affordably on the same whiskey shelf?
This is not a new question, naturally—many brands source from MGP, or a handful of the biggest Kentucky whiskey distilleries, and the quality of their distillate is widely admired. But if there's one bottle of MGP rye whiskey from a company like Bulleit or Templeton on the shelf at $30-35, and another of similar age and strength on the shelf next to it at $60, does that not seem like a hard sell?
Perhaps unsurprisingly, then, Filmland Spirits doesn't really advertise the provenance of its liquid. The website rather misleadingly describes both the company's bourbon and rye as being "produced on location" in Kentucky, words with no legal meaning. The word "Indiana" doesn't appear on the website anywhere, as far as I can tell, though thankfully it legally is required to be on the back of the bottle. To cut through the treacle, what we have in this bottle of rye is a 47% ABV (94 proof) bottle of straight rye whiskey, aged for "4+ years" in #4 char barrels.
Where the brand really does shine is in its theming and marketing, which imagines a fully fleshed-out werewolf romance story for its Moonlight Mayhem bourbon, and an equally impressive sci-fi space epic for Ryes of the Robots. Just look at this flavor text:
In the aftermath of the Automation Wars of 3050, the world rejects technology and embraces a simpler time where cocktail clubs are the new state houses and bartenders hold sway. When a fallen technology titan builds an army of robotic bartenders to conquer the world, the only hope is Courtney Winters, the Cocktail Consortium's number one bartender. Can she fend off this despotic army of mechanized mixologists or will this be the world's unhappiest hour?!
It's hard not to enjoy the silly chutzpah of that. And once again, it's not as if MGP doesn't make a great product. It's just a question of whether the theming is worth the additional price to the consumer. For me, that's hard to say, but if my home contained a screening room with its own home bar, it would be hard to resist a few bottles of this for thematic reasons. It occurs to me, however, that this is a pretty damn specific niche. When it comes to bars/restaurants, would any of them really choose to stock this MGP rye, rather than the more affordable ones? That's where I get incredulous.
With all that said, though, let's actually taste the stuff and see how it is!
On the nose, Ryes of the Robots is full of classic MGP rye impressions: Significant caramel and roastiness from those alligator char barrels, along with herbaceous tones of dill, thyme and oak. There's spicy pepper and pure rye, along with vanilla and fruitiness that evokes a little bit of peach. It's a lovely rye nose, likely well known to cocktail fans and those who have developed an appreciation for the high-rye style that MGP helped to establish in the 2000s. Comfortably familiar, all around.
On the palate, this is fairly sweet for the high-rye style-with lots of vanilla, caramel and herbals, mostly dill and mint. However, it's certainly got plenty of rye spice as well, and a pretty big charge of pepper and a little caraway. Stone fruitiness creeps in again over time, merging with the vanilla to suggest a little bit of cobbler, though the residual sweetness never rises above mild. Again, it's a totally solid MGP rye, and it's likely to taste familiar to a lot of drinkers.
So at the end of the day, what is a lovely backstory and a beautiful label worth? Perhaps if you have a friend who's a big movie geek, you'll find that Filmland Spirits is producing the perfect gift item. If you're looking to stock your bar with the most high-value offerings, on the other hand, you're probably not going to find it here.
Distillery: Filmland Spirits (sourced from MGP)
City: Lawrenceburg, IN
Style: Straight rye whiskey
ABV: 47% (94 proof)
Availability: 750 ml bottles, $60 MSRP
---
Jim Vorel is a Paste staff writer and resident brown liquor geek. You can follow him on Twitter for more drink writing.